It's an age-old problem with a cutting-edge solution.

Hitchen
Private companies that need to raise relatively modest amounts of capital have a hard time finding money. Now, three Indianapolis entrepreneurs think they have the answer: crowdfunding.

The concept is simple, even if the execution isn't. Individuals make small investments that are aggregated to fuel a firm's finances. And Indianapolis-based startup Localstake aims to act as the matchmaker.

Founded last year by a trio of 20-somethings who worked in the financial services industry, Localstake is a Web-based marketplace where investors can connect with businesses in their communities that need cash.

Flynn
And unlike popular crowdfunding site Kickstarter, where users make donations to support various (mostly creative) projects, Localstake investors at least have a chance to get more in return than a T-shirt and hearty thanks.

Partners Kevin Hitchen, Ryan Flynn and Brandon Smith have applied to operate as broker-dealers, a designation that will allow them to use exemptions in existing securities laws to arrange private offerings.

Approval in the next few months would put Localstake ahead of others looking to capitalize on a crowdfunding provision included in the federal Jumpstart Our Business Startups Act passed by Congress this spring. The Securities and Exchange Commission has a Dec. 31 deadline to write the rules governing such transactions, potentially opening the floodgates to competition.

Smith
"They truly are pioneers," said Marcus Chandler, an Indianapolis attorney who leads Barnes & Thornburg LLP's Entrepreneurial Services Group. He does not provide legal advice to Localstake, but is excited about the idea nonetheless. "Somebody is going to be the Google of crowdfunding, and I don't know why it wouldn't be these guys."

Few privately owned firms so far have bothered with the red tape—and expense—associated with lining up dozens of small investors. Localstake will use technology to eliminate the hassle, the partners said.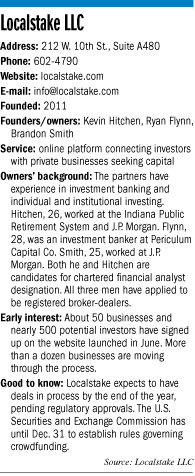 "We saw an opportunity" to capture that business by building the various rules and regulations into the Localstake software, said Flynn, 28.

By allowing investments as small as $500, they hope to lower the barriers to entry and open the private equity market to everyday investors—folks they believe want to support something they understand: local businesses.

"Everyone wants to eat local, drink local, buy local," said Hitchen, 26. "Why not invest local?"

Interested investors who register on the Localstake site will be asked to "subscribe" to a particular market, allowing them to see businesses in that area seeking capital. The idea is that the geographic focus will make it easier for individuals to research their potential investments—and for businesses to find capital and customers alike.

"It does create a buzz," said Jean Wojtowicz, president of Indianapolis-based Cambridge Capital Management Corp. "People get excited driving by a place and saying, 'I own a piece of that.'"

And when those same people are choosing somewhere to eat, drink or buy local, they're more likely to pick "their" place.

"We consider [local investors] value-added capital," Hitchen said.

Localstake's sweet spot will be companies looking for $50,000 to $500,000; the partners expect most deals will be loans or revenue-sharing arrangements that offer maximum flexibility to businesses and the best potential for investor returns.

But regulators are eager to make sure the early days of crowdfunding don't resemble the Wild West. Indiana Securities Commissioner Chris Naylor said many issues still need to be resolved, including what kind of disclosures private companies will need to make.

"Investors need to have access to reliable information," Naylor said. "If that doesn't happen, it will strike a blow to crowdfunding."

He also cautioned startups to explore all funding options before turning to the crowd. Having hundreds of investors excited about your product is one thing, Naylor said. Having hundreds of owners with disparate interests is another.

Localstake's partners say they will advise companies throughout the process to make sure they're communicating with investors, and the online platform requires quarterly financial and operational updates to investors. This month, the company rolled out an online Localstake Academy with weekly lessons to help new investors learn the ropes.

Businesses seeking capital will pay an application fee, a "success fee" based on the amount of money raised, and quarterly subscription fees for the investor-relations services. Investors will not pay any commissions or transaction fees.

The broker-dealers also will evaluate each investor's financial situation and set investment limits to reduce risk.

"There will be no complete loss of personal savings on Localstake," Smith vowed.•