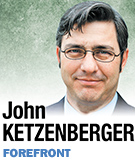 How many times do you suppose Brian Payne heard, "Yeah, but" when he was selling the idea of a Cultural Trail?

I remember sitting in newspaper meetings to discuss story ideas and one person almost always would start his rebuttal with, "Let me tell you why that won't work."

That's our community's collective response to education, poverty, mass transit and any number of challenges. And remember, we're the can-do community. We are The Little Engine That Could—when it comes to big events we can rally around.

I've thought a lot about this since prominent Urbanophile blogger and former resident Aaron Renn recently committed what many consider blasphemy by questioning our city's future. I don't like what he had to say, either, but he raised valid questions in a thoughtful and constructive manner that I respect.

What community do we want to live in? How much are we willing to invest in tax dollars as well as our personal intellectual and physical capital? Are we willing to give a little of our own good fortune to help make our community better for more of us?

Brian Payne got it done, thank goodness. The apparatus that launched our sports initiative remains a productive pipeline. Yet I worry we're running low on ideas and energy, and the will necessary to ensure greater Indianapolis remains a striving city, a place where people want to live and work and make their lives.

Please don't misunderstand. I know people and places that practically vibrate with energy. The creative forces unleashed by these people turn fabric from the RCA Dome into purses. They make music and beer and art and wine and books and food and businesses, sometimes from thin air.

Thin air. They shouldn't have to pull their creativity from thin air. They—all of us—deserve a constructive political process that identifies areas of needs and creates responsible policies to address them. We need a private support system that nurtures nascent businesses, guides them through growth, and celebrates their maturity by constantly rebooting the life cycle.

These are the ingredients that commit a community to its schools, that ensure it will find ways to lift its less-fortunate citizens out of poverty and invest in the things that will improve life across the region.

Political opponents might be glad to see the House Democrats implode, but I'm not. Hold up a mirror and you'll see that a lot of our public institutions suffer many of the same symptoms: a lack of new ideas and energy and, most disturbingly, a lack of collective commitment.

We like it when Renn points out the many good things he sees in our community; we cry like spoiled children when he points out a fault.

A confident community doesn't seek the outside adulation or bask too long in the reflected glory of a stunning success. A confident community has leadership that finds ways to extend the success, to diversify it and lay the groundwork for new efforts because it's the right way.

A confident community never uses the phrase, "Yeah, but." A confident community builds prudence into its culture of acting on abundant ideas so it says, simply, "Yeah."

Here's what the culture of yeah looks like: the Scottish Rite Cathedral, the Statehouse, Eli Lilly and Co., the George Kessler parks lining Fall Creek, the Cultural Trail, Wishard/Eskenazi Hospital, the Indianapolis Zoo, Hoosier Momma LLC, the old Market Square Arena and more local craft brews than I can possibly quaff in a month.

Remember, Indianapolis was a swampy wilderness when it was chosen to be state capital 192 years ago. Our forebears built the city because they knew they could.

It's as simple, really, as a phrase my mom's mom shared with my dad, who shared it with me: "Can't never did anything."

I hope you're all thinking: I know, right?•

• Ketzenberger is president of the Indiana Fiscal Policy Institute, a not-for-profit dedicated to nonpartisan research into the state's tax policies and budget practices. Send comments on this column to ibjedit@ibj.com.