The incoming head of Indianapolis Downtown Inc. says she has a lot to learn before setting priorities. But for whatever projects present themselves, collaboration will be key.
Sherry Seiwert, former executive director of the Indiana Housing and Community Development Authority, begins Aug. 6 as president of the group that charges itself with developing, maintaining and promoting the heart of the city.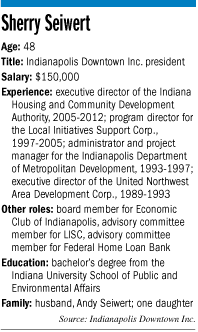 In a phone interview from Michigan, where she was vacationing, Seiwert was reluctant to discuss specific plans for her new job because she hasn't met with her staff, board members and the IDI's constituents. But Seiwert already knows she wants to spend the first few months developing a strategy that involves collaborating with other organizations.
"I think creating a vision would be a top priority," she said.
Seiwert, 48, will oversee 14 employees and answer to 36 board members representing fields such as hospitality, real estate, communications, health care and government, among others.
She will replace Tamara Zahn, 58, who stepped down after 19 years as the organization's first president. Zahn announced her departure plans in February after IDI and the city wrapped up Super Bowl festivities.
One of the game's remnants, Georgia Street's upgrades, likely will be a major focus for IDI under Seiwert's leadership, board members said.
"The interest in downtown remains very, very healthy and strong," said Denny Sponsel, board chairman and president of RJE Business Interiors. "And I want to make sure that we keep current with all of our initiatives that are in place, whether that's Georgia Street, whether that's maintenance, whether that's promotion."
Other projects Seiwert is considering range from compiling more market data for developers to launching a bicycle-sharing program.
A key element to moving IDI forward will be collaboration, Sponsel said.
Seiwert's record of working with other businesses and agencies in both the private and public sectors sold the IDI's presidential search committee. Before working for the state, she worked for the city of Indianapolis and two not-for-profits.
Sponsel said IDI wanted someone who was well-connected to the various groups working on the broader goal of developing Indianapolis—and was willing to listen to their ideas.
"As we did our work on all of the candidates, the one thing we recognized with Sherry, she is always cool and calm under fire and able to convene people, get people together to find a common solution," Sponsel said. "She never gets rattled and can work through very difficult issues with very good outcomes."
Georgia Street ambitions
In the months leading up to the Super Bowl, workers raced to complete the transformation of Georgia Street between Bankers Life Fieldhouse and the Indiana Convention Center into a pedestrian corridor. The $12.5 million project, funded mostly with a federal grant, made Georgia Street the central gathering spot for Super Bowl revelers.
IDI, which holds a city contract to maintain Georgia Street, wants to explore ways to draw people there even at times the city isn't hosting major sporting events.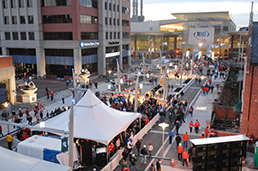 Pedestrian-friendly Georgia Street was a huge hit during the Super Bowl. IDI is tasked with maintaining both its appeal and its structure. (IBJ file photo)
"IDI has the contract for Georgia Street, but that is not to say we are going to isolate other groups from ideas," Sponsel said. "We want to make sure that we are an example. We want to make sure … that IDI is reaching out and hearing those, listening to those, engaging those where appropriate."
IDI board member Ryan Vaughn, who serves as Mayor Greg Ballard's chief of staff, added: "People talk about Mass Ave. People talk about Broad Ripple. [Georgia Street is] just another asset we can improve upon."
Vaughn said one possibility might be to stage Second Thursdays, when downtown businesses would dismiss employees early to participate in activities along Georgia Street.
"It's really about making it more of a pedestrian destination downtown," he said.
Attracting downtown residents
As Seiwert sees it, downtown can't thrive without a strong base of people living there.
"I think that when you have foot traffic downtown, particularly folks that live there, they engage in community activity," she said. "They certainly add to the tax base."
Downtown's population grew by roughly 5,000 from 2000 to 2010, reaching 25,000. City leaders are shooting for 40,000 by 2020.
Groups throughout Indianapolis have launched initiatives to spur that push by beautifying the area, brainstorming development projects, and improving education.
IDI provides much of the marketing muscle. Its marketing affiliate, in fact, has 97 board members and 400 volunteers.
The group also provides market research, such as listings of buildings for sale and retail space for lease. But Seiwert said she would like to see IDI generate more data and deeper analysis.
She also said IDI might be able to play a role connecting entrepreneurs and capital to spur additional development.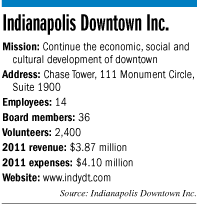 Finding new revenue
As IDI president, Seiwert will oversee an organization with a $2.9 million budget.
The group has no single, consistent source of funding. Membership fees, program contracts and investment returns support the budget.
IDI holds $8.5 million in assets, but most of that is designated for specific projects' ongoing costs.
When the organization launched in 1993, plans called for a 50/50 split of public and private funding.
But as city finances grew tighter, IDI lost its direct government funding.
Vaughn said Indianapolis uses money from a tax-increment financing district to pay IDI for various services, such as managing Georgia Street.
Seiwert said the city's funding is important and needs to continue.
"I think if you're the city of Indianapolis, and you believe in the organizations that are developing and marketing your downtown," she said, "that shows that they believe in the mission and the quality of the organization."
But she said IDI needs to develop new ways to support itself.
She didn't discuss specifics, saying she wanted to "explore the options that are out there."•
Please enable JavaScript to view this content.