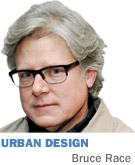 Washington Street is part of historic U.S. 40, one of the country's original highways. It is our traditional government, transit and shopping street.

As a 25-year-old urban designer, I worked for a firm that was involved in the first plan for White River State Park. The 1981 plan recommended relocating Washington Street to the south where it crosses the river and making it one-way, along with Maryland Street, in the heart of downtown. I watched the "big dog" architects and planners move the street on tracing paper to open up the center of the park.

That was part of a continuum of decisions that have forever changed the nature of Washington Street. Besides creating a one-way street, we've removed most of the transit services, moved retail indoors to a second-level system, demolished historic buildings, and developed new buildings that would look more at home along Interstate 465.

But some of the street's vitality can be recovered. An urban design plan for Washington Street would identify a framework of existing and future landmarks, edges, open spaces and gateways. It would delineate a Washington Street downtown district with smaller areas of unique character and purpose. It would define a merchandising and management strategy to help activate the street and open spaces—and better connect important visitor, government and commercial activities at the street level.

I would focus on Washington Street between College Avenue and White River State Park, identifying and coordinating opportunities for development and renovation/restoration along that stretch. The 12-block length has four segments with different character, challenges and opportunities.

The Civic Center District is a hodgepodge of county jail facilities, parking lots and the behemoth 1962 City-County Building with its wacky plaza space. This area could be completely transformed, expanding Washington Street's walking environment eastward and connecting other emerging neighborhoods in the "parking doughnut" that encircles downtown.

In concert with planning a mixed-use district, the city should take a hard look at government's long-term facility needs. What would a 21st century city government building for Marion County look like?

The Meridian District has what's left of much of the historic building stock from the street's commercial heyday. This district runs from Delaware Street to the Indianapolis Artsgarden at Illinois Street. The narrow buildings against the sidewalk provide a pedestrian-scaled edge. And as recent renovations of the McQuat and 10 East Washington buildings as retail and lofts demonstrate, these structures provide an opportunity to deliver richly detailed street façades and homes for new downtown residents.

There is a large opportunity site on the south side between Meridian and Pennsylvania streets. Development of this block can help firm up the street edges and add ground-floor activity. I would keep the small alley called Scioto Street in the block as a pedestrian connection to Pearl Street, which runs parallel to and just south of Washington Street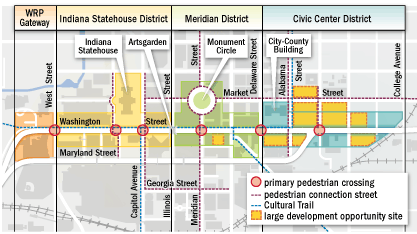 The Indiana Statehouse District is the portion of Washington Street west of the Artsgarden that contains the state government complex and hotels. With a few exceptions, this portion of the street has newer and larger buildings oriented away from the street. The result is an area that's not an interesting place to walk. Nor does it provide a firm edge or active perimeter for the landmark statehouse.

Continued enhancement of the streetscape on both sides would provide a formal and shady frame for the Statehouse. Adding outdoor seating and storefronts where possible can create islands of activity in this area.

The White River Park Gateway is where the patterns completely give way to auto-scaled museums and the big blue JW Marriott hotel. This area bleeds into the park. The park is weakly edged with parking drop-off zones and buildings that were designed to stand alone, not as contributors to an active and cohesive surround to the park entry. Strengthening the street-tree edges to the park and introducing well-designed permanent food and retail pavilions can help activate the park entry at a pedestrian pace and scale.

We can increase economic activity downtown by recapturing Washington Street's alpha role as our region's most desirable commercial address. However, we will have to think more than one project at a time.

Development of the Civic Center District and continued renovation of historic buildings in the Meridian District can provide a high-quality expansion of downtown. We need to continue to improve the landscaping for the entire 12-block area. And—I always get in trouble when I say this—we should revisit the one-way street system on Washington and Maryland streets. That 30-year experiment is complete.•

__________

Bruce Race, FAIA, FAICP, is an award-winning architect and urban planner and owner of RaceStudio. He lives in a historic Indianapolis neighborhood and teaches urban design at Ball State University's Downtown Indianapolis Center. His column appears monthly. He can be reached at br@racestudio.com.