Vacation time. But rather than post a "will return next week" note, I hope you don't mind taking a vicarious trip north with me to the Shaw Festival of Canada.

Best known for a siege 100 years ago in the War of 1812 (According to the locals, we were the bad guys), Canada's Niagara-on-the-Lake got a new profile thanks to a lawyer and playwright who gathered a group of actors for "A Salute to Shaw" in 1962.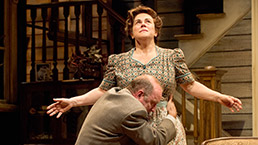 Above, William Inge's "Come Back, Little Sheba," and the second act of G.B. Shaw's "Misalliance," below, are among Shaw Fest highlights this season. (Photos/David Cooper)
By the next year, the Shaw Festival produced its first professional season. (George Bernard Shaw didn't have anything to do with this hamlet up the vineyard-spotted road from Niagara Falls.)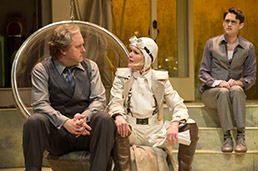 Now running April through October, it features 11 fully staged works (by Shaw and others) in repertoire, meaning you can see two or three in a day or, as I did, seven in a three-day weekend. The two strongest I saw on my late July visit were staged by artistic director Jackie Maxwell, including "Come Back, Little Sheba," a revival of William Inge's 1950 drama about an unexceptional woman, her recovering alcoholic husband, and the young woman who lodges with them. The original was a hit for Shirley Booth of "Hazel" fame, but as brought to life by Maxwell and company members Corrine Koslo (an eight-season

Shaw vet) and Ric Reid (nine seasons), this is no museum piece. Instead, it's a surprisingly fresh and truthful look at the fragile terms reached—and broken—by two people who became a couple out of compromise.
I've seen Maxwell's other directing effort, "Ragtime," numerous times elsewhere and Shaw's held its own, a testament to both the company and the enduring kaleidoscopic musical.

I would have preferred a bit less Tevya in the choices of Jay Turvey, who played immigrant Tateh a bit schtick-y, but Thom Allison was as strong a Coalhouse Walker as I've seen, wisely undercutting the character's arrogance and strength with unstated doubt. And Patty Jamieson brought new life to Mother thanks in part to an actress more mature than others I've seen take on the role. As her consciousness was raised, years seemed to magically peel off.

The nature of a repertory company—with actors hired for the season and often playing roles in multiple shows—adds another pleasure to the Shaw Fest. Seeing Moya O'Connell and Patrick McManus (five seasons each) take comedic roles in Noel Coward's "Present Laughter" made me appreciate their strong—and very different—work as the leads in Henrik Ibsen's "Hedda Gabler."

It's also fun to hear locals and long-standing visitors exercising their version of comparative literature, talking about how this year's production of Shaw's "Misalliance" compared with ones they saw in 2003, 1990 and even 1980. I don't have the benefit of their institutional memory, but I will say the first half of the show was a yawn. Some of the blame falls on Shaw's talkiness and the rest to the production, where a misguided move set the piece in the 1960s and casting failed to stress the generational differences between the characters, something central to the story.

The hilariously crisp second act redeemed the afternoon, though, with Tara Rosling and Wade Bogart-O'Brien dropping in (literally—their plane crashes into the roof) to deliver what I've come to expect from Shaw: specifically sharp, funny characters and thought-provoking philosophical battles between differently armed opponents.

Rounding out the trip was a first-class production of the Leonard Bernstein novelty "Trouble in Tahiti" and a disappointing mounting of "His Girl Friday," John Guare's clunky effort to merge the classic comedy "The Front Page" with its screen adaptation, moving the action to pre-World War II and draining much of the energy in the process.

Travel notes

• Driving will take about nine hours, but factor in time for stops—you'll want to stop at Niagara Falls—and border crossing. Or opt to fly into Buffalo or Toronto.

• Consider staying at one of Niagara-on-the-Lake's bed-and-breakfasts. Our stay at the Cape House (www.capehousebb.com) provided a wonderful place for early-morning discussions about Shaw and more over homemade breakfast goodness.

• You don't have to overload with as much theater as I did. Biking and winery visiting are other popular activities.

• For a full Shaw Festival lineup, visit www.shawfest.com.•

This column appears weekly. Send information on upcoming arts and entertainment events to lharry@ibj.com.