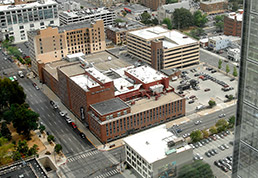 The
Indianapolis Star
's operations take up almost an entire city block, with the exception of the American Building (above left), which the newspaper sold earlier this year. (IBJ photo/Perry Reichanadter)
Let's start with the good news: The acreage and location of the Indianapolis Star headquarters and its 500-space parking garage give a nice boost to its sale prospects.
The newspaper's actual, 190,000-square-foot headquarters building? That's a different story.
Local real estate developers and brokers say finding a reuse will be tricky for the Star's labyrinth of buildings combined over the years with multiple floor levels, narrow hallways and a basement built to house printing presses. The newspaper, which has called the brick-faced offices at 307 N. Pennsylvania St. home since 1907, said late last month it was putting the property up for sale.
Listing agents in the local office of CBRE plan to run an RFP process, seeking buyers interested in developing the four-acre property as apartments, office space, a corporate headquarters or some as-yet-undetermined reuse.
Their charge is to unload the property for its highest and best use (read highest price) and find the Star's 350-employee staff a smaller, leased space downtown more suited for a media property that has shed hundreds of employees as it adapts to the digital age. There's no asking price.
"When we moved the press out of here in 2002, this building became way bigger than we'd ever need. To maintain it or retrofit it for a modern media company would be very expensive," Star Publisher Karen Crotchfelt said in an interview. "We believe there's a better place for us and hopefully a better owner for four acres of prime downtown real estate."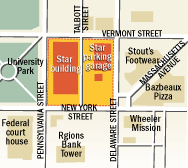 The Star headquarters site is compelling for a single-tenant office building or mid- to high-rise residential, but the existing building would have to come down to make it happen, said Brian F. Knapp, a veteran property investor and developer who serves as director of special assets and investment services for the local office of Seattle-based Colliers International.
"Trying to redevelop the guts of that building into something that works for a modern use—whether office, residential or retail, God forbid—it's cost-prohibitive," said Knapp, who did a walk-through of the building about 10 years ago. "I would bet dollars to doughnuts that it's far more economically feasible to tear that building down. Something has to go up that can take advantage of the parking garage."
From an office perspective, that's a pre-leased and primarily single-tenant building, he said. The site sits just across University Park from the 28-story, 300 N. Meridian office tower and just north of the 36-story Regions Bank Tower. High-density, maybe even high-rise, apartments also could work at the right price points.
The downside to demolition: It's so expensive that it could demolish the sale price pocketed by the newspaper's parent company, Virginia-based Gannett Inc. Local developers say taking down the building likely would cost $7 to $10 per square foot, for a total of more than $1.5 million.
The newspaper is looking for a straightforward sale and not likely interested in partnering on a redevelopment, said Jeff Luebker, a managing director for global corporate services in the local office of Los Angeles-based CBRE.
"Owning real estate is not their core business," he noted.
For tax purposes, the property is assessed at $21.3 million, well above what it's likely to fetch from a sale. The assessment itself is telling as to where its value lies: The Assessor's Office assigns a more than $14 million value to the land alone and just $7 million to the improvements.
Not everyone agrees demolition is the best option.
The Star could realize value from the property through an adaptive commercial reuse of the building, said Mike Higbee, president of locally based Development Concepts Inc. and a former director of the city's Department of Metropolitan Development.
He doesn't think the existing structure works for housing, and there's "limited market appeal" even for most office or other commercial users, he said. The building's configuration, including space that once housed the printing presses, presents big challenges.
Working in favor of a sale: the prime location within shouting distance of both Monument Circle and Mass Ave, and a strengthening downtown real estate market.
"It's going to be a very interesting discussion for the city, No. 1, and No. 2, anyone who takes a look at that site," Higbee said. "I don't think there's an obvious answer."
The Mayor's Office would consider incentives for a redevelopment of the site if it grows the tax base and amounts to a "sound business investment" for taxpayers, said Deron Kintner, who heads the Indianapolis Bond Bank and is set to take over for Michael Huber as deputy mayor for economic development.
Kintner acknowledged the current tax base for the property—records show Gannett is paying about $662,000 per year—could be an impediment to an incentive deal. To justify incentives, the project would have to generate more tax revenue than the property currently generates.
As for what uses make sense for the Star property, Kintner said, "The market will tell us."
Higbee figures the cost of demolition limits the likelihood a developer could justify the numbers on a ground-up redevelopment.
One real upside is the seven-story parking garage: "It's almost like a built-in incentive," Higbee said. "That opens up some doors."
In fact, CBRE plans to emphasize the garage as it recruits potential buyers.
One option that won't be overlooked is a potential reuse of the property or at least parts of it as residential, said Jim Thomas, partner at locally based Hearthview Residential, which developed the nearby Athletic Club condominiums.
It comes down to space layout and organization, but Thomas figures a total gut and remodel of the connected six- and four-story buildings could yield 100 or more apartment units.
To justify demolition, he said, a new development would need to add improvements worth about six times as much as the value of the existing building.
"It's hard to make any generalizations about these historic special-purpose buildings," said Thomas, who hasn't toured the building. "So many factors go into demolition versus reuse, particularly on idiosyncratic buildings."
Luebker said there are "endless" scenarios for a reuse of the property—including multifamily, office and retail.
"Our strategy is really to allow the market to determine the highest and best use," he said. "I think there are some very creative people in the marketplace. If a developer chooses to redevelop the existing improvements, they could probably come up with some very creative uses."
CBRE does not have a timetable in mind for closing on a sale or finding new space for the Star newsroom, though it plans to work on both on a parallel track.
About 650 Gannett employees work in the building at 307 N. Pennsylvania St., 350 of them for the Star specifically, Crotchfelt said. If the building sells, the Star employees would move to leased space somewhere downtown.
The company has not settled on a location or size for its new space.
"Ideally, we'd love a combination of great functional space that inspires our employees mixed with a strong community presence that invites the community in," she said.
Many Star employees were surprised by the announcement Gannett planned to sell the building, in part because the company has been renovating the newsroom. Reporters and editors are scheduled to move into the upgraded space this month.
Crotchfelt said she made the decision on the "less-than-six-figure" newsroom renovation in October and added that decisions about the sale of company real estate occur "at a much different level in our organization."•
Please enable JavaScript to view this content.