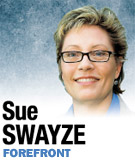 As pressure mounts from states pushing back on federal decisions and mandates, representation by their congressional delegations becomes increasingly important.

Arizona was certainly not the first but likely the most visible of late to challenge the federal administration's stance on immigration and its right to implement the law in its own back yard. Indiana Attorney General Greg Zoeller joined attorneys general from multiple states that challenged the Medicaid provisions of the federal Patient Protection and Affordable Care Act.

This state-federal power struggle seems to be working the other way around, as well. The federal Medicaid office (Center for Medicaid Services) threatened to remove all of Indiana's Medicaid funding after the General Assembly passed a law directing how the state could choose vendors for women's health services. Indiana congressman Marlin Stutzman penned letters first for Indiana's entire congressional delegation and later for 100 congressmen, crying foul over such a stiff threat regarding a state's right to choose its vendors.

As the stakes rise for states to determine their policies and strategies vis-à-vis federal policy, Indiana's congressional delegation is undergoing a dramatic change that will be critical to harness to advance the agenda of the next governor.

After the November election, the dean of the Indiana U.S. House delegation, as determined by the most seniority, will be a 36-year-old legislator sworn into office in November 2010, namely Stutzman. The rest will most likely have one term under their belt or be in their first term in January 2013, including U.S. Reps. Young, Bucshon, Messer, Brooks, Walorski, Rokita and Stutzman.

Two Democrats, Pete Visclosky and André Carson, have more service than any Republican legislator, but they are likely to continue to serve in the minority and remain disengaged from statewide issues.

An even more significant change is occurring among our U.S. senators. For the first time since 1963, neither a Bayh nor a Lugar will serve Indiana from the Senate.

Whether the voters choose Richard Mourdock or U.S. Rep. Joe Donnelly for this prized seat, the obvious leader of the state congressional delegation will become U.S. Sen. Dan Coats. It is here that the four remaining years in his term will perfectly coincide with the next Indiana gubernatorial term, likely with a Gov. Pence.

We'll be deep on the bench with a group of precocious leaders in the House of Representatives—incumbents already leading in unprecedented ways in their first terms and strong colleagues of Pence's.

But the tip of the spear will be the experience and wisdom of Coats, who assumes the reins of Indiana's top general as the stakes rise for our state's integrity vis-à-vis an arguably voracious federal government.

As my colleague Curt Smith often wisely expounds, as Indiana seeks waivers, flexibility, block grants and the opportunity to pioneer important public policy at the state level, the most important relationship for the next governor to pursue is with Coats.

Our next state administration will need a strong partnership with the federal government to achieve its goals in education, family strengthening, public safety and economic development. And there will also be myriad issues related to federal-state relationship, federalism and the like, especially health care.

The growing federalism is both a fiscal decision in an attempt to push debt toward the states, and a philosophical one, as liberals and conservatives battle over ideology. Either way, look for new topics and new players in the federal-state dance.

Coats will be the king of the hill and he'll be working with a legislator, either a federal lawmaker in Pence or a former state legislator in Gregg, to make creative things happen for Hoosiers amid this treacherous landscape.•

• Swayze leads the Indiana Family Institute's Hoosier Congressional Policy Leadership Series and has held numerous lobbying positions with not-for-profit organizations. Send comments on this column to ibjedit@ibj.com.