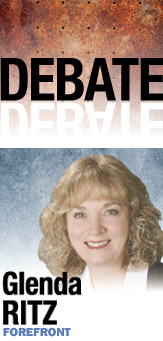 QUESTION: In the past four years, the state has taken control of five underperforming schools; urged that all third-graders pass a reading test before advancing to the next grade; limited collective bargaining rights of teachers' unions; and required districts to conduct annual teacher evaluations. How have the reforms affected local control of schools?

ANSWER: The definition of reform is to "make changes in a system to improve it." The "reforms" under the Indiana Department of Education are not changes to improve our education system.

Indiana government is asserting power to impose mandates that take away the very essence of our public school system. Local control at the district and community level is being greatly diminished.

The loss of local control spans several categories:

Teacher licensing and evaluation

I am one of 155 National Board Certified Teachers in Indiana. I had to meet the most rigorous standards in our nation.

The State Board of Education, at the behest of the current superintendent, is replacing a well-functioning teacher preparation system with rules that will put unqualified teachers and administrators in our schools. Anyone with a bachelor degree in any subject can just take a test and become a teacher, with no actual required coursework or training on best teaching practices.

We must instead have quality pre-service training for our teachers based on high standards developed with input from the educational community. Teacher evaluation must also be rigorous, but locals must have the control to develop systems that support teachers with ongoing professional development.

School accountability

The State Board of Education is implementing a school accountability system based upon a pass/fail student test with an artificial "growth" model applied to it. The system is complicated and lacking in transparency. Schools, and consequently their communities, are being judged by faulty data.

Government takeover of schools is an option Indiana is choosing to impose upon selected schools. I advocate pursuing any of the other approved models for school improvement because they retain local control.

Collective bargaining

Some Indiana leaders would like you to believe teachers are somehow money-hungry people who bargain outrageous contracts. But, in fact, we are talking about professionals whose primary focus is on the teaching and learning environments in our schools. Bargaining is about reaching an agreement on important topics that affect classroom instruction.

These topics differ from school district to school district. The teaching environment is the learning environment. Local control to reach agreement on how to address important issues such as hours, professional development and class size is now prohibited by law. How is this good for student learning?
Instruction

Local control of instruction has greatly diminished due to high-stakes testing.

Local school districts desire to offer students rigorous, relevant curriculum to develop critical thinkers to meet Indiana's economic demands. Instead, educators are being relegated to "teaching to the test."

Indiana needs to revamp its assessment system to provide K-12 teachers with true student reading and math levels so teachers can use appropriate resources to address every student's needs.

I invite you to speak with educators in your community about their views on the Indiana "reform" movement. Ask a teacher!•

• Ritz, who teaches at Crooked Creek Elementary School in Washington Township, is a Democrat running for state superintendent of public instruction. Send comments on this column to ibjedit@ibj.com.