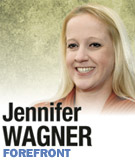 Everyone loves to say that all politics is local, and it's largely true that people get the most riled up about things they see or that affect them on a daily basis.
If the sidewalk in front of your house is crumbling or the streets aren't plowed, you will probably pay more attention to that than, say, a congressional committee vote.
But are those local issues—the ones that often drive the rhetoric in local political campaigns—really all that political?
I've kicked this question around with a few friends on both sides of the aisle, and everyone seems to agree that government closest to the people doesn't actually generate that many partisan political issues.
The city and county must provide certain services. Taxpayers fund those services. Voters judge elected officials on the way those services are provided.
There are fights to be had, to be sure, such as the battle over whether Mayor Greg Ballard and City-County Council Republicans should have drawn new council district maps before the majority of that legislative body flipped from GOP to Democratic control at the beginning of this year.
We can similarly argue about whether the mayor should have given pay raises to his top staff or whether the long-term privatization deal to fund new downtown and Broad Ripple parking meters was, in fact, a good deal for taxpayers.
And purely by virtue of the fact that there is a limited pool of resources that must be dispersed each year via the municipal budget, that process almost always turns into a battle.
But even these contentious issues—with the exception of redistricting, which will be partisan until lawmakers embrace nonpartisan map-making—are not really political at their core.
At the end of the day, parking meters are still just boxes that sit on the sidewalk to collect money from motorists.
We see in poll after poll that voters are turned off more than ever by partisan bickering. They don't necessarily want both sides to get along; they want to know that both sides are capable of getting along when it comes to finding solutions to our toughest problems.
Average Indianapolis residents don't know the mayor is a Republican and the council majority is Democratic. Heck, I bet if you asked 10 people on the street to name one deputy mayor and three council members, you'd come up with 10 blank stares.
(As an aside: A client with Chicago roots recently asked me how many people are on our City-County Council. I told him 29. He was shocked. But that's a topic for another column.)
That residents focus more on local services than on local political affiliation presents a dangerous trap for political hacks: Assuming everyone clearly identifies an elected official with his or her party makes it easy to tailor partisan messages. But if voters identify more with personality and job performance or promises, messaging along party lines turns those voters off.
In other words, saying Elected Official X is doing a bad job because he's a Democrat or Republican might be far less effective than saying Elected Official X is doing a bad job because he overspent his budget.
It also presents a difficult challenge for elected officials who are working across or failing to work across the aisle. As a resident, for example, I don't care which party is responsible for holding up a local development project; I care which people did it.
The further from the local level you get, the less personal the issues seem. I'm not saying those issues don't affect people personally, but they become identified with a giant blob of government controlled by a two-party system.
At the local level, the issues are more tangible, and politics almost always comes second.•
• Wagner is a lifelong Indianapolis resident and founding principal of Mass Ave Public Relations, a local public relations and publicity firm. Send comments on this column to ibjedit@ibj.com.
Please enable JavaScript to view this content.