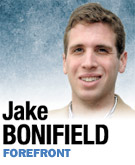 Government, perhaps even more than most private-sector industries and business models, is reliant upon human capital to thrive. Even as the tenor of most modern discourse on government has to do with its size, the people behind it are the single most important element in successful public policy.

In Washington, D.C., much of the work is done by paid staffers—policy experts who seek positions with senators, representatives, interest groups and agencies—all in an effort to contribute their knowledge to the national debate.

Last summer, while working on the Hill, I had a chance to watch as hundreds of resumes flowed in for the position of staff assistant. SA's, as they are commonly known, are essentially glorified interns, their duties not requiring much beyond answering the phones and giving tours.

Despite the soporific nature of the work, applicants ranging from recent college graduates to people with advanced degrees in business, law and even engineering all threw their hats in the ring. This is a tribute not just to the office, or a weak job market, but to the public's perception of knowledge about the federal government.

Whatever their political leanings, college students looking to become involved in the public sphere inevitably face the option of going out to Washington for an internship or a job after graduating. Capitol Hill attracts a significant percentage of politically motivated young people, and as the seat of power in a nation of 300 million, understandably so.

If we intend for state government to compete for these candidates, there needs to be a concerted effort to attract smart graduates to state agencies. In the era of massive student debt, this effort must be more than advertising the important policy work that is done at the state level. It must include innovative incentives to lure the best and brightest. Things like loan forgiveness programs and flexible schedules for those in graduate school ought to be the centerpiece of a renewed effort to energize and improve government.

Currently, state government does recruit on college campuses for entry-level positions. Simply showing up at job fairs, however, is no longer enough. Opportunities for advancement must be highlighted and students made aware of their options.

An expanded internship program, open to more students and marketed at colleges across Indiana, would be a worthwhile first step to building a pipeline that would not only infuse state government with fresh blood and new ideas, but also help retain smart, motivated individuals in Indiana after college.

Combating the so-called brain drain is an oft-stated priority of both business and political leaders everywhere, and there is no better way to ensure it remains at the forefront of our state's agenda than involving recent graduates in making policies aimed at keeping them in the state.

Creating a human capital pipeline will require strong partnerships between state agencies and colleges and universities training the next generation of Hoosier leaders. The conversation must start with a thoughtful dialogue about what motivates graduates to leave the state and what resources can be used to keep them here and interested in the debate about what we want Indiana to look like over the next 50 years and beyond.

With a year left in college, I can say unequivocally that public service is a commitment shared by many in my generation, and the growth of programs like Teach for America and AmeriCorps is a testament to that commitment.

With the right design and marketing, a similar program has the potential to change state government for the better, reduce the outflow of human capital from our state, and infuse the policy process with a youthful presence and perspective.•

• Bonifield is a senior political science major at DePauw University and president of Hoosier Youth Advocacy, an organization focused on increasing youth participation in the Indiana General Assembly. Send comments on this column to ibjedit@ibj.com.