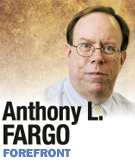 I was hesitant to weigh in on the Chick-fil-A controversy, but I decided not doing so would be chicken. (Sorry—couldn't resist.)

Actually, my reason for initially avoiding the topic was that everything that needed to be said had pretty much been said by the time I sat down to write. But maybe I could add some perspective.

As you probably know by now, the controversy started when Chick-fil-A CEO Dan Cathy said in an interview that he and his business supported the traditional view of marriage. The comment called attention to the fact that Chick-fil-A also contributes money to several groups that oppose same-sex marriage.

With help from the news media, we were soon treated to us-versus-them stories about outraged gay Americans and restaurant chain supporters who were outraged by the outrage. We had Chick-fil-A appreciation day, "kiss-ins" and threats by big-city mayors to run Chick-fil-A out of town.

Amid the noise, some nuances were lost. Cathy did not say he would not hire gays and lesbians or refuse to serve them food. Protesters were, for the most part, more upset by the contributions to anti-gay organizations than by Cathy's statements in the interview.

The mayors of Chicago and Boston could bluster all they wanted, but they could not deny Chick-fil-A building permits or licenses because of Cathy's statements without violating the First Amendment and costing their cities thousands, if not millions, in legal fees. I suspect they knew that.

As often happens when these types of moral panics play themselves out in the press, our understanding of the First Amendment took a beating. Of course Cathy had a right to say what he did, even if it was not particularly good business (Aug. 1 sales notwithstanding). People reacting to his comments and his company's contributions by boycotting Chick-fil-A is also a constitutionally protected practice, not a violation of Cathy's rights.

In the end, I found myself being thankful that I live in a country where the big free-speech issue is over the practices of a company that sells chicken sandwiches and waffle fries. Things could be worse, and are in many parts of the world.

In June, I attended the International Press Institute's World Congress in Trinidad and Tobago. Based in Vienna, Austria, the institute is a global network of journalists and others who seek to protect and advance freedom of expression. (For more information, go to www.freemedia.at.)

I was moved during the opening ceremony by Executive Director Alison Bethel McKenzie's sometimes tearful account of what a deadly year 2012 has been for journalists around the world. When she spoke in late June, 72 journalists had died on the job or as a result of their jobs. As of Aug. 7, the death toll was 84, according to the institute's website. It could be a record year.

That does not include the many other citizens who have been killed, wounded or jailed indefinitely for speaking out against government officials or private corruption. Many of those deaths were in war-torn areas, but not all. Many of them were largely ignored by authorities, even in countries we consider allies.

During the conference, we also heard from two journalists who had been jailed for long periods under vague charges in Turkey and Azerbaijan, apparently because of what they wrote. We heard from other journalists who faced danger daily trying to keep people informed.

While conditions for journalists and citizens who want to speak their minds in the United States are not perfect by any means, at least our skirmishes between the media and people in power are usually only verbal.

So, "eat mor chikin," eat no chicken—whatever. But be thankful we have the luxury of arguing about whether a chicken sandwich makes a statement about something other than our diets.•

• Fargo is an Indiana University journalism professor and member of the Indiana Coalition for Open Government. Send comments on this column to ibjedit@ibj.com.