The first time Indiana public schools super-intendent Tony Bennett met his mentor, John Moody kicked Bennett out of his office.
"Get your butt out of here," Moody, a former education professor at Indiana University Southeast recalled saying after the 21-year-old Bennett declared he wanted to be a teacher mainly so he could coach sports. "I said, 'Tony, there's got to be a passion in your heart for teaching. I'm interested in good teachers; I'm not interested in average teachers.'"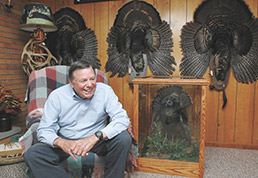 Retired education professor John Moody shows off his wild turkey trophies in his Sellersburg home.(IBJ Photo/ Perry Reichanadter)
Bennett left, but he came back the next day. And now, for 30 years, he has kept coming back to Moody—including frequent consultations the past four years as Bennett has crafted a host of controversial school reforms.
Bennett credits Moody with inspiring most of the agenda he has pushed as superintendent of public instruction—evaluations and merit pay for teachers, limiting teacher collective bargaining rights, expanding charter schools, creating vouchers for private schools, handing off the most challenged public schools to private operators.

Bennett
There's little evidence Moody overtly prescribed the specific policies Bennett has implemented. Rather, Bennett has designed or embraced policies he thinks will turn every teacher, administrator and education professor in Indiana into his version of John Moody.
"Everything I learned to be a good teacher, I learned from John Moody," Bennett said with a pound of his fist on the conference table in his Statehouse office. He called Moody "the example of why I have the beliefs that I have."
That's a surprise to many people who know both men. Moody speaks mildly in a southern Indiana twang, as opposed to Bennett's booming, staccato delivery. Moody made friends with everyone, acquaintances say, whereas Bennett has made enemies around the state—especially with professional educators like Moody.
And Moody doesn't outwardly fit the part of a policy adviser for reforms so sweeping that they have garnered Bennett mentions as a possible U.S. education secretary if Republican Mitt Romney becomes president.
Sitting in the family room of his low-slung brick home in Sellersburg, Moody sips Coke from a 44-ounce plastic McDonald's cup while proudly describing the four "capes" of feathers from wild turkeys he shot, which decorate an entire wall.
Moody, 76, lives just a stone's throw
from the farm near Louisville where he grew up. He spends his weeks meeting with former students like Bennett, shuttling his wife Carolyn to thrice-weekly dialysis sessions, and tending her extensive flower gardens while she's gone.
But those turkeys show the never-satisfied, achievement-oriented side of Moody that made him an icon for 30 years as head of the secondary science teacher program at the IU-Southeast campus in New Albany.
After he retired in 2000, Moody hunted down all six sub-species of North American wild turkeys—even crawling through a jungle in Mexico to bag the last one. That earned him a turkey hunter's honor known as a "World Slam." The license plates on Moody's shiny gold-metallic Chevy truck read "WLD SLAM."
Moody's influence on Bennett continued long after Bennett stopped being his student. The two would periodically have long talks on Moody's fishing boat or meet in the morning for coffee and continue talking through lunch.
And Bennett asked Moody's advice on every career choice he made—including his decision to run for office in 2008.
But Moody has not been the only formative influence on Bennett, a Republican who is running for re-election as superintendent of public instruction in November against Democrat Glenda Ritz.
Bennett has also credited the Catholic schools he and his sister attended in Clarksville with strongly informing his agenda. A speech he gave late last year in Indianapolis was titled, "Everything I Ever Needed to Know About School Reform, I Learned in Catholic School."
"There should be no reason in the world that every child, regardless of where they live, [doesn't have] the opportunity that Tony and Jackie Bennett had when they were growing up," Bennett said during the speech, referring to his voucher program that gives an average of $4,500 to low- and moderate-income students to attend private schools.
Bennett's fiercest opponents, including the Indiana State Teachers Association, say his efforts to boost enrollment in private and privately run charter schools betray his duties as head of Indiana's public schools.
But Moody, even though he encouraged his students to join the teachers' unions at their respective schools, always taught them that education was broader than merely traditional public schools.
He led waves of teachers getting their master's at IU-Southeast through a "Social Issues in Education" course, in which he brought in private-school leaders, home-schoolers and others outside the traditional school system to expose his students to other parts of the broader education system.
"We have a 1920s model for education," Moody said, adding, "Tony is receptive for change. And that's what's exciting, the change."
Driven to change
The picture that emerges about Moody from former students and former colleagues is of a driven man committed to teaching as a high calling with the potential for enormous impact but with the need for adhering to rigorous standards of excellence.
Moody was highly intelligent yet able to connect with people of all types. He could get red-faced and loud during an argument, but was also quick to make jokes, even at his own expense.
Most of all, Moody was allergic to the status quo.
"John Moody was one of the most innovative people I ever met," said Claudia Crump, a retired IU-Southeast education professor, who taught alongside Moody for 23 years. "He changed things."
Moody did his own teacher training at Purdue University in West Lafayette after a stint in the Army. He then taught high school science for seven years in southeastern Indiana before deciding to get his doctorate at the University of Virginia.
The school of education at Virginia was one of the most progressive of the time, and when he arrived at IU-Southeast in 1970, Moody was given a virgin field in which to plant those progressive ideas.
The IU-Southeast "campus" consisted of a storefront in downtown Jeffersonville. The education program there had begun just two years earlier. And Moody was put in charge of creating the secondary teacher training program, essentially from scratch.
"It was perceived at Bloomington as inferior," said Crump, speaking of the main IU campus. "It was just coming on."
Crump, who headed up the elementary education program, worked closely with Moody to launch a series of innovative programs. They started sending prospective teachers out to observe K-12 classrooms as soon as their first semester—about three years earlier than was common in most teacher programs then.
"We didn't think they should go and take three years of college to be a teacher and then find out they didn't like children," Crump said, noting that today, this has become common practice.
Ahead of his time
Many of the practices Moody championed have become common among schools of education. Forty years ago, he was preaching inquiry-based learning and teaching to objective standards—both of which are popular today.
"No one was talking about inquiry-based learning. It was more of the lecture-type thing," said Lynda O'Neal, who graduated from the master's program at IU-Southeast in 1972—the first master's class that worked with Moody.
"He was telling us, 'You need to get kids to think,'" added O'Neal, who retired briefly last year from Charlestown High School but was immediately scooped up to teach science at Madison Consolidated High School. "My students hate inquiry, because if they ask me a question, I ask them a question back."
Moody wrote his own course materials on individualizing instruction and programmed his own computer tools in the early 1980s. And he prodded students to dig into how to hold schools and teachers accountable.
"He heard me spout out about something and he said, 'You really don't know anything about school accountability. You really don't know how to hold a school accountable for something that's being paid for by other people's money,'" recalled Scott Robison, a former Moody student who is now superintendent of Zionsville Community Schools.
So Moody told Robison to spend the summer scouring the academic literature about school accountability and report back how his views were changed by it.
Robison also let it be known in class that he preferred having a school board appointed by other elected officials—as was the case in his own boyhood district, the New Albany Floyd County Schools.
"So in typically Moody fashion, he said, 'OK, you're going to argue the opposite position,'" Robison recalled. "That was Moody's way. Moody would help you discover."
Bennett recalls Moody's classroom at IU-Southeast as the only one not characterized by "group think."
"The number one thing that was so impressive about him: You didn't know where he stood politically on the issue," Bennett said. "He just said, 'Let's dig into this.'
"I was never afraid to be different in his classes. That was never stifled by him. As a matter of fact, I think you were almost pushed to do that," he added. "He instilled in me a fearlessness in breaking china."
Bennett himself was so profoundly shaped by Moody's teaching methods that today he regards as a waste of time all the other courses he took at IU-Southeast.
Bennett specifically praised one of Moody's teaching methods courses that required each student to teach at an alternative school for troubled K-12 students—with Moody providing the pedagogy in response to the situations the IU students encountered.
"I had to take courses with other people that didn't do a thing for me as a teacher," Bennett added. "Which speaks to the point that, do we need all the extra stuff?"
Bennett's answer to his own rhetorical question is clearly no, since he is pushing a proposal before the State Board of Education that would allow teachers to learn pedagogy on the job, not at a school of education.
But Bennett's question also shows how he has converted what he learned from Moody's example into specific policies—often parting with his education colleagues along the way.
His reasoning seems to go something like this: If Moody was able to teach pedagogy by sending kids into K-12 classrooms right away, why shouldn't every teacher be trained that way?
Moody understands that Bennett is trying to make it easier to get physics, science and other hard-to-fund teachers into schools, but he still insists those teachers must have pedagogical training.
"That's where we differ," he said. "There are skills that you learn in this profession that you need to have to disseminate it."
On the issue of school choice, Bennett also says his support for charter schools and vouchers for private schools flows from his time as Moody's student—even though such policies had yet to be created.
"Dr. Moody believed that every teacher should walk out of his program wanting every student to be in their classes. And you should have such a passion for teaching that every child should want to come to your class. Now let's move that up to the macro level where we are today: That's school choice for me," Bennett said. "Every school should want to be a school of choice. And every school should be full of teachers that want to be teachers of choice."
That reasoning sounds like a "stretch" to Teresa Meredith, a Shelbyville kindergarten teacher who is vice president of the Indiana State Teachers Association. While she agrees with most of what Moody advocates, especially his desire for passionate teachers who want every student in their classrooms, Meredith said Bennett has gone astray from the job he was elected to do.
"He has changed his position to where he wants to be superintendent of all kids. And he's not," Meredith said. "So I would challenge him to really reconsider what public school is about, and what our clientele is, and what the need of that clientele is."
On this issue, Moody is squarely with Bennett—not just politically but personally. His daughter teaches in a charter school and his four grandkids attend one.
"Public schools can't do it" by themselves, Moody said.
Searching for passion
Crump, the former IU-Southeast professor, said she had no idea Moody has been such an influence on Bennett.
"I am totally surprised," Crump said. "I am not happy with Tony Bennett. I think he's taken all the power away [from teachers]. I have not heard from teachers that enjoy the work anymore. A lot of things just got torn up."
Crump noted that Moody never made an enemy, even with people he disagreed with. Bennett, on the other hand, has enraged the vast majority of Indiana's 60,000 public schoolteachers—usually by labeling his own policies as being "about kids" and everything else as being "for adults."
But the reasons Bennett uses such language come straight from Moody, who describes with disdain the mediocrity he saw in teachers, principals and even some of his own colleagues at IU-Southeast.
"I hate to say this, but in my 40 years in education, there were an awful lot of teachers that really didn't have that passion," Moody said.
"Because," he added, "they wanted to go to do their real estate, they wanted to go and do their farming, they wanted to go to the other job, which made money. This is the one that would keep them out of the rain. And I'm very cynical about that. I don't associate much with people who are not really passionate. 'Cause you don't want that for your child."
Moody hears regular complaints about Bennett from the former colleagues and teachers with whom, like Bennett, he has faithfully kept in touch for decades.
"They call me up and say, 'John, what's he doing?' I say, 'Don't worry about it.' They say, 'Hell, he's going to destroy education.'
"'No, he's not going to destroy education. He's going to destroy education in the way you see it.'"
Moody also says that not everything Bennett is trying will work. For example, he has little hope in Bennett's effort to turn around struggling schools in Indianapolis and Gary by giving them to charter school operators. Moody noted other school districts have tried something similar in the past, without much success.
Moody chalks up some of those differences to Gov. Mitch Daniels, saying Bennett "is a team player" who went along with some of Daniels' ideas—although when pressed, Moody can't or won't name a policy that is more Daniels than Bennett.
But Moody has supported Bennett's political career from the moment it started because he sees in Bennett exactly the kind of person he spent his career trying to produce: passionate about kids and always pushing to improve.
In Moody's views, having those two qualities will always make a person a force for good in education.
"It's passion for kids, that's the driving force. That's what keeps him going," Moody said of Bennett. "Not only does he say that, but he means it. Because if you look back when he was a young person and he was going through the process of becoming an educator, you could see that start to come out and become a force with him."•
 
Please enable JavaScript to view this content.