First, a point of clarification: Amberen is a supplement for menopause symptoms. Amber Indian, on the other hand, is a restaurant whose buffet causes symptoms of afternoon lethargy.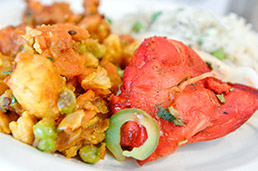 Garlic Chicken, Peas Pulao, Tandoori Chicken, and Vegetable Masala make a good first-round buffet plate. (IBJ Photo/ Perry Reichanadter)
Amber Indian (12510 N. Meridian St., Carmel, 580-0828) is not unique in that respect, of course. Most Indian buffets have the same energy-sapping effect. I've yet to find one that I didn't leave with the knowledge that dinner—even a late dinner—really wouldn't be necessary.

A big plus here is that the nan—the crack cocaine of the bread family—is served hot at your table with a choice of plain or garlic seasoning. The first bite convinces that this will be a lunchtime well spent. Beyond the bread, the buffet ($8.99 on weekdays, $9.99 on weekends) contains everything you'll find at most of Amber Indian's kin. The plates are warm, the serving attitude serious, and the food choices substantial, including many vegetarian options.

The buffet signage—sometimes detailed and useful, sometimes minimal and unhelpful (and sometimes misspelled)—indicated that the Lamb Curry had bones. I appreciated the warning, but it might have added that they would render the dish more trouble than it's worth. Ah, well, that just means more room on the plate for Aloo Tikki—mini potato cutlets that are the more imaginative cousin of Tater Tots. Other highlights include Chana Masala with chickpeas, steamed tomato, onion, ginger and spices; Chili Chicken with onion and peppers and a serious-but-not-debilitating kick; and Chicken Vandaloo in a creamy tomato-based sauce.

Worth the drive away from your favorite Indian spot? Debatable. Satisfying when you are otherwise in the neighborhood? Absolutely.

FYI: Amber Indian is scheduled to open another location this week in the former Taj of India location on East 82nd Street.•

—Lou Harry

__________

Second in a month-long series of reviews of colorful restaurants.