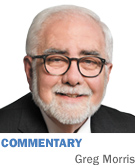 I understand most cities have a budget deficit. Very simply, there's not enough money in the coffers to cover all our needs. And that promotes great disagreement on how our limited resources should be deployed. Certainly that's the case here in Indianapolis and many surrounding areas. So, it's during this time of debate that I want to put in a plug for the importance of adequately funding public safety, and specifically law enforcement.

I've always been a supporter of law enforcement. I gained an early appreciation when I was 15 years old. I was a freshman at Carmel High School. The account I'm about to describe was the lead story on page 1 in the Indianapolis Star on Saturday, May 1, 1971. The headline read "2 Seized In Plot On Banker." The subhead read "Fake Extortion Payoff, Stakeout End Carmel Man's Ordeal of Fear."

In a nutshell, my father was president of Union State Bank in Hamilton County at the time. He started receiving threatening calls at our home in mid-April of that year and they continued for about two weeks. It was an extortion attempt by two Indianapolis men in their 20s. They wanted $25,000 and I guess they figured because my dad was president of a bank, he could get his hands on that kind of cash.

The phone calls became more threatening as this ordeal wore on. There was a barn fire near our house one night. The phone rang and the caller said, "You saw what happened over at the barn. If you don't want it to happen at your house, you'd better pay up." In another call, my father was asked if he knew what a pipe bomb was.

Of course, after the first threatening call, everything was monitored by the Carmel Police Department and the Hamilton County Sheriff's Office. Unbeknownst to me at the time, I was being shadowed by law enforcement at school and at school activities like golf team practice.

The final call came at 6:30 p.m. on a Thursday night with instructions on where to make the drop. So, my dad was given a bag with a $5 bill on top of a stack of newspapers cut to the size of currency that doubled as $25,000 cash. He got into his car with Carmel Police Chief Jim Beard who rode the floorboards and hid in the back seat and drove to the designated destination. It was near an abandoned restaurant in the 6700 block of East 38th Street. My dad got out of the car and put the bag in a trash barrel, as instructed, and drove off without incident.

While this was going on, I was sitting on the floor, with my mother, in a dark master bedroom at home with Carmel police and the sheriff deputies watching over us. We sent my younger brother to stay with relatives that night.

Sure enough, two men approached the trash barrel later that evening and pulled out the bag of "money." The place was staked out and the men were arrested, tried and convicted and they went to jail. I really don't remember for how long, but I do remember my dad getting a call when they were about to be released. As you can imagine, this incident made a life-long impression on me. The law enforcement officials we dealt with could not have been more helpful and reassuring.

I was reminded of this experience recently when I took part in a police training simulator session at Mickey's Camp. Two Indiana State Police troopers ran a few of us through different scenarios so realistic that they really got my heart racing. The simulations are computer generated and they make you feel as if you're right there in the middle of the action.

In a few of the scenarios, I was the police officer. I faced a traffic stop where the driver had a gun under his right leg, a hostage situation in a warehouse setting where many other people had been shot, and an active shooter situation during a mass shooting incident in a school. You had to make instant decisions about who were the good guys and who were the bad guys and then react. It was amazing and it gave me an even greater appreciation for law enforcement officials and the situations they can face on a moment's notice.

We all need well-trained and well-funded law enforcement personnel to help protect us. Let's give them as much funding as possible so they can do their job well.•

__________

Morris is publisher of IBJ. His column appears every other week. To comment on this column, send email to gmorris@ibj.com.