New laws, new technology and a new era of flat funding will bring more change to Indiana's public schools in the next decade than occurred in the past century, predicts David Dresslar, a former school superintendent who is now executive director of the Center of Excellence in Leadership of Learning at the University of Indianapolis.

Dresslar foresees salary schedules for teachers disappearing in favor of market forces that will push teacher pay as low as $30,000 and as high as $120,000. He foresees schools' spending more on marketing to attract and keep students and being forced by such competition to use technology to transform their instruction, including offering classes online and relying on computers to teach basic skills.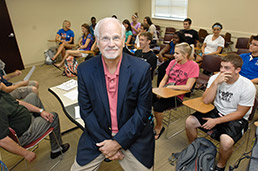 David Dresslar, executive director of the Center of Excellence in Leadership and Learning at the University of Indianapolis says, "The era of knowledge acquisition as a purpose of education is over." (IBJ photo/Perry Reichanadter)
Dresslar discussed his views on schools of the future with IBJ. What follows is an edited transcript.

IBJ: Since 2008, Indiana has cut funding to public schools, capped property tax rates for school districts, expanded charter schools, given vouchers for private schools, dropped transfer fee requirements for out-of-district students, cut back teachers' collective bargaining rights, and created a new evaluation and merit pay system for teachers and principals. With this nationally unprecedented confluence of changes, what will be the effect on public schools?

DRESSLAR: We're entering a new era in education. We'll see more change between 2010 and 2020 than we did between 1920 and 2010. Because I think some of the fundamental principles around which education is organized are going to change. The statutes are passed, the policies are in place, the principles have been established, and I would be surprised if we don't see the kind of change that we've never seen before in education over a relatively short period of time.

IBJ: How will all of those policy changes, in your mind, lead to fundamental change at the school level?

DRESSLAR: For a long time, education change was fueled by funding increases and now education change is being fueled by policy changes. Increased funding to do more and better education is in our past. Policy with greater accountability and greater expectations is in our future.

The second one is enrollment. Ten years ago, traditional public schools were the only game in town. You moved into a neighborhood, you found out which traditional public school [district] your house was in, and you sent your kid there. And that was it. Now, there are all kinds of choices and those choices are increasing exponentially. No longer can traditional public schools count on a population of students, but they have to compete for a population of students.

The other fundamental change is in education budgets. In the past, our budgets in traditional public school districts have been pretty much based on the teacher contract negotiations. If 86 percent of your budget is an obligation to a contract, what does that mean? You have 14 percent to adjust. There will still be union contracts, but here's what I think will go away: the salary schedule. And once the salary schedule disappears, the very basis for school district budgets will go with it. All of a sudden, boards and superintendents will be left with much more flexibility.

The revenues are not coming back, the enrollments are not automatic, and budgets are now in play. If there were any one of those three things that was happening, I would say, well, we'll have some incremental change. But since it's all three of those things that are happening, I'd say it's going to be fundamental change.

IBJ: When do you think teacher salary schedules—which determine teacher pay based on years of service and educational attainment—will disappear? And if they go, what will replace them?

DRESSLAR: What will replace them is a career ladder for public school employees, where public school employees come in, serve an apprenticeship, serve a time of development in their profession. [Then] they adopt best practices, they become masters. The master teachers then help the apprentice teachers. But performance will count. And performance has never counted in the salary schedule. Teacher evaluation in the past has not been rigorous and has not been high-stakes. I think we will see a shift from the salary schedule to a career ladder, no later than 2025. And it wouldn't surprise me that we see salary schedules become extinct in even 2020.

IBJ: What will teacher pay look like under this new system?

DRESSLAR: Right now, if I'm a school superintendent and I have a vacancy for a high school physics teacher and a high school physical education teacher, I'm going to pay them exactly the same. Well, the state graduated three physics teachers last year and they graduated, say, 300 physical education teachers. Well, in a flexible, career ladder system, that I envision happening, that physics teacher is going to make $120,000 because they have market value. They're in short supply. And so I'm going to be competing with other districts for that physics teacher, and I'm going to offer them the kind of salary that it's going to take to attract them, just like in the corporate world. If, on the other hand, I have 105 P.E. applications, I'm just not going to pay $120,000, because I'm going to be able to pay $30,000 and attract a person to that position. Staffing still [will be] 85 percent of the budget, but distributed in such a way that I have master teachers that are making a lot of money, I have novice teachers that are developing their practice, and they're not making a lot of money.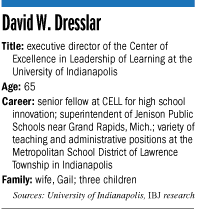 IBJ: Do you expect to see school superintendents with very different backgrounds than we've seen in the past?

DRESSLAR: I still think superintendents who have come up through the education ranks, including teacher experience, is very helpful in leading educational organizations. Having an understanding, having been in the trenches, having dealt with the problems that are dealt with on a day-to-day basis throughout your entire organization, helps you lead that organization, because you have an understanding of what they're dealing with. I'm just saying they're going to need a new skill set to cope with the realities of this change that's going to occur.

IBJ: You mean, some of them might go get some different kinds of education along the way, like an MBA?

DRESSLAR: Yep. Schools are going to be competing for students not just with local entities like charter schools and private schools, but national and international entities like online course offerings. In the old days, when I was a superintendent, I didn't have to worry about marketing, because I had a fixed enrollment. I had a monopoly. Well, marketing is something that superintendents are already adjusting to because of the competition of charters and private schools through vouchers and online schools. I envision high schools advertising on TV to enroll in their online program and kids taking high school online—and having their jobs and their free time and their pursuit of their sports and all that completely flexed up. So I see parents and students having all kinds of choices with regard to taking some education at the school and some not or going online and getting their own education.

IBJ: What sort of curriculum changes will schools embrace during these changes?

DRESSLAR: The era of knowledge acquisition as a purpose of education is over. The use of knowledge and information is what we need to teach our kids. Providing knowledge is something we've traditionally done through textbooks and lectures and classroom direct instruction. Now, teachers in many schools are realizing that you can provide that knowledge in videos, online, other kinds [of things].

I think you're going to hear a lot more about the flipped classroom in the future. The flipped classroom is, instead of delivering the knowledge in the class period, the knowledge is delivered as your homework. You watch the video, you go online—this is your homework. And then the class time becomes, how do we use that knowledge?

IBJ: But computers and digital technology have been in schools for a long time. Why is it only now that they will transform instruction?

DRESSLAR: We have used technology layered on to our traditional instructional methods. Kids go down to the computer lab and type up an essay. Well, that's not really utilizing the kinds of advantages that technology represents. So, yes, we've had technology in education for a long time, but we really have not changed the way in which we deliver instruction to take advantage of the technological advances. We've just layered it on.

IBJ: What will a successful district look like around the year 2020? What will an unsuccessful one look like?

DRESSLAR: The successful districts will be the ones that embrace new leadership styles. They'll embrace flexibility when it comes to delivery of the instructional program. I think they will engage their students in their learning: things like project-based learning, blended learning, flipped classrooms. Those are the kinds of flexible instructional strategies that are going to need to be employed in order to attract the future families to their districts.

The opposite of that is people that are unwilling to change. It's just a scary change. I think it's going to require so much new thinking in terms of where we put our resources and how we spend our time, that it's going to be natural to resist it. But I think the more the change is resisted, the less I would predict in terms of success in the future.•