Central Indiana residents will have a front-row seat on the close race for U.S. Senate, as Democrat Joe Donnelly and Republican Richard Mourdock drill into each other's partisan strongholds to pick up crucial votes.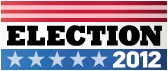 The Indianapolis area won't be the only battleground, but it's the single-largest pool of voters in the state. And it's a place where neither candidate can claim a hometown advantage.

"If they're smart, they will put their effort there," said Andrew Downs, director of the Mike Downs Center for Indiana Politics at Indiana University-Purdue University Fort Wayne.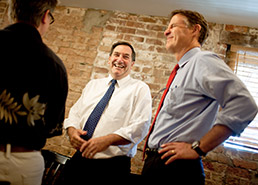 Joe Donnelly got support from former U.S. Sen. Evan Bayh in an August campaign stop at a Plymouth deli. (AP photo)
Democrat-leaning Marion County was home to 591,697 registered voters in 2010, and seven surrounding suburban counties held another 526,661 voters, who tend to vote Republican.

Both candidates will look to gain the edge by outperforming their party average in select precincts, Downs said.

State Treasurer Mourdock could pick up votes on the south side of Marion County, while U.S. Rep. Donnelly will want to at least narrow Mourdock's margin of victory in the suburbs, political strategists said.

Polls show Donnelly and Mourdock in a statistical tie, and the 16 percent of voters who identify themselves as completely independent will decide the race, Market Research Insight concluded after its early August poll for the Indiana Chamber of Commerce.

In the chamber poll of 600 voters, 41 percent said they would vote for or leaned toward Mourdock, while 39 percent would pick Donnelly. (Libertarian Andrew Horning would get 3 percent of the vote.)

Other polls came up with similar results. The Democrats' Majority PAC found Donnelly leading Mourdock 45 percent to 43 percent, while the right-leaning Rasmussen Reports found Mourdock leading 42 percent to 40 percent.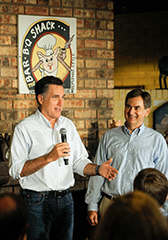 Presidential candidate Mitt Romney stumped for Richard Mourdock in August at an Evansville restaurant. (AP photo)
"Donnelly's challenge is to capture his Democratic base and move far enough right to capture that right-thinking mood in Indiana," said former state representative and GOP strategist Mike Murphy. "Mourdock's is to keep his far-right advocates and move just a little bit to the center, if he can, and get the more center-leaning independents."

The campaigns are starting to make those moves.

Donnelly, an anti-abortion, pro-union Democrat from South Bend, started campaigning alongside ex-U.S. Sen. Evan Bayh in late August. A former governor with a name famous in Indiana politics, Bayh always downplayed his party affiliation.

The joint appearances could reinforce Donnelly's moderate image and counter Mourdock's efforts to tie him to President Barack Obama. Donnelly voted for the Affordable Care Act, and in a recent ad Mourdock calls him "Obama Joe."

Mourdock, who defeated long-serving Sen. Richard Lugar in the primary with a similar strategy, is trying to counter Donnelly's attacks on his uncompromising attitude. He's been unapologetic about saying his idea of bipartisanship is to "inflict" his opinion on others, and about fighting the Chrysler bailout.

In Mourdock's latest ad, Lt. Gov. Becky Skillman endorses him as a "great teammate."



Ferreting out and winning over independents is a challenge because the landscape changes with each election cycle.

"There's a lot of science in campaigns, and there's still a fair amount of art in it," Downs said.

Each camp will zero in on areas that were favorable to a comparable past candidate, he said. Then they'll deploy paid callers or volunteers to tease out, household by household, whether independents are persuadable this time.

The trick is to target the right voters without generating turnout for the other side, Downs said.

Obama won Indiana in 2008 with wide margins in Democratic strongholds, plus better-than-average performance elsewhere. It took a massive volunteer effort, Downs said, but Obama won 39.9 percent of the vote in the doughnut counties, while Democratic Attorney General candidate Linda Pence garnered 35.7 percent.

Donnelly will want to do the same, Downs said, though he's a more conservative Democrat than Obama.

The Indianapolis suburbs are full of moderate Republicans who've been kind to Bayh and will be open to Donnelly's message of bipartisanship, predicted Dan Parker, chairman of the Indiana Democratic Party. He noted that, in 2004, when President George W. Bush carried Hamilton County by a huge margin, Bayh lost by just 6,000 votes.

Bayh also lost narrowly in Boone and Hendricks counties and won Hancock, Johnson and Morgan counties that year, Parker noted.

Boone County voters are looking moderate, Parker said. This year, Zionsville voters approved a tax increase for schools, and Lugar narrowly won the county, he said.

Fishers also looks promising, Parker said, because it's becoming more economically diverse, and many voters haven't lived there long enough to form ties with the local GOP.

While the race is close, Mourdock has the advantage, according to the Indiana Chamber of Commerce poll, because more undecided voters are Republican. Indiana GOP Chairman Eric Holcomb said internal polling shows voters are even more enthusiastic about Republicans than in 2010. That year, Republicans regained control of the Indiana House of Representatives and added to their majority in the Senate.

"We are at a high as far as Republicans go," he said.

Mourdock also has strong name recognition statewide after defeating Lugar. Holcomb thinks Mourdock's message on the economy, reducing spending and the national debt, plus the fact that he was part of the Daniels team, will play well with independents everywhere.

"He's just a relentless campaigner around the state," Holcomb said. That will include Marion County, as well as Lake County, another big Democratic stronghold, he said.

Republicans can do well in Marion County, as evidenced by Mayor Greg Ballard's second-term win and Daniels' 2004 performance in Perry, Franklin and Decatur townships, Murphy said.

But Mourdock is unlike other Republicans.

"He is probably the furthest-right candidate we've seen run statewide," Murphy said.

In terms of strategy, that means Mourdock's campaign will have to look at the performance of very conservative local candidates, Downs said.

Republicans also think Mourdock has the advantage in southern Indiana, a traditional swing area that's more solidly in their corner.

One GOP strategist, who didn't want to be named because of his role with national campaigns, said Donnelly faces a tough slog in the region because his opponent hails from Evansville. Otherwise, the Vanderburgh County seat might be a more fruitful stop on the campaign trail.

Donnelly spokeswoman Elizabeth Shappell said Donnelly and pro-Donnelly political action committees are spending more money in the Evansville media market than Mourdock, and the congressman is spending plenty of time there himself.•