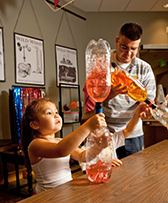 Conner Prairie's Science Lab offers hands-on experiments, including this one that shows how wind forms tornadoes. The group wants to add more science exhibits. (Photo courtesy of Conner Prairie)
An organization that depicts an era of buggies and blacksmiths has become a laboratory of sorts for the National Science Foundation.
Executives at Conner Prairie Interactive Historical Park admit the connection between their group and the independent federal agency responsible for promoting progress in science and engineering isn't readily apparent.
But they hope the recently awarded $2.3 million grant from the Arlington, Va.-based organization will lead to a new model for museums throughout the United States while increasing interest in the often unpopular and intimidating fields of science, technology, engineering and math. The NSF has charged Conner Prairie with finding a way to encourage other history museums to incorporate STEM subjects.
Conner Prairie this month launched a three-year project that attempts to blur the lines between history and science, ultimately evoking interest in both subjects.
"Science centers make free use of history to communicate the principles of science," Conner Prairie CEO Ellen Rosenthal said. "And history museums stay as far away from science as possible."

Rosenthal
Conner Prairie's science lab will be the center of the project, dubbed "Prairie Science."
The organization will install a wind- and water-energy exhibit in its lab, which opened in January 2010 as a way for Conner Prairie to introduce STEM subjects to visitors through historical contexts. For example, children can learn how a wind turbine works, then see one operate in the outside exhibit area.
Wyn Jennings, the NSF grant's program officer, said the foundation decided to explore history museums as an alternative way to drive people into STEM fields. History museums rarely receive NSF grants.
"We put a lot of money into other venues for STEM education. But in those cases, the science is the sole objective, and sole subject," Jennings said. "This is a new thing for us, and the reason we were interested in doing it, [is] people learn things in different ways from different sources."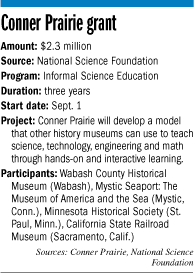 Conner Prairie, which attracts about 320,000 visitors annually, re-creates mid-19th century life by blending a historically clad staff into the settings of the time.
The story-based style of informally educating the public is common among history museums. Science museums, on the other hand, typically excel at hands-on activities. And because the activities can have multiple outcomes, they have an added draw compared with history exhibits.
"Even when science and history content are blended, a family visit to a history museum is still very different from a family visit to a science center," Conner Prairie wrote in its NSF grant application. "There is a valuable learning dynamic in each that has yet to cross over."
Prototype lab
As families and school groups study displays in the 2,500-square-foot lab exhibit, Conner Prairie will study the visitors.
The museum wants to assess the depth of visitors' interest and learning, Rosenthal said. For example, do they just say they like the exhibit, or do they begin analytical conversations, dissecting the subject?
"We want to expose kids to the STEM subjects and spark an interest when they're younger, not when you're taking your first chemistry class in high school," said Cathryn Ferree, Conner Prairie's vice president of exhibits, programs and facilities.

Ferree
The exhibit's broad energy themes give employees flexibility in what they can set up in the lab, said Ferree, who is overseeing the project. She said researchers will adjust based on what does and doesn't work while keeping the core topic the same.
There isn't a concrete opening date for the new exhibit, but Ferree said it should debut within a few months.
The display will be a prototype for exhibits with similar features that Conner Prairie will help set up at other museums as part of the project.
Scientific exchange
Conner Prairie has enlisted four others: the Wabash County Historical Museum in Wabash; Mystic Seaport: The Museum of America and the Sea in Mystic, Conn.; the Minnesota Historical Society in St. Paul, Minn.; and the California State Railroad Museum in Sacramento, Calif.
The museums that are in the partnership will receive 200- to 300-square-foot exhibits. Each museum has a focus on one of the themes conveyed in the Conner Prairie energy-oriented lab.
In Wabash, for example, the museum has a display about the city's being the first to use electric street lights in the United States.
The museum tells its 6,000 visitors every year about the day the first arc lamp flickered on at the courthouse—and what led up to it and followed.
Conner Prairie's development of the STEM aspect of the electric lights should draw in other crowds, especially from schools, said Tracy Steward, executive director.
"I can make links, I can go through and pull out scientific facts from the museum," Steward said. "But it makes it easier to know, 'Oh, I can take a seventh-grade science class now to the history museum,'" because of the scientific model Conner Prairie will help implement.
National model
One of NSF's goals with the project is to persuade more history museums nationwide to add STEM-based exhibits.
To help make that happen, researchers will present their findings and the model they develop at conferences throughout the United States.
The NSF doesn't want Conner Prairie to standardize exhibits at history museums, Jennings said. Instead, its hope is that more history museums will embrace science.
"By providing a different perspective," he said, "the science transfer may be more efficient."•
Please enable JavaScript to view this content.