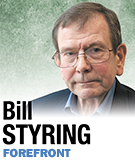 Four-term Carmel Mayor James Brainard has to be on a publicity-induced high. Keystone Parkway recently got a design award from a national transit engineering firm. Better still, Money named Carmel first on its list of America's best small cities.
As a longtime resident of Carmel, I think this is just great.
But maybe not so great. All these wonderful things have had hidden costs that are finally becoming visible.
Carmel residents and city fathers of Carmel wannabes should study recent events.
The Carmel Redevelopment Commission, the entity that has incurred much of the debt to finance the city's opulent "amenities," is insolvent.
A little background about the commission. A majority of the members are appointed by the mayor. It could incur debt and debt-like obligations with no outside review or approval.
At the urging of some Carmel citizens (including me) who thought things were getting too loosey-goosey, the Indiana Senate twice passed legislation to require commission debt to be approved by the City Council. Twice the bills died in a House committee. I can't prove who engineered their demise but I have my suspicions.
The final set of alarm bells started ringing a few months ago. The commission had piled up so much debt that it had to ink lease agreements implicitly borrowing at 7 percent to 9 percent. When you're paying those rates on tax-exempt money in this interest-rate environment, perhaps the market is sending a not-too-subtle signal that you're a lousy credit risk.
Almost on cue, the mayor and the commission shortly thereafter asked the City Council to assume $190 million of their debt. (Another couple of hundred million, for various technical reasons, would remain with the commission.) Those debts would no longer belong to the commission. Debts would become general obligations of Carmel taxpayers.
At first, the mayor described the commission's problem as one of "temporary cash flow." Two days later, he admitted it wasn't temporary and was more than just cash flow.
No one can claim Carmel didn't go first class. But costs were always low-balled to sell projects. My notes from the period say the Performing Arts Center was promised to cost $80 million and would require no ongoing operating subsidy. Anyone familiar with the history of these venues knew the latter was a fairy tale. The final bill was—no one knows exactly—something like $160 million to $165 million.
Annual operating subsidies are now in the millions and climbing. We're told these will be temporary. Based on history, no one should hold his breath.
The cost of Keystone Parkway is fuzzy. It's likely several tens of millions more than advertised. Plus, instead of the state, the city of Carmel has to maintain it in perpetuity. Heaven help the taxpayers when U.S. 31 is closed for construction and all those 18-wheelers come pavement crunching.
Smaller extravaganzas are the irritants everyone understands. Roundabouts are cute and may even be useful.
But do we really need an expensive piece of art in the center of each? Most look like a toy pinwheel after a 2-year-old got done throwing a tantrum at it.
Those Pillars of Hercules announcing you are entering the Arts and Design District cost how much and do what?
Then there are those pricey downtown statues. As the mayor once famously said, "No price is too high to pay for good art." This is art?
I don't question the mayor's honesty or good intentions.
I do question whether we can afford him.
Oliver Cromwell once gave advice to the Long Parliament: "Ye has sat here too long for any good ye hast done. In the name of God, Go!"
Barack Obama may, astonishingly, be re-elected. If so, top jobs will come open in his second term. Mayor, apply for one. You'll fit in quite nicely.•
• Styring is an economist, a former Indiana Chamber of Commerce lobbyist, and a former senior fellow at the Hudson Institute. Send comments on this column to ibjedit@ibj.com.
Please enable JavaScript to view this content.