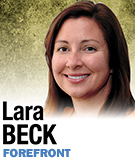 When women vote, women win. That's the mantra the 51% Club has adopted in an effort to encourage women to vote this election cycle. An organic, grass-roots movement of Democratic women throughout Indiana, the 51% Club has repeatedly shared some startling statistics.

Among the most concerning? After all the votes were counted in the 2010 general election, nearly 250,000 fewer Hoosier women had voted than in the 2008 Democratic primary.

Women are a formidable voting bloc. If you happened to tune in to any of the national political conventions—Democratic or Republican—women took center stage. From first lady Michelle Obama's impassioned endorsement of her husband to former Secretary of State Condoleezza Rice's thoughts on foreign policy, it's clear both of the major parties realize they need women to win.

Here in Indiana, the Democrats and Republicans have nominated women for lieutenant governor. Women are also on the ballot for congressional, state and local offices.

More women stepping up to run for office is critical to moving women forward. But if women—those who are working, raising families, volunteering and caring for loved ones—are to truly win, they need to vote. The repercussions of sitting on the sidelines are truly frightening.

Consider this: Within the last two years, the GOP majority in the General Assembly tried to defund Planned Parenthood, which would have deprived economically disadvantaged women of low-cost preventive health care. They made it their business to attack the LGBT community. And they passed legislation to allow guns in public places like parks and libraries, where our children play and learn. (I'm all about supporting the Second Amendment, by the way, just not at the Irvington tot lot and during story time at the library.)

Who can forget the bills that were introduced to teach creationism in public school science classes? My personal favorite was the misguided and silly attack on the Girl Scouts, which was led by State Rep. Bob Morris. For the record, I'm proud to have been a member of this "radicalized organization" from ages 6 to 12.

The national landscape for women's issues is just as bleak. Indiana's Republican candidate for governor, Mike Pence, voted against the Lilly Ledbetter Fair Pay Act while in Congress and never gave a reason why. Mitt Romney pledges to repeal "Obamacare" if elected, which would effectively toss millions of Americans—including children with pre-existing conditions—into health insurance limbo.

Add to that the calls for restrictions on contraceptive use by women and Missouri Rep. Todd Akin's comments on "legitimate rape," and one might be led to think we are living in 1812, rather than 2012.

If this comes across as a depressing litany of the state of women's rights in our society, it is. These attacks aren't affecting just women, they are affecting families and children.

Many working American mothers are expected back on the job six weeks after giving birth. Our Hoosier sons and daughters, particularly those born into families of modest means, lack access to early education and health care.

Recognizing that women compose a majority of our population, the 51% Club has made it a mission to reach women who sat out the 2010 election. They've set a goal to connect with each lapsed woman voter three times before Election Day, and they are well on their way.

A grass-roots network of more than 500 women—and men—are phone-banking in counties across the state. (Look alive, women of Switzerland County—you're probably going to get a call soon.) They are participating in community events, raising money, establishing a robust social media presence, and having face-to-face conversations about what is at stake this election.

Indiana, and our country, needs women to vote this year.•

• Beck served on the staffs of former Mayor Bart Peterson and former first lady Maggie Kernan. A resident of Irvington, Beck owns the strategic communications firm Beck Communications. Send comments on this column to ibjedit@ibj.com.