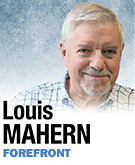 Earlier this year, U.S. student loan debt achieved a milestone. It surpassed outstanding credit card debt. According to the Federal Reserve Bank of New York, student debt is rising when other debt is flat or even falling. Fifteen percent of all Americans with a credit score are carrying student debt.

Forty percent of people under 30, and one quarter of those between the ages of 30 and 39, have college loans. More than 5 million student loan debtors have past-due student loans.

Over the past 15 years, the portion of bachelor's degree recipients who borrowed for their educations went from 49 percent to 66 percent and the amount borrowed grew 50 percent, from a little over $15,000 to just under $25,000.

The Institute for Higher Education found last year that 56 percent of student borrowers had trouble making loan payments within five years of leaving school. Of those who left without a degree, only 26 percent were making on-time payments. This means more than half of student borrowers are in deferment, forbearance, delinquency or default.

Students who default face an array of consequences—from escalating repayments, garnishment of wages, ruined credit ratings and the possible revocation of professional licenses.

Student borrowing is needlessly complicated. There are far too many types of loans as well as repayment options. There are also unnecessary private-sector loan servicers.

Other countries, notably the U.K., New Zealand and Australia, all have systems based on standardized loans and interest rates as well as income-based repayment schedules. The loan payments are collected by the federal revenue system. In our case, the IRS would collect the loan repayments along with your taxes. The payments would be withheld from your paycheck and be based on a percentage of your income, most probably around 8 percent.

Assuming an undergraduate borrows the maximum amount from the federal government, $31,000, the current standard monthly payment required is not quite $360 a month for 10 years.

Suppose she got a job paying the national average for someone with an undergraduate degree, $51,000. Her monthly payment would be about 8 percent of her pre-tax salary. Were she to have a degree in chemical engineering with a salary of $66,000, her payment would be an affordable 6 percent. Were she to earn $30,000 as a social worker, her payment would be 14 percent of income.

With an income-contingent payment system, a borrower could pursue a career in social work without having to worry about making a $360 payment. At 8 percent, her payment would be a much more affordable $200. She would take longer to pay off her loan, but it would not be so much of a struggle.

The payment for the graduate earning $51,000 drops about $17.

For the chemical engineer making $66,000, her payment would increase to $440, but her loan would be paid off more quickly.

As a recent report from the Education Sector think tank put it:

"A simple income-contingent loan would do away with all of the confusion, replacing the myriad financing instruments with just one loan, with one interest rate and one payment system. All borrowers would repay their loans as a percentage of their incomes, thereby eliminating default: when their incomes went up, payments would go up; when their incomes went down, payments would go down.

"There would be no forms to fill out, no arbitrary time lines to meet. Payments would be automatically adjusted because they would be collected through the federal tax system. A borrower's obligation would end when he repaid the balance of his loan plus accrued interest or when he had made regular payments for a specified time, generally 20-30 years, at which time the remaining debt would be forgiven."•

• Mahern has been an assistant to U.S. Rep. Andy Jacobs and U.S. Sen. Birch Bayh and served in the Indiana Senate. Send comments on this column to ibjedit@ibj.com.