Talk about a big job.
Local tourism officials have known for nearly four years that the National FFA Organization annual convention will leave Indianapolis temporarily after an anticipated 55,000 members clad in their trademark blue corduroy jackets descend on the city for their confab Oct. 24-27.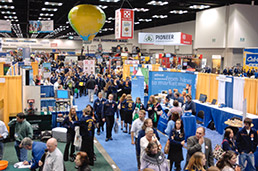 The more than 50,000 FFA members attend the convention, helping fill downtown restaurants. (IBJ file photo)
But that doesn't mean finding new business to replace the city's largest convention has been easy for local officials.
Only about a third of the $38 million in economic impact has been backfilled with other conventions, according to Visit Indy, formerly known as the Indianapolis Convention & Visitors Association.
That shortfall has owners and managers of restaurants, hotels and other hospitality businesses concerned about the October weekend until the convention returns in 2016.
"Replacing a convention like the FFA isn't easy," said Liping Cai, a Purdue University professor of hospitality and tourism management. "It not only has a tremendous impact on downtown, but pushes a substantial amount of business into the suburbs."
Formerly known as Future Farmers of America, the FFA brings members from across the country to be educated on a range of topics including science and agriculture. There's also plenty of free time for the teens, many of whom hail from small towns, to explore the city—and spend.
Indianapolis won a contest to begin hosting the event in 2006, snatching it away from the most recent host city of Louisville and also from rivals including Kansas City, Mo., which had welcomed the group for 70 years until 1998.
Indianapolis locked up the convention for seven straight years through 2012. Then, just before Christmas in 2008, the locally headquartered organization announced it would rotate the event between Louisville and Indianapolis through 2024: in Louisville 2013-2015, in Indianapolis 2016-2018, in Louisville 2019 to 2021, then returning to Indianapolis.
Big impact
The 50,000 hotel room nights the FFA uses are far more than the 28,000 or so available during that period downtown, spreading the impact from the convention well beyond Center Township.
It's the downtown businesses, however, that will feel the greatest pinch from the departure, and Circle Centre mall stores as well as restaurants and businesses catering to young people—such as Steak n Shake—will be especially hard hit.
The tepid economy is adding to speculation about what the next three Octobers might be like.
Losing a convention like FFA "puts a significant amount of pressure" on local tourism officials, Cai said. "A lot of local businesses, especially those downtown that have business plans based on convention traffic, really count on those big conventions."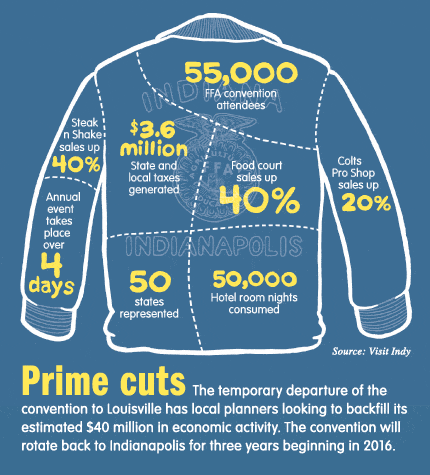 With convention traffic accounting for nearly one-third of sales at the Colts Pro Shop in the mall, store officials have a close eye on what Visit Indy officials will do to replace the FFA gathering.
"Convention business is huge for us and we're not alone," said Dave Moroknek, CEO of Indianapolis-based MainGate Inc., which operates the mall Colts store. "We can look at the calendar and see the conventions coming to town and know what weeks we're going to do much better."
The mall's Colts Pro Shop sees a sales spike of more than 20 percent each time the FFA rolls into town, Moroknek said, adding that the MainGate-run Pacers store at Bankers Life Fieldhouse and Colts store in Lucas Oil Stadium also see "significant" sales bumps during the FFA convention.
"We absolutely love the FFA," he said. "The convention brings a lot of people to town and they have a lot of disposable time and money. I don't think there's a convention that comes into town that has a bigger impact on our business."
Circle Centre Marketing Director Jennifer Jones describes the mall as "a beehive of blue corduroy" during the last week of October.
"That's the only way I can think to describe it, like a beehive or an ant farm clad in blue."
The FFA's impact is so substantial on downtown retail stores and restaurants that many alter their inventories or menus to cater to the throngs. For example, some steakhouses add sliders and more youth-oriented offerings, Jones said.
Some retail managers have reported a 40-percent sales boost over what they'd typically see over a Wednesday through Saturday.
And while the burger and pizza joints might see the biggest impact, officials for high-end restaurants such as Harry & Izzy's and St. Elmo Steak House also see increased business.
"A good number of adult chaperones also come into town and many of those chaperones will set up at least one nice lunch or dinner for their group," Jones said.
Plan in motion
Visit Indy CEO Leonard Hoops plans to fill the void with a mix of conventions and non-convention business and leisure travel.
Still, unless a significant influx of tourists and other non-convention travel business comes to Indianapolis, it will be difficult to replace the spending.
Next year, the Do It Best fall convention—with its $9.2 million economic impact—will be moved back two weeks into the slot the FFA occupied. A new convention has been booked for the slot that would have been occupied by Do It Best before it moved to FFA's slot, Hoops said. But he added that the new convention—which he wouldn't divulge due to incomplete hotel contracts—will have only a $13 million economic impact. That's far less than the $38 million loss of the FFA gathering.
In 2014, Visit Indy has "two tentative groups that we expect to book," Hoops said. The impact of those groups: $10 million.
In 2015, three groups have confirmed for the slot, Hoops said. The combined impact of those conventions is $11 million, he said, adding that Visit Indy is working on a fourth convention.
Visit Indy will rely on increases in leisure travel to make up as much of the difference as possible.
A fall leisure advertising campaign aimed at regional visitors will kick off in September and run into October, Hoops said. Last year, he said, the campaign generated $18 million in spending.
But revenue for Visit Indy's advertising campaign is anything but certain.
Proceeds from the city's planned sale of the Ober office building near Bankers Life Fieldhouse could be used to help sustain marketing and sales efforts, said officials for Visit Indy and the city's Capital Improvement Board, which owns the six-story downtown building at Pennsylvania and Maryland streets and also owns the Indiana Convention Center.
CIB wants to plug a $2 million funding hole that will open up next year for Visit Indy due to the expiration of a $5.9 million grant from Merrillville-based White Lodging Services Corp., which owns the new JW Marriott hotel downtown.
"As long as our overall budget stays intact, we will continue to execute this leisure marketing strategy to help fill our hotels in October," Hoops said.
Priceless exposure
Not only will local businesses miss the money the teens bring, but tourism officials also like the low-maintenance nature of the crowd.
"With this many teens, their behavior is phenomenal," said Glenn Brooks, vice president of Indianapolis-based General Hotels Corp., which has hotels downtown at the airport and suburbs. "These guests are extremely well behaved. We hear lots of 'yes, sirs' and 'thank-yous.' "
The loss goes beyond near-term economics. The exposure to an up-and-coming demographic also will be a big loss with FFA's temporary exodus.
"The FFA has changed a lot over the years," said John Livengood, president of the Restaurant & Hospitality Association of Indiana. "This isn't just a bunch of farm kids anymore. These visitors are this country's future scientists, engineers and agricultural business leaders.
"You simply don't replace exposure to a group like that."•
Please enable JavaScript to view this content.