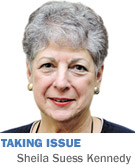 Recently, all eyes have been glued to developments in the presidential race and to Indiana's campaigns for governor and U.S. senator. We've paid less attention to the folks running for seats in the Indiana House and Senate.
That isn't surprising; despite the adage that "all politics is local," national elections have always attracted more attention and greater turnout than contests closer to home. That's a shame, because the people we elect to state and local legislative bodies are the ones who will decide what happens to Indiana's families over the next few years.
The term "family values" gets misused a lot; it has become a euphemism for anti-gay, anti-woman positions that are anything but helpful to real Hoosier families. (Yes, Mike Pence, I'm looking at you.) So it's heartening to come across candidates who actually seem to care more about their neighbors' well-being than their sexual orientations or reproductive decisions.
Charles Bender is a Democrat running for the Senate seat vacated by Connie Lawson, who became secretary of state after Charlie White was convicted. Bender retired after 41 years at IBM. He cites his own 46-year marriage as a reason he is concerned about the institution, but unlike those who blame gays or working wives for the precarious state of the institution, he believes that valuing marriage requires turning our attention to medically accurate sex education, access to family planning, education and—above all—jobs.
As he says, when 23 percent of Indiana's children live in poverty, it's bad for families and for Indiana's economy.
I just met Bender a couple of months ago, but I've known Republican Scott Keller for well over 30 years. Keller has been a model citizen ever since I've known him: as a developer, he was a leader of Indianapolis' downtown renaissance. He has been a tireless and generous patron of the Indianapolis arts, a former member of the City-County Council, a former commissioner of the Metropolitan Development Commission, and a former member of more boards and commissions than you can shake a stick at. He is currently running for an open House seat, promising to work across the aisle, to attend neighborhood meetings, and to be accessible and transparent.
Lots of candidates make those promises, but Keller's record demonstrates that accountability and bipartisanship have always been his "modus operandi."
Keller understands that families need neighborhoods that nurture civic engagement. He recognizes that there are all kinds of families, and that government has a responsibility to create a civic infrastructure that will be fair to all of them.
It is so easy these days to dismiss everyone involved in politics as self-serving or demented or both. I've caught myself doing that, giving in to a "pox on both your houses" attitude. It's also easy to write off the political party with which we disagree as the refuge of fools and knaves.
If we truly want to fix our toxic politics, we can't surrender to either of those temptations. We owe it to ourselves and our communities to look for the candidates who aren't trying to tear someone else down, who aren't using code words to diminish the humanity of people they don't like, and who aren't trying to cash in on the spoils of crony capitalism.
Both parties have candidates who are genuinely trying to make Indiana a better place for Hoosier families. There aren't a lot of them, I grant you, but that makes it even more important to identify and support the good guys.•
__________
Kennedy is a professor of law and public policy at the School of Public and Environmental Affairs at IUPUI. She blogs regularly at www.sheilakennedy.net. She can be reached at skennedy@ibj.com. Send comments on this column to ibjedit@ibj.com.
Please enable JavaScript to view this content.