A possible northern Indianapolis art corridor has hit resistance from a group seeking to keep the trail's natural ambience as is.

Save Our Scenic Central Canal, led by local activist Clarke Kahlo, is objecting to the proposed Art2Art project that would develop and decorate 4-1/2 miles along the Central Canal towpath.

The path would run from the Indianapolis Museum of Art on West 38th Street, pass by Butler University, and end at the Indianapolis Art Center in Broad Ripple.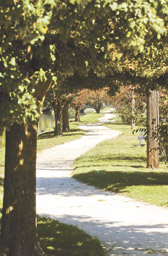 Plans for the pedestrian path along Central Canal include improving infrastructure and adding public art displays. (IBJ Photo/ Perry Reichanadter)
Concept designs show public art along the path and structural improvements to walkways and bridges.

Arts and community groups—including the Central Indiana Community Foundation, Indy Parks and Recreation, and Butler University Center for Ecology—have thrown their support behind the corridor.

Any work must first receive the blessings of Citizens Energy Group, which owns the canal and surrounding property.

Save Our Scenic Central Canal has prepared a nine-point case statement pressing a need to keep the setting intact without further human interference.

"This is inappropriate because it's putting man's thumbprint in the middle of the picture," Kahlo said.

There was one exception.

"If it's safety-related and there's a demonstrable need, these things should be taken care of," Kahlo said, referring to any footpaths or structures in disrepair.

Save Our Scenic Central Canal also has raised concerns about historic preservation, the type of art that would appear along the path, potential parking problems from increased traffic, and maintenance.

Art2Art proponents call the naysayers' concerns misguided.

The project is merely in a conceptual stage, meaning there are no actual plans to present to the community, said Carter Wolf, CEO of the Indianapolis Art Center.

Supporters say they don't yet know where the art would go, what it would look like, how much it would cost, or other specifics.

"It's like fighting windmills," Wolf said, referring to literary character Don Quixote's charge at windmills he mistook as giants. "Wait until there's something to fight. I don't mind controversy, but we don't have anything to defend."

Urban planning and landscape architecture firm Eden Collaborative conceived the idea as part of a master plan it worked on to improve the midtown area.

Midtown President Kathy Shorter said the group has spent little time working on Art2Art so far because it has been focused on more pressing projects in the area, such as the Army Corps of Engineers' plans to install a 4,200-foot floodwall along the north side of the canal.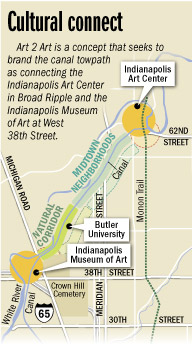 Kahlo has been involved with the floodwall project because it would result in removing 14 acres of wooded area along the waterway. The retiree this year also has sued the city over a tax increment financing district expansion, urged Indy Parks and Recreation to put the brakes on a mountain-bike trail at Eagle Creek Park, and objected to a parking garage in Broad Ripple.

Shorter and Wolf, who are part of a 10-member Art2Art Working Group representing eight organizations, said project coordinators would present ideas to the public for feedback once they're developed.

Chances are, the art work would be in already-urbanized parts of the trail, such as Broad Ripple, Shorter said.

"Everything we do gets vetted by the community," she said. "This was an idea conceived by the community."

The public input is essential for historian and photographer Glory-June Greiff to feel comfortable with the project.

Greiff, who is part of Save Our Scenic Central Canal, said any art that goes in needs to be appropriate both in design and location.

"As an observer of public sculptures for a long time now, appropriateness of place is key," she said. "Proper placement might work, but too little attention is paid to that."

Citizens Energy will not allow any art directly on the towpath or within 20 feet of the water because vehicles need to access the area, spokeswoman Sarah Holsapple said.

"We are engaging both groups and talking about their ideas on the canal," Holsapple said. "No decisions have been made. … We certainly understand the sensitive nature of the canal and that both sides have viable arguments."•