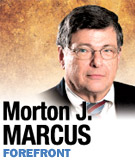 In the decade of the Great Depression, the 1930s, the population of Indiana grew 5.8 percent. Later, in the 1970s, a decade of great economic turmoil, the state's population advanced 5.7 percent. The 1980s saw a strong recession and a subsequent restructuring of American business; Indiana's population grew a mere 1 percent.
Those three decades were the worst for Indiana's population growth in the 20th century.
Now, according to population projections released by the Indiana Business Research Center in the Kelley School of Business at Indiana University, we are again in a decade of 5.7-percent growth (2010 to 2020). While this is anemic, it is just a prelude to future decades of decreasing population growth rates for the Hoosier state.
As the candidates for governor and senator, and their sponsors, spend millions on TV ads, what do we hear about the serious economic and social consequences of the demographic changes forecast by the IBRC? Nothing, if your TV is like mine.
Although these official, nonpartisan population projections were released in March this year, the four leading candidates ignore them. The candidates seem to have no understanding that Indiana is in for decades of slowing growth that will have grave implications for state revenue and expenditures. Without thoughtful investment, many of our communities will become yet more stagnant.
Although the press has documented the aging of the Hoosier population, the gubernatorial candidates have not addressed how they will guide the state toward 2050 when one in five Hoosiers will be 65 or older, when 70 percent of the growth in population will be concentrated in the senior group.
This segment of the population will grow by 17,300 persons per year, according to the projections. Will we continue to favor seniors in our income and property tax codes? Or will they have to forgo the preferential treatment now afforded them?
The school-age population grows only 2,700 per year over the next 38 years. This slow growth will allow us to consider improvements to our school buildings without the pressing needs of expansion.
The critical household formation ages (20 to 44) will grow 0.2 percent per year, which means appliance dealers and other retailers who profit from new households will have to find other customers. Big-ticket items (washers, dryers, furniture, carpeting) mean big sales tax receipts. With this sector hardly growing, what happens to Indiana revenue that is heavily dependent on consumer spending?
Fulsome advertisements about a candidate's concern for seniors might still work with some voters. Yet we can hope that the public, and particularly the business community, has learned there is more to aging than an increase in dependency. While the purchase of goods may decrease with age, the sale of services can boom.
Demographic change may seem inevitable, but public policy can have a significant impact on how that change affects the well-being of our communities. To ignore those changes, even when they are clearly stated and easy to understand, is to reinforce the view that many candidates are not in tune with the forward-looking segments of society.
Focused on the past, candidates continue to debate yesterday's issues rather than outline their intentions for the future.•
• Marcus taught economics for more than 30 years at Indiana University and is the former director of the university's Indiana Business Research Center. Send comments on this column to ibjedit@ibj.com.
Please enable JavaScript to view this content.