While city leaders focus on the 2013 budget, efficiency expert Manny Mendez is scouring government operations in search of $15 million.

Mendez
That's the amount of savings or new revenue Mayor Greg Ballard hopes to find to help close budget deficits that are expected to persist beyond next year. Even with local income tax revenue rebounding in 2014 and spending remaining flat, Controller Jeff Spalding forecasts a $27 million budget gap for 2014.

Mendez, director of audit and performance, has produced $4.9 million in savings since Ballard hired him in the fall of 2008. To find $15 million, he would have to more than triple his output in a span of about 18 months.

The goal is based more on the city's need than data suggesting it's achievable, Mendez said.

"The boss says jump, I jump. I think I can deliver that," he said.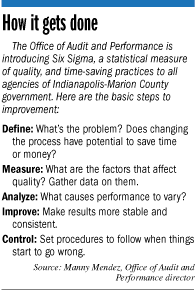 Starting with the city as deputy controller, Mendez was a one-man shop in Six Sigma, the quality-control process that Motorola made popular throughout the business world. After he moved over to the Office of Audit and Performance in late 2009, he sent his four staff members to Six Sigma "black belt" training. Now they're helping him introduce the basics to every city and county employee.

Mendez uses a hybrid of Six Sigma, which relies on statistical analysis, and so-called "lean" practices, which manufacturers use to squeeze more out of their assembly lines.

Some results over the past four years include quicker turnaround times on death certificates from the Marion County coroner; quicker turnarounds on trash-truck maintenance; and the addition of mini-concession stands, which bring new revenue, at some parks.

City offices seem to embrace Mendez's training because he's focused on processes, not politics, said Ryan Vaughn, Ballard's chief of staff. Plus, the improvements make life easier, he said. "His early successes have shown that he saved people money, which agencies need."

Indianapolis isn't the first city government to turn to industrial methods of efficiency.

Fort Wayne counted $20 million in savings over seven years after former Mayor Graham Richard introduced Six Sigma in 2000, City Controller Patricia Roller said.

Fort Wayne, which later shifted to a Six Sigma lean hybrid, has saved another $7 million since 2008, Roller said.

"We have been doing this so long, I'm not even sure people are conscious when we do this," she said. "It's just a natural thing that we go to."

Ballard wants to see a similar culture shift. That's why Mendez encourages department managers and staff members to be involved in their own improvement projects. There are now 13 black belts in training throughout the city, he said.

"No matter who's in office, this still lives, this still grows," Mendez said.

Mendez thinks the best ideas come from front-line staff. He wouldn't let a reporter observe the major portion of his last training session in September because he didn't want to discourage employees from openly challenging the status quo.

"We get our best ideas from the associates because they live it every day," said Mendez, who previously worked in banking. His largest project in the private sector, which netted $2.2 million in savings, was prompted by a machine operator, he said.

While Mendez empowers city employees to improve on their own, he's also following his own nose. That's one reason he thinks he can find $15 million. He's no longer waiting for department chiefs to ask for his help.

Mendez watches budget presentations for clues to waste. If a manager asks for an increase but isn't dealing with higher volume, he said, "I would lean toward, 'You haven't been running efficiently.'"

Mendez also has some ideas based on his past work, which includes helping the Marion County Sheriff's Office rein in arrestee health care costs.

"I have a list," he said. "I have to keep it kind of tight because it impacts people. The anxiety for the staff really can deflate a program."

In a business setting, Mendez would be an ax-wielder, looking for positions to cut. That's not likely in city government, he said. "It's doing more with what we have. We are all running on some very thin budgets."

The fact that local government revolves around people, not widgets, can make cost-saving measures difficult to execute.

The Sheriff's Office expects to avoid $1.2 million a year in arrestee health care costs under a new program where people arrested for public drunkenness are sent to an in-house detox center, rather than Wishard Memorial Hospital. The arrestees are still under a nurse's care, and they get more attention than they did at the hospital, Mendez said.

But another cost-saving move for public safety is still waiting in the wings. If police officers issued a summons, rather than making an arrest, in the case of single-vehicle drunken-driving accidents, the Sheriff's Office wouldn't have to pay the hospital bill.

Area police chiefs have agreed that issuing a summons to a first-time offender who's too injured to leave the hospital poses no threat to public safety, said Lt. Col. Louis Dezelan of the Marion County Sheriff's Office.

But it's hard to translate that policy for police officers, who are trained to arrest people, Dezelan said.

Relations between Ballard and Sheriff John Layton were strained heading into budget season, but Dezelan said Mendez and his team are a welcome presence.

Mendez is diving deeper into public safety operations, starting with a look at the armories the sheriff and IMPD each maintain.

"Neither one of us has ventured over to the other," Dezelan said. "That's what Six Sigma is good for."

Roller, who used to work for Lincoln Financial Group, said Six Sigma and lean practices adapt surprisingly well to government.

"In a democracy, if you've got your facts laid out, it's an easier sell," she said.•