From 1995's "The Search for Signs of Intelligent Life in the Universe" through the current production of "Bloody Bloody Andrew Jackson" (more on that one later), I've spent more than 80 evenings and matinees at the Phoenix Theatre.
For the time being, the lobby of the Phoenix Theatre is decorated with poster boards listing all the shows produced by the company since it opened for business 30 years ago. And waiting to go onstage recently to moderate a series of panel discussions on the theater's history, I found myself not just counting what I've seen, but kicking myself for all I've missed.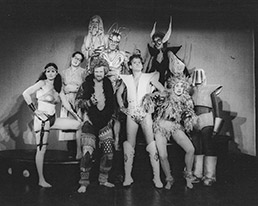 The Phoenix Theatre then ("Warp") … (Photo courtesy of Phoenix Theatre)
I have an excuse, of course, for not seeing anything before I arrived in town, but why didn't I catch "This is Our Youth"? Why not "Bug"? What could possibly have been going on that kept me away from "Hedwig and the Angry Inch"?
I should know to make seeing these shows a priority the first time around, because there isn't usually a second. Except for recent hits "Avenue Q" and "Pure Prine," the Phoenix does not repeat itself.
That "no repeat" clause is just one of the factors that makes this theater unique. Another is that, on stage at least, the Phoenix rarely looks back. Its plays are relentlessly contemporary—if not in setting then at least in sensibility. This is a world without Shakespeare and Shaw, without Rodgers and/or Hammerstein, and without Arthur Miller or Tennessee Williams.
Yes, you might find a David Mamet or Neil LaBute on the schedule, but you are just as likely to find a playwright you (and most of the theatergoing public) haven't heard of. Don't believe me? OK, three of the following—Peter McElligott, Kevin Savell, Danel Malan, Geoffrey Nauffts—had plays produced at the Phoenix last season. The other is a cousin of mine. Can you spot the relative? Didn't think so.
While names don't matter at the Phoenix, freshness does. And if that means not every play is perfectly polished, so be it. When you see a story brought to life at the Phoenix, there's a good chance you are seeing it through virgin eyes—you have no idea what's going to happen next. And the actors, director and designers aren't working from a template established in earlier productions.
Does that make every show worthwhile? Of course not. I don't like the terms "good review" and "bad review," but I know I've written a number of reviews of Phoenix productions that the marketing folks wouldn't want to quote in an ad or press release. But the occasional misfire has never diminished my enthusiasm and respect for the Phoenix's mission—and the knowledge that, when I walk into this former church, I'm going to see something I haven't seen before, created by theater professionals with talent and passion (if not always enough rehearsal time). I'd rather a theater aim for the fences and hit some fouls than consistently score singles.
Right now, the Phoenix is showing off what it does best with a production of the who-else-would-produce-this-in-Indy musical "Bloody Bloody Andrew Jackson."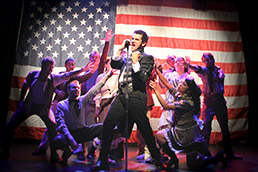 … and now ("Bloody Bloody Andrew Jackson"). (Photo by Julie Curry)
The show has many jokes that miss. Its book meanders. Its characters aren't always consistent. Too often, it underlines messages that have already been more creatively delivered elsewhere in the show.
Yet, as presented by the Phoenix (through Oct. 21), it still manages to be one of the most entertaining musicals I've seen in a long while. Don't be surprised if you can't get in because of sold-out shows partially populated by people who are seeing it for the second or third time.
It's thrilling to see a musical done well. It's even more thrilling to see a musical done well for an audience that, for the most part, is completely unfamiliar with the material.
That's the case with "BBAJ." Yes, it's a chronicle of the life and works of our seventh president, but it tells that story filtered through contemporary sensibilities, attitudes and tunesmithing. Along the way, it throws in your face the downside of populism, asking the question: Do you really want a president who truly represents the American people? 
I'm not sure of the mental state of the producers who thought this would work on Broadway (where it ran for three months in 2010). The Phoenix, and other small theaters like it, is where this show belongs. Here, on a salon set festooned with taxidermied creatures and a tacky chandelier, we get Jackson's youth, his realization that he's the guy who can change the country, the down and up of both his failed and his successful run for commander in chief, and a visit to the Jackson White House, where a bong-hitting Native American and a pair of clueless cheerleaders pass for a cabinet.
Solid directing and restrained choreography certainly make a difference. So does the uniformly fine cast, who are given plenty of room for silliness but never upstage Jackson, played charismatically—and well sung—by Eric Olson.
But the star of "BBAJ" is the music. Apart from the seemingly endless "Ten Little Indians" number, song after song rocks in creative, fun ways. Tim Brickley's on-stage band handles the chores with gusto. And composer/lyricist Michael Friedman gets that, if we are going to care what happens to this guy, he's going to have to be, as one song blatantly says, a rock star. And a genuine one, not a Broadway-lite one.
Add in a kicking curtain-call song ("The Hunters of Kentucky") and you've got a show well worth a repeat visit. I'd go again, but I wouldn't want to take your seat.
If there's justice in America, there won't be many seats at the Phoenix to spare.•
__________
This column appears weekly. Send information on upcoming arts and entertainment events to lharry@ibj.com.
Please enable JavaScript to view this content.