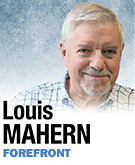 After reams of newsprint and a bazillion 1's and 0's on the Internet bemoaning the state of public education in general and Indianapolis Public Schools in particular, you finally get your chance to weigh in.

The school board elections will be in November rather than May.

Normally, school board elections in Marion County draw fewer than one in seven registered voters. The Legislature changed the elections to the fall in the hope of increasing participation and the quality of the candidates.

A number of quality candidates have come forward. But judging by media coverage, we have yet to see much voter interest.

The position of school board member is an interesting one. The public expects board members to set policy direction for the school; hire the superintendent; examine, adjust and pass the budget; and generally oversee public education in the district.

However, from almost the outset of their service, school board members are admonished to not "micromanage."

This is generally interpreted as, "Hire the superintendent and then butt out."

Newly elected school board members normally receive training from the Indiana School Board Association. One former IPS board member described the training as, "Don't micromanage. … We were even told not to go into schools by the School Board Association trainer."

One would normally expect some tension between the superintendent and the board. After all, they hired the superintendent and they can fire him or her, as well. The board sits in judgment of the job. Yet, when they want information the superintendent wishes to withhold, they are "micromanaging."

It should come as no surprise that the school board association should be so solicitous of superintendents. After all, the Indiana Association of Public School Superintendents and the Indiana School Board Association share offices and lobby the General Assembly in tandem.

Kelly Bentley served on the IPS board for 12 years. She battled with Superintendent Eugene White over information she felt the board needed in order to make good decisions. She was more often than not accused of micromanaging.

She wrote me in an e-mail, "There are no checks and balances to determine if board policy is being followed or if administrative procedures are actually supported by board policy. At one point I had to ask for a copy of the budget prior to voting on it. I was accused of micromanaging."

After it was revealed that Wayne Township Superintendent Terry Thompson was paid a retirement and severance package of over $800,000, a school spokesperson said, "The board looks back at this and realizes it was an extremely complicated contract. It did receive advice from our district attorney on the legality of it but not on the financial implications."

Need I add that the attorney is hired and paid by the superintendent? Perhaps questioning the "financial implications" would have been micromanaging.

Here's hoping that Sam Odle, former CEO of Methodist Hospital and Indiana University Hospital, will bring his administrator and director experience to bear should he be elected to the IPS board.

The 11 Marion County school corporations are overseen by 67 elected board members. A number of these school board members are up for re-election in just a few weeks. Voters might want to inquire as to these candidates' attitudes about accepting responsibility for the performance of their schools.

They might even suggest that newly elected board members receive their training from someone other than roommates of the Association of Public School Superintendents.•

• Mahern has been an assistant to U.S. Rep. Andy Jacobs and U.S. Sen. Birch Bayh and served in the Indiana Senate. Send comments on this column to ibjedit@ibj.com.