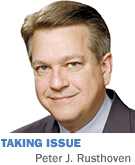 A few weeks back, Missouri GOP Senate nominee Todd Akin, channeling his frustrated inner M.D., said that when women are raped, their bodies react to prevent pregnancy.
Hoosier GOP Senate nominee Richard Mourdock has now decided to aim higher, saying in this week's debate that, when rape causes pregnancy, it's what "God intended."
To quote Charlie Brown, "Good grief." As Mourdock invoked the Almighty, let's start with the bad theology.
Wrestling with why evil exists in a universe created by a good God is called "theodicy." The best answer (oversimplifying) is that God endows humans with free will, giving us freedom to make good choices or bad ones. Our bad or evil choices have consequences, else our freedom is meaningless and we are less than human.
As C.S. Lewis observed, chickens automatically "cluck God's praise," but He made us something more, wanting us to choose to love and serve Him. God's suffering the evil when we choose otherwise reveals how much He values our freedom.
But suffering bad choices and their results does not mean God "intends" them. God no more "intends" rape will impregnate a victim than He "intended" Adam and Eve to disobey in the Garden of Eden, or (millennia later) "intended" Hitler to slay millions of Jews.
Mourdock's statement is also bad politics, even focusing just on the politics of abortion. The principled basis to oppose abortion even in cases of rape or incest is not that "God intended" the pregnancy, but that the unborn child remains an innocent human being.
But rightly or not, most Americans disagree on the rape and incest issue, and this is not where pro-life conservatives should focus their efforts. Rape and incest, the "hard cases" always cited by pro-abortion folks, account for a tiny fraction of the millions of abortions each year, most of them disposing of unwanted consequences of consensual adult sex.
A majority now shares the view that abortion should not be freely available in all circumstances. Those of us who believe an unborn baby is always an innocent child should be willing to accept a rape and incest exception (favored by most Americans) if this is the price for ending what is effectively unlimited abortion on demand. Insisting otherwise sets back the pro-life cause, at potential cost of millions of lives.
Mourdock's comment is also foolish in the larger political context. Our Senate race, which would have been a lay-down GOP victory had Mourdock not targeted Dick Lugar in the primary, is neck-and-neck. Earlier Mourdock statements—that his views of "bipartisanship" involve "inflicting" his views or making Democrats agree with Republicans—have driven away independents who backed Lugar.
The outcome turns on how so-called "Lugar Republicans"—including many certified Reagan conservatives like this author—will vote. Many of us believed Mourdock's primary attacks on Lugar demeaned and distorted the record of a great Hoosier statesman, a principled conservative who was moderate and thoughtful in tone.
Mourdock then hurt himself further with an indefensible post-primary letter saying Lugar had "routinely betrayed conservatives." And now we have his comment, which immediately went "national," that when rape causes pregnancy, "God intended" it.
Before that comment, my sense was that Gov. Romney's likely margin of victory in Indiana might tilt a tight Senate race toward Mourdock. Now, it's not at all clear that will happen. More important, many Hoosier Republicans sitting on the fence are now more doubtful that it should happen.•
__________
Rusthoven, an Indianapolis attorney and graduate of Harvard College and Harvard Law School, was associate counsel to President Reagan. Send comments on this column to ibjedit@ibj.com.
Please enable JavaScript to view this content.