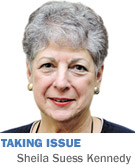 Mike Pence has been running a strategically brilliant campaign, taking care to mask his inner culture warrior while displaying a previously invisible interest in economic development and job creation. Recently, in response to Democratic efforts to focus upon Mike Pence 1.0—the congressional version—his campaign has been running an ad about the importance version 2.0 places on women's health.
The ad begins by insisting that Pence supports women's access to breast exams and other preventive health service. Only at the end does it betray his extremist agenda, saying we can protect women's health and "remain true to our values"—a veiled reference to his promise to defund Planned Parenthood.
The problem is, if we defund Planned Parenthood, who is going to do those breast exams? In the real world (evidently a place Pence rarely visits), there is no other agency available to provide a whole range of health services to low-income women.
Pence's animus toward Planned Parenthood grows out of his long-standing opposition to abortion and to most forms of contraception. (Pence shares Richard Mourdock's position that abortion should be unavailable even in cases of rape or incest.) During one congressional showdown, when Pence and other Tea Party lawmakers were holding the budget hostage over the issue, he was asked whether he was really willing to derail the entire federal budget in order to defund Planned Parenthood. His reply? "Of course I am."
The effort to destroy Planned Parenthood is part of the right's vendetta against an organization with which it ideologically disagrees. If low-income women have to suffer for that purity, so be it.
Women's health and rights both take a back seat to Pence's "values." The congressman co-sponsored the infamous "personhood" bill with Todd Akin, the bill that defined "legitimate" rape—narrowing situations where abortions would be allowable—and outlawed most widely used birth control methods.
Despite those ads strategically featuring his wife and daughters, Pence has a decidedly regressive approach to the status of women. He even voted against the Lilly Ledbetter Act, a measure allowing women to sue when they are denied equal pay for equal work.
It isn't only women, of course. A Pence administration would redouble efforts to make Indiana inhospitable for gay citizens, as well. Pence argues that his version of "family values"—limiting marriage and other civil rights to heterosexuals only—will spur job creation and reduce social dysfunction. Linking family structure to job creation is certainly inventive, albeit uncorroborated by any credible evidence or research.
This fanciful assertion also flies in the face of data showing that rates of divorce and out-of-wedlock births are much higher in the Bible Belt than in more liberal states like Massachusetts. (Discomfiting though it may be, researchers have also documented significantly lower levels of social dysfunction in irreligious, evolution-accepting Europe than in the considerably more devout precincts of the United States.)
Fortunately for women and gays, Pence has been a much more effective Tea Party spokesman than legislator: In his 11 years in Congress, he's sponsored 63 bills and has succeeded in getting exactly none of them passed. Only three made it out of committee.
Unfortunately for Pence and the other "true believers" who have come to dominate the GOP, governing involves a lot of non-glamorous, practical tasks that require an open mind and sound information. Piety is generally irrelevant.
If recent polls are accurate, Indiana will get this Tea Party culture warrior as governor. Forgive me if I don't relish the prospect.•
__________
Kennedy is a professor of law and public policy at the School of Public and Environmental Affairs at IUPUI. She blogs regularly at www.sheilakennedy.net. She can be reached at skennedy@ibj.com. Send comments on this column to ibjedit@ibj.com.
Please enable JavaScript to view this content.