For me, the highlights of any Michael Feinstein concert don't come from his vocal renditions of Great American Songbook songs or from his keyboard skills.
Instead, they come in between the numbers, when the cabaret and concert star—and artistic director of the Center for the Performing Arts—shares anecdotes and insight about the composer and lyricists who crafted the tunes. You can find more effective interpreters of Gershwin, Kern and Porter, but you won't find anyone who can tell a sharper story about them.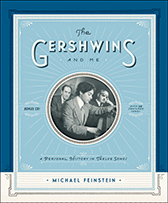 (Cover image courtesy of Simon & Schuster)
That storytelling style translates nicely to the printed page in Feinstein's new book, "The Gershwins and Me: A Personal History in Twelve Songs" (Simon & Schuster).
Feinstein's experience working as an assistant to legendary lyricist Ira Gershwin anchors the memorabilia-filled volume. Each chapter not only gets a title ("Why Some Songs Survive and Others Don't," "Performing and Interpreting the Song") but also a Gershwin theme song to inspire it ("They All Laughed," "Someone to Watch over Me.") And those same songs are conveniently available on a CD accompanying the book.
Breezily filling the book with stories about the creation of Gershwin classics,
Feinstein also masterfully takes readers on side trips into the writing processes of other composers, the history of Tin Pan Alley, the evolution of the Broadway musical, and the treatment of composers in Hollywood. With passion palpable, Feinstein never comes across as show-offy or name-dropping. He's sharing something he loves, respects and values.
That doesn't mean everything is positive. He admits to being bored with "Night and Day," and not connecting with "All the Things You Are" and "Blues in the Night." He'd also be perfectly happy never hearing "Over the Rainbow" again (that being the case, he should steer clear of the Cabaret at the Columbia Club, where it seems neck-and-neck with "Moon River" for most overplayed tune).
We do learn that he doesn't care for Brian Wilson's Gershwin covers or shows like "American Idol." ("It's not teaching them how to interpret a lyric or the essence of what the music is about; it's telling them that a high note at the end of the song will cause people to stand up and scream.")
But this isn't a book that dishes. It's a book that celebrates. And inspires. After reading Feinstein's knowledgeable, engaging section on "Porgy and Bess," for instance, I realized that it's been 20 years since I've listened to a version from beginning to end. Time to get on that.
FYI: Feinstein introduces a showing of "An American in Paris" at the Palladium on Nov. 16, kicking off a series of classic movie musical screenings. He's also signing copies of "The Gershwins and Me" in the gift shop that day, with proceeds going to his educational Great American Songbook Initiative.
____________
Another new biography, Wes D. Gehring's "Robert Wise: Shadowlands" (Indiana Historical Society Press), looks at the native Hoosier whose two Best Director Oscars haven't kept him out of the shadows of his less accomplished peers.
Wise's story is a fascinating one, beginning with his work as editor for Orson Welles, both on his masterpiece "Citizen Kane" and his troubled follow-up, "The Magnificent Ambersons." It was his role in the cutting of that film—against Welles' wishes—that set the groundwork for his reputation as a get-the-job-done moviemaker without a singular vision. You can admire and even love "The Sound of Music," "The Sand Pebbles," "The Haunting," "I Want to Live!" and "The Day the Earth Stood Still," but you'd be hard-pressed to find connectivity between them.
Unless you are Gehring, who steadfastly searches for patterns in this crazy quilt of a career, it is a stretch to make the case for Wise as an auteur (the theory that credits the director as the central author of a film) akin to Welles, Capra and Scorsese.
Gehring doesn't need to work so hard. There's interesting stuff here about the "Ambersons" mess and some of Wise's lesser-known films. Even hardcore Turner Classic Movies watchers may not be familiar with "So Big," "Destination Gobi" or "House on Telegraph Hill." And it seems like there would be more to say about his late-career duds, including "Star Trek: The Motion Picture" and "Rooftops."
But even a flawed Wise book helps fill some gaps in movie history. And helps point toward some not-to-be-missed films that even this film buff seems to have missed. When I'm done listening to "Porgy and Bess," maybe I should get around to watching "Born to Kill."•
__________
This column appears weekly. Send information on upcoming arts and entertainment events to lharry@ibj.com.
 
Please enable JavaScript to view this content.