Hawkins said in an interview that his group netted more than $500,000, after closing costs, by selling the properties to investors for as much as $8,500 each.
It wasn't the only lucrative property deal HRH closed last year. The group bought another 41 vacant properties directly from the Marion County Treasurer, paying $1,400 apiece. Selling those to investors brought in another $140,000.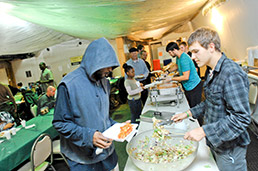 Volunteers serve dinner to homeless people at the Homeless & ReEntry Helpers campus on the edge of downtown at East Michigan and Pine streets. (IBJ photo/Perry Reichanadter)
There's no evidence to suggest Hawkins is spending the money on anything other than his stated mission: feeding homeless folks six nights a week and providing social-service referrals to ex-offenders and veterans. He has four full-time employees and another 20 or so part-timers rehabbing some of the land bank homes.

Hawkins says his organization is helping short-staffed and underfunded government agencies by recruiting and overseeing investors who return troublesome properties to the tax rolls. Deeds aren't released until improvements are complete.

"It's the only way I've got to fund this thing," Hawkins said of his fledgling not-for-profit. "To me, it's a beautiful partnership."

Taxpayers might have a different perspective.



Local rental property investor Aaron Adams, who bought 40 of the land bank properties from Hawkins' group, said the city could have sold all 154 for an average of $12,000 to $13,000 apiece at auction.

His high-end estimate of $2 million is more than four times the land bank's 2012 budget of $450,000, which is supported in part by federal grants.

The estimate may even be low since Homeless & ReEntry Helpers' investors hand-picked their houses, suggesting they were among the properties with the most potential and lowest downside.

Even if they were simply average properties among the city's vacant housing stock, recent sales results suggest the government could have collected more than five times as much by selling them at auction.

The county held two auctions of tax-delinquent properties this year, unloading about 600 for a total of $3 million, or about $5,000 per property. Land bank properties sold to the general public typically go for $4,000 to $8,000.

Walton declined to say whether anyone in particular pushed for the Homeless & ReEntry Helpers deal, though he acknowledged Plambeck was the person who had to be "most comfortable" with it.

Plambeck, who stepped down in September to manage infrastructure investments under the RebuildIndy program, declined through a department spokesman to discuss the deal.

Plambeck believed Hawkins had the support of Ballard, according to people familiar with the deal who spoke on condition of anonymity. It wasn't clear whether Ballard gave his explicit support to the sale before its approval by the Metropolitan Development Commission. The mayor also declined to discuss the transaction.

One advantage of selling vacant properties to not-for-profit groups is a deed restriction that requires homes be fixed up within three years. But the city could add a similar condition to auction sales, Adams said, and use the additional revenue to cover the expense of disposing of the properties.

Adams, who hosts a real estate "tips and tricks" show on WXNT-AM 1430, said it's "ridiculous" for the city to sell properties to not-for-profits.

"I think it should be an open auction," he said. "It's the most efficient way for these properties to be sold."

At a minimum, the city needs to force charitable groups to take bad properties with good ones and ensure they're not acting as a pawn for private investors, argued David Sexauer, founder of locally based Revisio Housing Inc., a 3-year-old not-for-profit that has acquired and fixed up about 60 vacant homes.

Sexauer has been pitching city officials on the idea of transferring vacant properties into a not-for-profit organization that would keep the properties, fix them up, and rent them out to generate an income stream to fund charity work.

He sees the Homeless & ReEntry Helpers deal as a failure for the city because it put so much money in the pockets of flippers while inflating a potential new housing bubble fueled by the retirement accounts of out-of-state investors.

Pleading his case

There's no question the city has a big problem with vacant homes. By some estimates, there are more than 10,000 such properties in Marion County—about 3 percent of the county's total housing inventory.

The Indy Land Bank has 1,200 parcels in its inventory—roughly 500 homes and 700 lots, Walton said.

More than 6,000 properties—most of them likely vacant—have gone through multiple tax sales without attracting bids and now fall in the category of county-owned surplus, said Marion County Treasurer Claudia Fuentes.

Another 3,700 parcels were eligible for this year's tax sale, meaning the owners are at least three taxing periods behind. (A new payment-plan option authorized by the Legislature should keep some of those owners in their homes.)

To Hawkins, the solution is simple.

"The only way the city is going to get rid of a lot of these properties is to get the private sector involved," he said.

And the best way he sees to do that is by using Homeless & ReEntry Helpers and its investor partners, who Hawkins said are lining up to buy more properties.

His model for buying and flipping properties was novel when he launched it last year.

Usually, for-profit investors interested in a county-owned house must ask the treasurer to include it in an upcoming auction, where they run the risk of losing out to a higher bid. Investors who want a property from