The IndyCar series is approaching a three-pronged fork in the road, and the path its leaders choose will have long-lasting implications for the Indianapolis Motor Speedway and Indianapolis 500.

Officials for Hulman & Co., which owns the series and the Speedway, are deciding what to do in the wake of dismissing IndyCar CEO Randy Bernard on Oct. 25. For the moment, IMS CEO Jeff Belskus is filling in.

Board members are considering a number of long-term options, including two insiders—board member Mark Miles and Belskus' right-hand man at IMS, Doug Boles—as replacements for Bernard.

Belskus
Belskus said he will consider staying on as CEO in addition to his Speedway duties.

"I've been energized by this role, and as time goes by I get more excited, so let's see where this goes," he said.

No one has compiled a short list of candidates, Belskus said, and there is no time line to fill the position permanently. At this point, Hulman & Co. plans not to enlist the help of a search firm.

Company officials might also be mulling whether to spin off the 16-year-old money-losing operation. The board that controls the Speedway and IndyCar Series has said publicly that the open-wheel circuit is not for sale. But sources close to the board said Hulman & Co. would reconsider, for the right price.

Board members have received an unsolicited acquisition offer from former IndyCar Series and Speedway boss Tony George, who recently resigned from the board to pursue the deal. Belskus said the offer is missing "some very important information" about who would compose the George-led ownership group.

The board, sources said, also has considered selling to an outside party.

If Hulman & Co. sold the series, its leaders would face a number of decisions key to the Indianapolis 500, an event sports economist Mark Rosentraub estimated has an annual $336 million economic impact on this city.

The board would have to determine the series' fair market value—not an easy task, according to sports business experts—and decide who could best grow it. The series is vital to maintaining the Indianapolis 500 as a major money-maker.

Those decisions are complicated by the fact that Tony George is the son of company Chairwoman Mari Hulman George and brother of three board members, with whom he has feuded on and off the last three years.

"This is a defining moment for the IndyCar Series, probably its biggest crossroads since it was founded [in 1996]," said Tim Frost, president of Frost Motorsports, a Chicago-based motorsports business consultancy.

Board members contacted referred all questions to Belskus.

Losing control?

There are some definite advantages for Hulman & Co. in selling IndyCar.

Primarily, the company and the IMS would be unburdened of the series' continuous hemorrhaging. Sources said IndyCar has lost $300 million since its inception, including $7 million to $8 million this year.

The Speedway would lose revenue from non-Indianapolis 500 TV fees and ticket sales, but that money doesn't offset the $35 million in annual support to race teams the series doles out as part of its Leaders Circle program, and other expenses.

Selling the series also carries some serious downsides.



"They'd lose the control that Tony George sought when he started the series," said Derek Daly, a former racer and longtime motorsports analyst. "That has to be a significant concern."

IMS would have little input into chassis and engine specifications of the cars that run in the Indianapolis 500. Speedway stakeholders would lose control of driver development programs they've used to ensure American drivers have a shot to compete at Indianapolis. And they wouldn't be able to choose suppliers, such as Firestone, that have poured millions into promoting the Indy 500.

And if the new owner foundered, Hulman & Co. would be left to pick up the pieces or risk having no series or sanctioning body as part of the Indianapolis 500, Frost said.

Daly thinks Speedway officials don't have the skills to grow the series internationally and should spin it off, but added, "They would need to be extremely careful whom they sell it to."

George is proposing that he and a group of IndyCar team owners—namely John Barnes, Chip Ganassi and Kevin Kalkhoven—buy the series.

Daly thinks that combination would crash.

"Team owners will find it impossible to separate self-serving decisions from strategic business decisions that need to be made," he said. "With Champ Car and CART, it's already been proven that formula doesn't work."

If a group of owners like the trio mentioned came into power, smaller teams might get muscled out, said Dan Gurney, chairman of California-based All-American Drivers, and a former open-wheel driver and team owner.

"The history of open-wheel racing is giving the little guys a chance to compete on the big stage," Gurney said. "There's a real risk of losing that historical element, and that's a big part of what fans love about IndyCar."

Polarizing figure

Veteran motorsports journalist Robin Miller said George's proposal is ironic.

"Spinning IndyCar off goes against everything Tony George started the [series] for," Miller said. "He said the owners had too much control and there was too much of a conflict of interest, and that they weren't acting in the best interests of the Indianapolis 500."

George lacks credibility with some team owners and many sponsors and fans, Daly added. "I think history tells us that Tony has had his chance."

But George also has supporters in his effort to reclaim the series he founded.

"Tony is a polarizing guy, no question, but I think he has the experience and the wherewithal to turn this thing into a viable business," said Zak Brown, CEO of Zionsville-based Just Marketing International, a firm that represents some of the world's biggest motorsports sponsors.

Though George has presided over some of the series' bleakest money-losing years, Brown thinks George has seen enough of what works and what hasn't "to develop a strong plan to take the series forward."

Brown said most sponsors would have little problem with George's being back in power. Brown is reportedly George's pick to replace Bernard as series CEO, but he said he's not interested.

There may be no one better suited than George to operate the series, said Dave Moroknek, CEO of Indianapolis-based MainGate Inc., which has a license to produce Speedway and IndyCar Series items.

Moroknek, who served as IMS senior director of marketing and consumer products from 1992-2002, has few reservations about having team owners in George's group. He noted that most U.S. stick-and-ball leagues are owned by team owners.

"You have to have clear-cut operating procedures in place to eliminate conflicts of interest," Moroknek said. "But you want stakeholders involved."

Low-ball offer

There is no shortage of motorsports experts who wonder why anyone would want to buy such a money-losing operation, but plenty of others see potential.

"The series has a good base of strong events, it just has a half dozen that drag it down," Brown said. "It's still losing money, but it's in the best financial shape it's been in since it started. It wouldn't take much to increase revenue from sponsorships, ticket sales and TV money to get the series in a financially stable position."

Motorsports experts say a number of private equity firms or other race circuits would want IndyCar.

Hulman & Co. board members, including George's mother and three sisters, were miffed by what they considered his low-ball offer of $5 million.

"How do you come up with $5 million?" Belskus said. "I think that's an incredibly low offer."

Brown agreed that $5 million is too low a price tag. That is 1/10th the value of Major League Soccer franchises and less than one-fourth the value of the Indianapolis Indians, a AAA minor-league baseball team.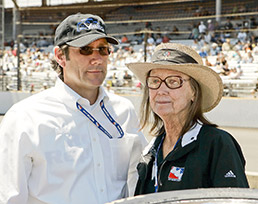 Tony George recently resigned from the Hulman & Co. board to pursue the acquisition of the IndyCar Series. The board's chairwoman is his mother, Mari Hulman George. (AP photo)
The fact that the series is so close to finally reaching profitability, Frost said, might cause Hulman & Co. to keep it a while longer.

"At this point, they'd certainly be selling off a lot of potential," he said. "I think people in motorsports understand that. That's why there's a market for this series."

Whatever IndyCar officials decide, they need to convey a plan quickly, Brown said.

"Right now, there's a real sense among sponsors and potential investors that there's no plan for the future," he said. "That more than anything is hurting the series' credibility. They definitely need to have a new CEO in place by Jan. 1."

Moroknek disagreed.

"There needs to be some good, positive energy before the 2013 season starts," Moroknek said. "But I'm comfortable with the current silence. They're sitting back and thinking about every possible scenario. This is way too important a decision to be a knee-jerk reaction."•