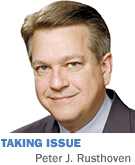 Every election spawns post-mortems on what the losing party should or shouldn't do. Here's mine.
First, Republicans can ignore the standard Democratic line that voters now reject conservatives and Republicans must "change," meaning "become Democrats."
This sermon, for which much national media is an amen chorus, comes from the same liberal clergy who once preached that nominating Reagan was the Republican "death wish."
Americans self-identify 40 percent as conservative, 35 percent as moderate, and 21 percent as liberal. Obama won a bare majority of the popular vote. Lots of factors were at work, but this election did not show most Americans are repulsed by conservative views on core economic issues.
A companion analysis, faulting Republicans for social conservatism, is also largely mistaken. Americans call themselves pro-life, rather than pro-choice, by 51 percent to 41 percent. On gay marriage, the number approving has risen and now may be slightly over half. But I've seen nothing showing that simply opposing gay marriage is fatal among any huge bloc of voters.
It does hurt to talk about social issues as if nothing else matters, or to do so stupidly and insensitively—as by feeding a perception that one wants to impose religious views. Whether that perception is fair varies with the candidate, but it is plain most Americans dislike it.
Simple lesson: Nominate folks who talk about social issues in a thoughtful way, and know when to talk about something else. We Republicans need to quit screwing this up.
There is one substantive issue on which I think many Republicans do need to change. Obama won 75 percent of Hispanics. This was up from 67 percent in 2008, and way up from John Kerry's 55 percent in 2004. Shifting demographics will make these margins, already disastrously high, still more disastrous going forward.
Texas—long reliably Republican, and the biggest electoral prize after California—could be a blue state in another decade. Florida, tied with New York for third, twice went for Obama and is at best competitive for the GOP.
With California and New York, Democrats start with 84 electoral votes, over 30 percent of the 270 needed. Without the 67 from Texas and Florida—in which Latino voters are ever more vital— Republicans are toast.
There is no good reason Republicans should not improve on the 45 percent of Latinos George Bush won in 2004. Much of the Hispanic community shares GOP views on economic, cultural and social issues. But we lose many of these voters over immigration.
Some say Florida Sen. Marco Rubio must be on the 2016 GOP ticket. I don't rule that out. But I am convinced the GOP should get solidly out front on Rubio's version of the Dream Act (or something like it), offering a path to citizenship for illegals brought here as minors, who stay out of trouble and get a college degree or serve honorably in our military.
As Rubio and others note, we cannot become a majority party by aiming for larger shares of a declining white vote. No one seriously believes America will deport the young people targeted for Dream Act relief. By opposing (or being seen to oppose) defensible proposals for addressing an otherwise intractable problem, we toss away Hispanic support critical to achieving other, more important goals, such as getting entitlements under control, and adopting tax and other economic policies that foster freedom, growth and prosperity.
Nobody's forcing us into this bad bargain. We should stop. Too much else is at stake.•
__________
Rusthoven, an Indianapolis attorney and graduate of Harvard College and Harvard Law School, was associate counsel to President Reagan. Send comments on this column to ibjedit@ibj.com.
Please enable JavaScript to view this content.