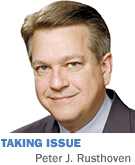 Indiana's just-elected governor and the nation's just re-elected president take markedly different approaches to current economic issues.
Gov.-elect Mike Pence's approach (on which we'll focus in the next column) includes freezing new regulations on business and cutting income-tax rates—the rates paid by most small businesses, which are responsible for most job creation. President Barack Obama's approach, on full display in the ongoing "fiscal cliff" drama, is driven by a solitary imperative: raising tax rates on the "rich."
The Pence approach is about economic growth. The Obama approach is about other things our president deems more important.
Indeed, Obama barely attempts defense of his proposals on economic grounds. The closest he gets is saying top tax rates would return to where they were in the Clinton years, when the economy flourished (at least in the second term). Let's take a closer look at that, shall we?
In the Clinton era, we were not running annual deficits in the trillions. When the 1994 midterm elections put the House under GOP control for the first time in decades, a suitably chastened Clinton adapted immediately (he was adept at adapting). Understanding that voters believed government had become too large and too intrusive, he famously declared, "The era of big government is over," and worked with Republicans on several fronts, including welfare reform and balancing the budget.
Obama has no taste for these features of the lauded Clinton era. Balancing budgets and cutting spending (even spending growth) are not on his "to do" list. Nor is entitlement reform. Since his re-election, these are omitted from his so-called "balanced approach," a poll-tested Obama rhetorical staple. And no one doubts Obama's commitment to an ever-expanding governmental role.
As for tax rates, these were indeed higher under Clinton than they are now. But does anyone seriously contend it was higher taxes that fueled the engine of private economic growth in Clinton's second term, or (put differently) that lower taxes would have made the economy slow down? Even Obama never articulates this illogical proposition, which he knows is indefensible.
Further, his professed yearning for Clinton-era tax policy is selective. Under Clinton, all tax rates, not just the top brackets, were higher, before being lowered across the board under George W. Bush. Obama believes that return to the actual tax rates of the Clinton years—which will automatically occur if no contrary agreement is reached by year-end—would be disastrous, and manifestly "unfair" to all but the wealthiest Americans.
He is likely correct on the disaster point. Obama himself forcefully argued, just two years ago, that raising taxes on anyone (including the "wealthy") was a bad idea while the economy was struggling. He was right.
Nothing about this reality has changed. The economy is no better and arguably worse. The only changes are that Obama has been re-elected, and now insists that taxes on the "wealthy" must go up. He will veto anything that does not include this, even if it means higher taxes on everyone while the economy struggles.
This has nothing to do with economic growth. It has everything to do with politics and ideology. Obama believes that if all rates go up, voters will blame Republicans for higher taxes and their economic impact. And it is an Obama ideological imperative that those he deems "wealthy" must pay higher taxes for reasons of "fairness," economic impact be damned.
We're in for a rough ride the next four weeks, and the next four years.•
__________
Rusthoven, an Indianapolis attorney and graduate of Harvard College and Harvard Law School, was associate counsel to President Reagan. Send comments on this column to ibjedit@ibj.com.
Please enable JavaScript to view this content.