In a matter of a few months, operators of the Performance Racing Industry show and its upstart rival, the International Motorsports Industry Show, went from being bitter rivals to merging—a deal that will return the world's largest motorsports trade show to Indianapolis next December.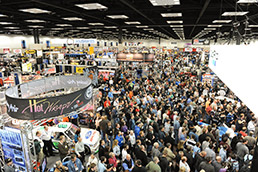 Despite being launched during a terrible economy, the International Motorsports Industry Show grew from 10,350 attendees its first year at the Indiana Convention Center to 25,000 this year. (Photo courtesy of IMIS)
Local tourism officials said the show, projected to carry a $45 million economic impact, wouldn't be here if two local businessmen hadn't risked hundreds of thousands of dollars of their own money to start IMIS and challenge industry giant PRI during the worst economy in a generation.

Just a year ago, a merger of the two would have seemed preposterous. The prospect of bringing back PRI, which had a contract tying it to Orlando, Fla., through 2016, seemed equally absurd.

But in January, former USAC race team owner and publisher Steve Lewis decided to sell PRI to the California-based not-for-profit Specialty Equipment Market Association. That set off a domino effect few could have predicted.

A week before the deal was announced in March, IMIS co-founders Chris Paulsen and Jeff Stoops got a surprise call from Chris Kersting, president of PRI's new owner, SEMA. SEMA officials wanted to merge the two shows—each now held annually in December.
In three short years, IMIS had become too big for PRI to ignore.

PRI's attendance declined from 44,000 in 2007 to 37,500 at the just-concluded show in Orlando. That's a far cry from the explosive growth the show saw during its run in Indy from 1998 to 2004. The previous PRI regime blamed the economy for the decline.

Faced with the same economy, IMIS saw attendance grow from 10,350 in its first year at the Indiana Convention Center in 2009 to more than 25,000 at the show that was to wrap up Dec. 8. Many attendees said Indianapolis' central location and racing heritage led them to the IMIS.

"Eighty-five percent of the nation's racing companies are within a day's drive of Indianapolis," Paulsen said.

Forrest Lucas, owner of California-based Lucas Oil Co., wonders why PRI ever left.

"Orlando was built for Disney World," said Lucas, whose company has the naming rights to Lucas Oil Stadium and has a strong Indiana presence. "Indianapolis was built for the Indianapolis 500. It's a working city, and it's set up a lot better for a convention."

Kersting was quick to realize what PRI founder Lewis was loath to admit, that Indianapolis is the ideal place for a racing trade show.

SEMA and IMIS officials met one day after SEMA's deal to buy PRI closed. Paulsen, who owns race car parts-maker C&R Racing, was impressed by SEMA's structure, deep resources and vision for a racing-industry show. He also likes that SEMA is a not-for-profit that won't have the bottom line as its top objective.

Paulsen started IMIS only because PRI had departed for Orlando, then broke its promise to come back once the Indiana Convention Center expansion was complete.

"In the end, I didn't have a dream of being in the trade show business," Paulsen said. "I wanted to enhance the racing industry and have one pure, hard-core racing show back in Indianapolis where I knew it would do better. When SEMA stepped up, it was mission accomplished."

While the parties had a positive discussion at that first meeting, it took several rounds of intense negotiations to finalize a deal.

Potential deal breakers

Talks progressed through the spring and "got serious" in the summer, Paulsen said.

He and Stoops, president of Stoops Freightliner, had only two absolute stipulations.

First, SEMA officials had to guarantee the show would move to Indianapolis long term. (The initial agreement is for PRI to be here through 2018.)

Second, the duo wasn't about to give IMIS away. Paulsen and Stoops made "a heavy six-figure investment" to launch the show, Paulsen said, with the co-founders spending $400,000 on marketing the first year alone.

IMIS became profitable last year and should be significantly more so this year, he said.

Though the financials of the deal were not disclosed, Paulsen said IMIS owners, including NASCAR driver and team owner Tony Stewart, got "a very good return on their investment."

But assuring Indianapolis could accommodate a revitalized PRI was no simple matter.

PRI departed in 2004, saying the Indiana Convention Center was too small. Lewis had promised to bring PRI back to Indianapolis after four years in Orlando.

But in 2007, Lewis said that not even a major convention center expansion—to 566,000 square feet—would be enough to hold the show. PRI officials also complained that Lucas Oil Stadium was too far away to serve as a convention center adjunct.

But some PRI exhibitors and attendees started to grumble.

"Florida is way out of the way for everybody," Lucas said. "That location added a lot of expense for all involved."

PRI loyalists also began to complain that the show lost its focus, filling with exhibitors selling everything from toy race cars to T-shirts. Meanwhile, Paulsen and Stoops rejected what they call "barnacle companies" as exhibitors.

For whatever reason, PRI saw its number of exhibitors tumble from 4,200 in 2007 to 2,900 this year.

Despite SEMA's desire to reverse that decline, officials have assured Paulsen and Stoops they will be selective about exhibitors. That pickiness, said PRI producer John Kilroy, will help the show fit into the Indiana Convention Center. Lucas Oil Stadium won't be used in 2013, but could be considered as an adjunct for future shows.

Sleeping with the enemy?

The merged PRI-IMIS show will be about twice the size of this year's IMIS show. SEMA Chairman Scooter Brothers said the return to Indianapolis will breathe new life into PRI. Officials for Visit Indy, the city's tourism arm, said it will be one of the city's five biggest 2013 shows in terms of economic impact.

Despite the potential benefits of the merger, Visit Indy CEO Leonard Hoops was initially skeptical when he was informed of the proposal in October.

"When you're fighting this enemy and all of a sudden you say you're joining forces with them, it takes people by surprise," Paulsen said. "Remember, when PRI left Indianapolis, they didn't do it in a nice manner."

The cooperation of Visit Indy and area hotels was critical to the deal, and once the benefits were explained, Paulsen said, Hoops "was totally on board."

Though Hoops declined to divulge terms of the deal, he said Visit Indy was able to discount convention center rent and to convince area hotels to discount room rates—10 percent to 30 percent—for PRI attendees. The rent savings, Hoops said, helped pay for PRI's contract buyout with Orlando. Industry sources said it cost PRI a high-six-figure or low-seven-figure sum to get out of its Orlando pact.

But Hoops, like Paulsen, didn't want to give away too much. After all, the local market already had a strong motorsports show. SEMA had to show local officials that enough visitor taxes would come in from the bigger show to offset any discounts.

"There was a fine line there," Hoops said. "It took us a month and a half and a whole lot of draft proposals to get there."•