On April 19, 1995, Sen. Richard Lugar stood before TV cameras and reporters at City Market in downtown Indianapolis to announce he was running for president.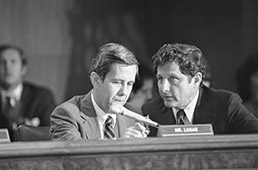 Lugar and Indiana Sen. Birch Bayh confer during a 1980 hearing of a Senate subcommittee investigating Billy Carter's relationship with the government of Libya. (AP Photo)
It was symbolic that the announcement that day by one of the most respected foreign policy experts in Congress was drowned out by a domestic story—the bombing of the federal building in Oklahoma City that killed 168 people.
Lugar's vast understanding of foreign affairs won respect at home and acclaim around the globe. But the American electorate is fixated on what happens within the nation's borders. So it was no surprise that his presidential run petered out or that, while Lugar frequently showed up on short lists of vice presidential candidates, he didn't have enough populist appeal for the presidency.
Colleagues and friends say Lugar's commitment to foreign policy, which earned him a Nobel Peace Prize nomination, and his belief in bipartisanship, which contributed to his thrashing by Tea Party favorite Richard Mourdock in the May primary, will be sorely missed when he leaves the Senate in January after 36 years.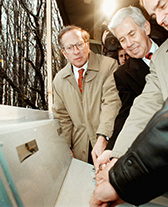 Lugar and Sen. Sam Nunn destroy a Soviet missile in Ukraine in 1996, fulfilling a goal of their ambitious nuclear-reduction program. (AP Photo)
"He's brought to the Senate an internationalist, constructive view," former U.S. Rep. Lee Hamilton of Indiana, a
Democrat who once chaired the House Foreign Affairs Committee, said this fall. "He tries to solve problems not in an ideological way but in a pragmatic way."
A former Indianapolis mayor who first won his Senate seat in 1976, Lugar shares the title of longest-serving Republican senator with Orrin Hatch of Utah.
That longevity worked against him in the primary, as Mourdock—who went on to lose to Democrat Joe Donnelly in the general election—cast Lugar, 80, as out of touch and too willing to compromise with President Obama.
Lugar offered no apologies, and in a blistering statement issued the night of his defeat, said Mourdock's "embrace of an unrelenting partisan mind-set is irreconcilable with my philosophy of governance."
Until that defeat, Lugar had a reputation that was "the Hoosier gold standard," according to Ed Feigenbaum, publisher of Indiana Legislative Insight.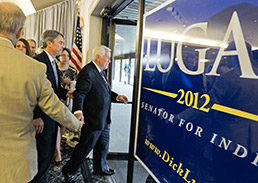 Lugar leaves a news conference on May 8, 2012, after conceding defeat to his primary opponent, Indiana Treasurer Richard Mourdock. (AP Phot)
Lugar's focus on nuclear nonproliferation included his work with then-Sen. Sam Nunn, a Georgia Democrat, to set up a program to help countries of the former Soviet Union dispose of weapons of mass destruction. Legislation cleared Congress two weeks before the Soviet Union's 1991 collapse. It has led to deactivation of 7,659 warheads and destruction of about 900 intercontinental ballistic missiles, according to Lugar's Senate website.
Nunn in a speech this August at The Hague in the Netherlands said the legislation was initially dismissed as "wacky" by critics who questioned spending U.S. funds to help destroy Soviet weapons, and that Lugar was vital to its passage.
Lugar this fall called that measure his top accomplishment.
"Our country was facing annihilation," he said. "So was Russia, for that matter. If mistakes had been made, some miscue of that sort, whatever our foreign policy problems now, they are relatively minor in comparison to the fact that we had an existential moment, whether we knew it or not," as the Soviet Union was coming apart.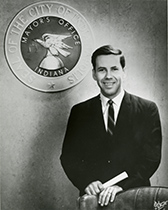 Lugar was 35 when he was elected Indianapolis mayor in 1967. Adoption of Unigov during his second term changed the course of the city. (Photo courtesy of Indiana Historical Society)
Political rise
Lugar's political rise came after a childhood in Indianapolis marked by some adversity. He suffered from ear infections and allergies, and turned to quiet pursuits such as reading and music lessons. His studies served him well as he graduated at the top of his Shortridge High School class and from Denison University in Granville, Ohio. There, he was student body co-president with Charlene Smeltzer, who became his wife.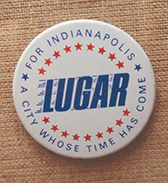 Cut line goes here. (IBJ File Photo)
Lugar was a Rhodes Scholar at Oxford University and then went into politics, winning an Indianapolis Public Schools board seat before his election as mayor in 1967. In that post, he attracted national notice for championing Unigov, which combined city and county government.
The more efficient form of government became a magnet for investment in Indianapolis, Lugar said at a community forum last year.
In an IBJ column this fall, former Indiana Lt. Gov. John Mutz said Unigov "started the transition of our city from India-No-Place to a truly great urban center."
Runner, farmer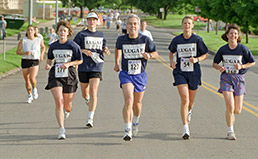 Lugar competed in the "Dam to Dam" races in Des Moines, Iowa, while visiting the state in June 1995 to solicit support for his presidential bid. His campaign failed to gain momentum, and in March of the following year he dropped out of the race. (AP Photo)
In his personal life, Lugar was a serious runner, well into his 70s. For decades, he has operated a 600-acre corn, soybean and walnut farm his father once owned in Marion County, an experience he used as chairman of the Senate Agriculture Committee from 1995 to 2002. During a visit to Bloomberg News' Washington bureau this fall, Lugar paused mid-conversation to survey agriculture commodity prices that scrolled by on a screen.
Lugar came to Washington known as "Richard Nixon's favorite mayor," and he voted for President Ronald Reagan's agenda more than any other senator. Even so, he demonstrated a willingness to buck presidents of his own party on international affairs.
In 1986, he helped override Reagan's veto of legislation imposing economic sanctions on South Africa over its policies of racial separation. In 2007, in a Senate floor speech, he offered a critical assessment of war strategy in Iraq under President George W. Bush.
On domestic issues, he worked with Democrats on revisions to immigration law and confirmation of court appointees.
The longest-serving member of Congress in Indiana's history, Lugar had no primary challenger or Democratic opponent in 2006 as he won a sixth term.
This year, though, he faced a changed political environment. Groups targeting him for defeat included the Washington-based Club for Growth and FreedomWorks, both of which push for limited government and low taxes and spent a combined $2.4 million in Indiana's primary campaign through their super- PACs.
Critics emphasized his support for the $700 billion financial industry bailout passed in 2008 and his votes in favor of Obama's two Supreme Court nominees.
Feigenbaum said the senator also was hurt by the lack of time he had spent in his home state connecting with voters and local Republican officials, generating an out-of-touch image.
Lugar this fall predicted that public dissatisfaction over gridlock in Washington will stoke a 2014 voter backlash against "extreme" elements in both parties that are now forcing out those like him who are willing to seek compromise.
"I don't think we're going to remain in gridlock for long," Lugar said, "and there will be leaders who will come along and lead the argument that it's time for change, and very big change."
This month, Lugar announced he would continue wielding influence in Washington, albeit with a much younger audience. He said he is launching a Washington-based internship program with the University of Indianapolis and will deliver a handful of lectures there each year as a distinguished professor at the private, south-side university.•
Please enable JavaScript to view this content.