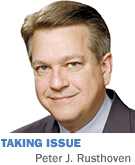 Ben Franklin said nothing is certain but death and taxes. One could add a third item: If there is surplus revenue, legislators will spend it.
This truth lies behind the "automatic refund" Gov. Daniels pushed in 2011, requiring that half of reserves above a safe threshold go back to taxpayers (with the other half shoring up state pension obligations). It's also why Gov.-elect Pence's priorities include phasing in a 10-percent cut in income tax rates.
Some legislators, including some GOP leaders, are voicing skepticism even before Pence's inauguration. I respect these leaders, as does Pence. But it's vital that Pence prevail.
First, our economy will need the tax cut as national changes push things the wrong way. Federal taxes are going up, on small businesses responsible for most job creation (who pay at high individual rates) and on capital gains.
People who build and invest in business will have less money to do so. Investments will face the same risks of failure, but lower returns for success. This means less growth and fewer jobs. These are not abstruse propositions.
Anything Indiana can do in the other direction can only help Hoosier employees and employers (many also taxed at individual rates) and attract business. This will be increasingly important over the next four years.
Second, legislators otherwise will indeed find ways to spend surplus money, an impulse that cuts across party lines. It is fueled by interests trumpeting causes dependent on government largesse. Some are worthy. Some are proper government activities. Most are neither. All crave money.
Taxpayer interests get lost, or dismissed as "only" a few hundred dollars or so for each. Pence brings firm convictions that taxpayers earned the money and can make better decisions on spending it. Right on both counts.
The latest revenue forecast projects a further surplus of $750 million over the next two years. If we don't follow Pence's lead, taxpayers will never see those dollars again.
There's a third reason it's critical Pence prevail. There is natural tension between the executive and legislative. The founders thought this good, as each branch checked the other's power. It's also natural for legislative leaders, typically folks with tenure who've seen presidents or governors come and go, to believe they have a better grasp of governmental realities—of how things "really work"—than any incoming chief executive.
It is natural, too, given human nature and the nature of our system, for legislative leaders to test new presidents or governors, to get an early sense of how strong or pliable they will prove to be. Initial skirmishes can shape the playing field (sometimes the battlefield) for all the tussles sure to come.
After Ronald Reagan's election as president, House Speaker Tip O'Neill said Reagan was now in "the major leagues," where rookies soon learned their place and seasoned pros (like O'Neill) understood the game and called the shots. Reagan, used to being underestimated and fully aware of its advantages, took note but no offense.
A few months later, defectors from O'Neill's Democratic House majority provided the critical votes for Reagan's 25-percent across-the-board tax cut, laying the foundation for a decade of spectacular growth. It also set the tone for two terms during which the president, at most times and on most issues, tended to have the upper hand.
Pence, like Reagan, is the nicest of human beings. But like Reagan, he needs to win the first big battle. I also suspect that, as with Reagan, legislators are underestimating him.•
__________
Rusthoven, an Indianapolis attorney and graduate of Harvard College and Harvard Law School, was associate counsel to President Reagan. Send comments on this column to ibjedit@ibj.com.
Please enable JavaScript to view this content.