The owner of a row of three 1930s apartment buildings—which Kroger claims are standing in the way of a new store at 16th Street and Central Avenue—says he tried for months to sell the buildings to the grocery chain for a total of $175,000 but never got an answer.
Aaron Adams, who said he bought the vacant properties on behalf of an investor in May 2011, waited to hear back from Kroger for almost a year before he began a rehab of one of the four-unit buildings in March 2012.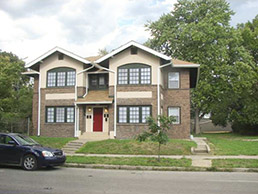 Aaron Adams has spent about $180,000 to gut and renovate the first apartment building of three he owns. (Photo courtesy of Alpine Property Management)
Adams said he spent about $180,000 to gut and renovate the first building and plans to start work on the other two, which sit behind, this month. He said a Boston investor has agreed to buy all three for about $400,000 and finance the renovation of the two that remain untouched. Adams' Alpine Property Management will handle leasing and management.
A Kroger spokesman told IBJ in late December that the three apartment buildings are the "linchpin piece" of a long-simmering plan to replace a worn-out, old-format store along 16th Street.
Kroger spokesman John Elliott said this month that the chain's new district real estate manager has spoken with Adams and instructed a broker representing Kroger to keep working toward a potential deal. Elliott insisted the chain is "serious" about buying the land necessary to redevelop the corner. With an eye toward redevelopment, the chain over several years acquired parcels including at the northeast corner of 16th Street and Central Avenue and a narrow strip behind its existing store.
"That store is a top priority in the Indianapolis market," Elliott said.•
Please enable JavaScript to view this content.