A synthetic natural gas plant proposed downstate need only delete 37 words in its contract with would-be gas purchaser Indiana Finance Authority to comply with an October court ruling and to proceed with the project, Indiana Gasification said in a recent filing with the Indiana Court of Appeals.
But opponents of the plant, led by Evansville-based gas and electric utility Vectren, immediately objected.

They say the gas-purchasing contract was essentially made null and void by the court last October and that the regulatory process should start over again "while questions underlying the contract's overall validity, enforceability and terms are still being resolved."
The $2.8 billion plant proposed for an area near Rockport, along the Ohio River, would convert coal to synthetic gas. The Indiana Finance Authority would buy the gas and sell it on the open market. Whether gas customers would receive discounts, or see their bills increase, would depend on whether the authority made or lost money on its sales.
Last October, the appeals court reversed regulators' approval of the gas-purchasing contract deal—but on narrow grounds. It found the legislation authorizing the purchases never was intended to result in certain industrial customers' sharing in the costs or benefits of the purchases, as would residential customers.
The plant's output would represent about 17 percent of the gas used in the state.
Vectren and groups including Citizens Action Coalition said the contract is risky for ratepayers, particularly given recent decreases in the price of natural gas on the open market due to shale gas extraction.
They say low natural gas prices could make the synthetic gas relatively expensive and hurt ratepayers.
Presenting long-term projections of low natural gas prices, Vectren claims the synthetic gas would cost customers $1 billion in the first eight years, or up to $375 for an average retail customer.
It further asserts that any savings might not occur for decades.
Mark Lubbers, project manager for Indiana Gasification, disputed Vectren's natural-gas price projections, saying no one knows for sure what gas prices will be other than that they historically have been volatile.
The Indiana Utility Regulatory Commission approved the gas supply contract in 2011, in large part because of expectations the new plant would mitigate that volatility while diversifying the state's gas supply.
Lubbers, a former aide to Gov. Mitch Daniels, questioned why Vectren doesn't make a major switch from coal- to natural-gas-burning electric generation if it is so certain natural-gas prices will remain low long term.
Despite the continued sparring, the key issue for now is whether the court will grant the request for rehearing that opponents filed in November.
Vectren argues that the court's October ruling essentially voided the entire contract.
"The regulatory process should start over given the number of outstanding details that are not yet defined, many of which could have an overwhelming financial impact on Indiana gas customers for 30 years," said Chase Kelley, spokeswoman for Vectren.
Indiana Gasification has urged the court not to rehear the case, saying the court rejected opponents' arguments that the IURC exceeded its jurisdiction and that the contract was not final.
The company said that, once litigation ends, it intends to approach the IURC for final approval on the contract, altered to be consistent with the court's objections over the definition of "end-use" customer.
The company, which is owned by New York investment firm Leucadia National Corp., contended in a court filing last month that opponents' request for rehearing is nothing more than an "attempt to inject further delay."
Indiana Gasification is concerned that additional delay could jeopardize its ability to obtain favorable construction terms. It seeks a U.S. Department of Energy loan guarantee to help finance construction.
The synthetic gas project has had a rocky time since proposed nearly a decade ago.
In 2006, Vectren and Indianapolis-based Citizens Gas agreed to buy gas from the proposed plant as a hedge against natural-gas price volatility.
Two years later, Citizens pulled out of the commitment, saying it had diversified its gas supply through a statewide gas purchasing authority and new gas pipeline. Later that year, Vectren pulled out, citing uncertainty over potential federal carbon dioxide restrictions.
After utilities rejected plans to take physical delivery of the gas, the Indiana Finance Authority and Indiana Gasification came up with the contract under which the authority would buy the gas.
Plant supporters question why Vectren is committed to killing the contract and suggest the company has a motive beyond concern that gas customers would pay more.
One reason might be the potential financial harm the syngas plant could pose to Vectren's and Citizens' jointly owned, unregulated subsidiary—Indianapolis-based ProLiance Holdings.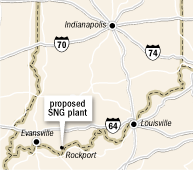 ProLiance is an energy marketing firm that serves cities, utilities, industrial operations, schools and health care institutions. Vectren also purchases natural gas from ProLiance.
During 2011, ProLiance lost $47 million—$28.6 million of that borne by Vectren. ProLiance losses in the first nine months of 2012 were $28 million.
Vectren blamed changing market conditions, including relative stability brought by shale gas finds.
Greater volatility in natural-gas prices appears to be good for ProLiance and, in turn, for Vectren shareholders.
In early 2008, before Vectren pulled out of the Indiana Gasification project, the utility's chairman told investors that the company lowered its expectations from ProLiance "primarily as a result of our concerns regarding the recent lower volatility in the natural gas markets."
Lubbers declined to comment about whether Indiana Gasification believed ProLiance was the source of Vectren's opposition.
"I take the company at their word. They told Wall Street on the record that Proliance profitability depends on gas price volatility."
Indiana Gasification claims its plant would, in effect, ease gas price volatility.
Vectren's Kelley said the objections to the Indiana Gasification deal are "not at all related to ProLiance." She reiterated the utility's concern that Indiana gas customers "will be forced to subsidize [the gasification plant] to ensure it can operate profitably."
Meanwhile, there are rumblings around the Statehouse that plant opponents will seek a bill that would dismantle the current law enabling the Indiana Finance Authority to buy synthetic gas.•
Please enable JavaScript to view this content.