A thin labor market in the New Orleans area hasn't slowed two Indianapolis-based companies gearing up to do big Super Bowl business in the Big Easy.
MainGate Inc. and Lids Sports Group, both in their first year of handling Super Bowl merchandise sales, are employing unique strategies to deal with the labor shortage that has plagued New Orleans since Hurricane Katrina struck in 2005.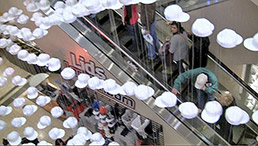 Lids will take over an empty New Orleans retail space, just as it filled Circle Centre's Nordstrom vacancy last year. (IBJ File Photo)
Traditionally, companies that have handled Super Bowl merchandise sales, most recently California-based Facility Merchandising Inc., hired numerous temporary workers from the host city to staff their shops and kiosks at the stadium, NFL Experience and area hotels.
In September, the NFL awarded MainGate and Lids—which are working separately—the exclusive merchandise bid FMI held for 23 Super Bowls.
Last year, Lids, running a huge store at the former Nordstrom department store downtown, and MainGate, operating kiosks at a handful of hotels and malls, got their feet in the door, breaking FMI's hold.
This year, MainGate, which is handling merchandising at the Mercedes Benz Super Dome and the NFL host hotel, is bringing in 250 of its workers from Indianapolis, 200 of which will be bused in the day before the Super Bowl and stay in a hotel two hours away.
Lids officials are using the same formula they used last year in Indianapolis—bringing in hundreds of workers from their retail stores across the country to man merchandise operations at the NFL Experience interactive fan attraction and at six hotel kiosks.
Much like it did last year with the former Nordstrom space, Lids is taking over an old Hard Rock Café in the French Quarter to operate a large store.
Lids will use 380 workers to set up, tear down and run its Super Bowl operations. Of those, 219 will be store managers from across Indiana and the country.
Lids will bolster its ranks by using volunteers from New Orleans-area not-for-profits. In exchange, Lids will donate to their causes. MainGate recruited on New-Orleans-area college campuses to find many of the 700 workers it will need, said the company's president, Dave Moroknek. MainGate also worked with the New Orleans Jazz Fest to hire some of that event's retail workers.
Please enable JavaScript to view this content.