Defense attorney Paul J. Page had just withdrawn $50,000 from a bank account that collected rent payments from a state-leased office building in Elkhart.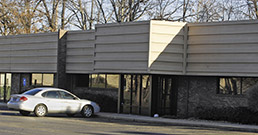 Transactions involving this Elkhart office building led to an FBI investigation and a 14-count indictment against broker John Bales and two co-defendants. (IBJ file photo)
On paper, that wasn't a problem, since Page controlled the company L&BAB LLC, which owned the building. Page had taken out a $531,000 loan from Huntington Bank to buy the property in 2008, and the Department of Child Services moved in shortly thereafter.

But the bank withdrawal in July 2009 was an urgent concern for Indianapolis real estate broker John M. Bales and his partners at Venture Cos. The broker believed the move violated an unrecorded mortgage agreement: A Bales-controlled company called BAB Equity LLC had secretly given Page his $362,000 down payment in exchange for 25 percent of any profits. The bank was told Page would be the 100-percent owner.

Bales
The principals at Venture, which represented the state in office lease deals and had pledged to avoid "any ownership interest" in buildings the state leased, felt that to protect their investment they had no choice but to reveal the partnership with a state landlord. The company hurriedly placed a back-dated mortgage on the property.

"We are about to be outed like it or not," Bales deputy Greg Rankin wrote in an e-mail, one of dozens of records federal prosecutors plan to use as they argue Bales and his general counsel, William E. Spencer, defrauded the state and a bank over the building purchase and subsequent lease deal.

Page, who was also charged, agreed earlier this month to plead guilty to one count of wire fraud in exchange for cooperating with federal prosecutors.

The defense contends there were no victims, no loss and no intent to defraud: The state wound up leasing the building it wanted, and the bank loan on the property is current and paid.

Bales' and Spencer's attorneys are expected to argue the arrangement was a loan that fell well short of ownership, and any attempts to conceal the deal stemmed from concern about media attention and were not meant to mislead the state. The questionable nature of the Elkhart lease deal was first revealed as part of an IBJ investigation.

The jury trial in South Bend is scheduled to begin Jan. 28 and last up to two weeks. Bales and Spencer, both 45, are facing 13 counts, including wire and mail fraud.

Newly filed documents in the case suggest prosecutors intend to argue that Bales defrauded the state in multiple ways with the Elkhart deal:

• By secretly putting up the equity to buy the building;

• By keeping the entire $88,400 lease commission in violation of an agreement to remit a portion back to the state (Venture eventually paid the state's $22,100 portion two years later after receiving a federal subpoena);

• And by taking $28,875 for a broker's fee and a $22,700 developer's fee on the deal—additional payments not allowed under the state contract. Venture recorded the latter in closing documents as having been paid to building owner L&BAB LLC.

Documents the government expects to introduce include several e-mails discussing IBJ's coverage of the Elkhart deal and Bales' assurances to state officials that the reporting was not accurate.

Bales explained that DCS had picked the 15,200-square-foot Elkhart building as its ideal location but the prior owner needed to sell and did not want to act as a landlord. Venture struggled to find a buyer: Five developers passed on the opportunity before Page came along.

But in each of the e-mails, Bales and his deputies left out the fact that Venture had put up the equity that allowed Page to buy the building. State records show Page as the sole owner of L&BAB LLC as of February 2008, but he added then-Marion County Prosecutor Carl Brizzi as a 50-percent owner in December 2008.

Page told IBJ in 2010 that he gave half the building to Brizzi at no cost as a finder's fee of sorts for bringing him the opportunity. Page, a defense attorney, had represented dozens of clients and at the time was representing clients in cases involving Brizzi's office.

Page's plea deal calls for him to testify if necessary against Bales and Spencer in the Northern District case. He also agreed to cooperate with the government in a Southern District investigation that has Brizzi as its principal target.

The government has not filed charges against Brizzi, who did not seek re-election as prosecutor and stepped down after his second term ended in January 2011. He has denied wrongdoing.

Page, 47, admitted in court on Jan. 4 and in his plea agreement that he concealed from the bank that he received funds from Bales to buy the Elkhart building.

The two had agreed to split any proceeds of a sale; after Venture recovered its equity, Page and Bales would split the remaining cash 75 percent to 25 percent. Venture's contract with the state banned the company and its partners and employees from "any ownership interest" or any "attempt to acquire" properties to be leased by the state.

The defense is expected to argue that Venture disclosed the arrangement as required under its contract with the state.

E-mails among Venture employees suggest there was, at minimum, a concern about how the Elkhart deal would appear if the details went public.

Bales associates including Wendy Michael puzzled over how to pay Elkhart County's recording fee on the back-dated BAB Equity mortgage.

"Nothing we do should have our name on it," Michael wrote. "If Page doesn't sign it who would?"

Later, as Venture tried to orchestrate another state lease deal for the building and a potential sale, the company sought to keep its involvement quiet.

Referring to a state official, Rankin wrote: "I do not want Stephanie to even be aware of our involvement because it may be hard for her to understand why, as the representative for the State, that we are trying to help a landlord."

Michael and Rankin are not facing charges.

Assistant U.S. Attorney Jesse Barrett is leading the case for the government. Barnes & Thornburg partner Larry Mackey is representing Bales, and Katz & Korin partner Bernard Pylitt is representing Spencer.

Each side is expected to call expert witnesses, who likely will offer conflicting interpretations of the meaning of the word "ownership" under the state's contract with Venture. Prospective jurors also will be asked about their understanding of real estate terminology and whether they have read any media coverage about the case.•