Frustrated by up-and-down state funding for startup life sciences companies, industry leaders are talking up a plan to create a dedicated funding stream that could total $30 million a year.
Kristin Jones, CEO of the Indiana Health Industry Forum, said her organization is starting a two-year effort to discuss the plan with state lawmakers, with hopes of pitching it formally in the 2015 budget-writing session.
 

Kristin Jones is CEO of the Indiana Health Industry Forum.
The plan would mimic laws passed in Kansas and Missouri, which allow future growth in the income taxes withheld by life sciences companies to be diverted into a fund aimed at helping new life sciences companies start and grow.
In Kansas, where such a fund was approved in 2004, growth in payroll taxes has produced $30 million a year for investment in life sciences companies and university researchers.
Those monies have allowed the Kansas Bioscience Authority to leverage federal and private funds, boosting its annual grant-making to $34 million.
"These kinds of funding mechanisms provide money for life sciences companies, without adding new taxes, without tapping into existing resources at the state," said Jones, whose organization represents such companies as Indianapolis-based Eli Lilly and Co., Bloomington-based Cook Medical Inc. and hospitals such as Indiana University Health. "This is a way that we can build a fund that is funded by the industry."
The benefit of such a fund would be that it would generate revenue for life sciences companies only if they added jobs and increased wages. Also, such a fund is more likely—though not guaranteed—to produce a steadier stream of funding than programs that rely on a new appropriation of the Legislature every other year.
"It's a model worth looking at for that reason—steadiness—but also for another reason: We don't have the ability as a state to borrow money," said David Johnson, CEO of BioCrossroads, an Indianapolis-based life sciences development group.
The state's constitution restricts it from taking on long-term debt. But right next door, the state of Ohio has used public borrowing to fund a 10-year, $2.3 billion fund called Third Frontier. From 2003 through 2012, the program has doled out nearly $1.2 billion to help tech-based companies, with $415 million going to life sciences companies.
Dissatisfaction with IEDC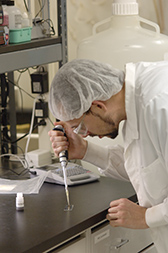 The Indiana Health Industry Forum wants to create a dedicated state grant fund for startups in life sciences by diverting future growth in payroll taxes paid by life sciences firms. (IBJ file photo)
The push for a new funding program comes less than two months after the Indiana Economic Development Corp. asked the Legislature to appropriate $30 million for the Indiana 21st Century Research & Development Fund to focus exclusively on life sciences.
That money would not be directed at the youngest life sciences companies, called seed-stage companies, according to a statement by former Indiana Secretary of Commerce Dan Hasler.
In spite of IEDC's request, life sciences companies have developed deep frustrations with IEDC and its offshoot, Elevate Ventures, which oversees the 21st Century Fund. Jones said she would not favor IEDC as the overseer of a fund created from payroll taxes because the agency's recent leaders have effectively shut out life sciences companies by emphasizing metrics for investment that put such companies at a disadvantage.
Specifically, she said, IEDC has focused on funding companies that can quickly add large numbers of jobs and grow revenue quickly. Early-stage life sciences companies are more likely to add small numbers of very-high-paying jobs.
"It's just absolutely been cut off," Jones said of state funding for life sciences startups. "At this point, the realistic sources for people in the life sciences, for people in the state, don't exist anymore."
Since 2009, Elevate Ventures, which runs the 21st Century Fund on contract for IEDC, has backed away from making 21st Century Fund grants to companies developing new drugs, medical devices or medical diagnostics. The private group cited a rise in risk with no corresponding rise in potential payoffs. Private life sciences investors have made similar assessments and rotated out of the sector.
Also in September 2011, Elevate Ventures ended the long-running program of the 21st Century Fund that matched any amount a company received in federal funding through Small Business Innovation Research, or SBIR, grants. That program, while open to all kinds of companies, was particularly helpful for life sciences companies.
Frank Szczepanski, CEO of IV Diagnostics Inc. in Crown Point, said he waited 15 months after applying for money from the 21st Century Fund before getting a "no" from the state in December. During the long wait, he was never asked to make a presentation but he did have two conversations with Elevate Ventures entrepreneur-in-residence Mark Vreeke.
"It took that long for them to verbally tell me that they didn't think that we were fundable. The words were, 'We don't see where you have a significant advantage,'" said Szczepanski. "They said if we do get a large investor, then give them a call, because they'd like to participate," Szczepanski added. "That's like taking the backstreet Charlie approach."
IV Diagnostics is now pitching its testing technology on a service basis to hospitals and other research companies, hoping to generate revenue that way while it searches for funding to conduct clinical trials.
Steve Hourigan, president of Elevate Ventures, said the state started to require private co-investors for 21st Century Fund investments beginning in 2009, when funding for the program was cut in half. And in recent years, it has become a whole lot harder to find private investors willing to take risks on life sciences companies, particularly early-stage ones.
Also, Elevate Ventures killed the 21st Century Fund's matching program for federal SBIR grants because an internal analysis found that only one recipient had, since the program's inception in 2003, achieved $1 million in annual revenue.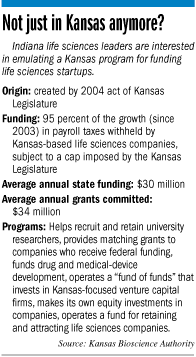 "We don't disagree that we need to find a solution to the life sciences piece," Hourigan said, noting that he has been talking to Midwest life sciences venture capital firms about opening offices in Indianapolis so they can become co-investors with the state.
He added, "The difficulty with life sciences startups is the length of time it takes before you know whether you have something."
Hourigan spoke about Elevate Ventures' investments in Indianapolis-based Wellfount Corp., which has developed an IT business to automate the dispensing of drugs in nursing homes, and in Warsaw-based OrthoPediatrics Corp., which develops orthopedic implants for kids, as examples that show Elevate Ventures is still active in the life sciences.
"We've had to become significantly more selective," Hourigan said.
Millions at stake
Life sciences companies in Indiana paid total wages in 2011 of $4.1 billion, according to figures released last month by BioCrossroads. Those data do not include any hospitals or health care providers, which are included in Kansas' definition of life sciences.
Life sciences wages in Indiana grew $800 million from 2006 to 2011. With Hoosiers' personal incomes taxed, after deductions, at an effective rate of about 3 percent, that growth in wages has produced an additional $24 million in annual revenue to Indiana.
The proposal by the Indiana Health Industry Forum would take future years' growth in payroll taxes withheld by Indiana's life sciences companies and divert them into a new investment fund.
If that proposal were implemented today, and if Indiana's life sciences companies grew at a similar rate as they did the last five years, then such a fund would ramp up over five years to generate $28 million per year.
The fund could, theoretically, keep growing every year, due to wage inflation and organic growth of the life sciences industry. However, both Kansas and Missouri have taken measures to cap their funds, either directly or indirectly.
In Kansas, allegations of misuse of the funds, as well as the recession, led the Legislature to cap funding for the Kansas Bioscience Authority at $35 million per year and, most recently, at just $12.3 million per year.
A fund authorized by the Missouri Science and Innovation Reinvestment Act, or MOSIRA, was set to run for 25 years, but the percentage of payroll taxes that would be diverted into the fund would gradually decline over that time.
Missouri's program, which was signed into law in the fall of 2011, has been hung up in a court challenge over an issue unrelated to the substance of the program. So the MOSIRA fund has yet to start operating.
The concept of a dedicated life sciences fund based on payroll would probably have more "staying power" to its funding levels than the 21st Century Fund has, said Rep. Tim Brown, who is chairman of the House Ways and Means Committee. But he said the idea is not yet ripe.
"I don't think I would be ready today to dedicate funding to a specific industry at this point. It would probably be good to chew on it for a while," said Brown, R-Crawfordsville. "I would hope that opportunity might be there in a future session."•
Please enable JavaScript to view this content.