A member of the Indianapolis mayor's education staff attends every board meeting of every charter school in the city.

Each of the 22 schools is evaluated annually, and they undergo complete audits in their second, fourth and sixth years. The result is that Indianapolis' mayor is nationally recognized as a rigorous charter authorizer, picky about which schools open and willing to shut down the under-performers.

Kloth
There is a cost to the city's education work, however, and Mayor Greg Ballard may have to consider how much of it can be supported by the city's maxed-out general fund alone.

Ballard set a goal in 2011 of adding 20 more charters in five years, and seven were approved last year. Growing the portfolio further would increase demands on the Office of Education Innovation, where the personnel budget has more than doubled since 2008.

"This is an expensive proposition for the ongoing monitoring of these things," said former Lt. Gov. John Mutz, chairman of the city's charter oversight board.

Ballard's administration is in the midst of trying to find $30 million in cuts and savings across all city agencies. Yet he's rejected the option of collecting an administrative fee from the charter schools, a standard practice in Indiana and elsewhere. State law would allow the city to charge as much as 3 percent of the schools' taxpayer-funded tuition revenue.

The maximum fee would generate $1.8 million, based on the current charter enrollment of 8,900, Deputy Mayor for Education Jason Kloth said. Even a lesser fee would easily cover the education office's personnel budget of $591,000.

So why not take the money?

Kloth said it comes down to philosophy. He believes receiving money from the schools would weaken the mayor's autonomy in dealing with them.

"I think it would create an incentive to open schools; I think it would be an incentive to not close schools," he said.

That's the view held by David Harris, the first director of charter schools under former Mayor Bart Peterson and now CEO of The Mind Trust, which promotes innovation in education.

The Mind Trust is partnering with the city on its charter-school expansion, using city funds and foundation grants to attract top charter operators from around the country.

"It's a very common practice," Harris said of charter sponsors collecting fees. "And there are a lot of bad schools around the country that aren't being closed."

Indiana's accountability law should negate any concern that authorizers would overlook low performance, just to keep pulling in revenue, said Claire Fiddian-Green, executive director of the Indiana Charter School Board. Created in 2011, the ICSB is an independent state agency sponsoring 14 schools in Indianapolis and elsewhere in Indiana.

"If they fail to take action against a low-performing school, there's a mechanism to hold them accountable," she said.

The Indiana Charter School Board decided to collect 2.5 percent of its schools' tuition revenue, less than the maximum 3 percent, and will lower that rate as more schools open, Fiddian-Green said.

Charter schools receive less state funding than traditional public schools because they're reimbursed only for their enrollment, not building or transportation costs. Fiddian-Green said the state-chartered schools have managed to work additional administration fees into their budgets.

Charter schools around the country pay administration fees, she said. "That's forced them to become creative in how they provide a quality education."

Stiff oversight

The city's track record in oversight was part of Kloth's recent pitch to the State Board of Education for his office to assume responsibility for four former Indianapolis Public Schools.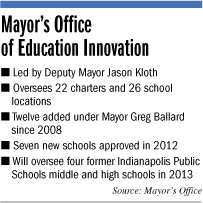 And he was successful. On June 1, the city will start overseeing Howe Community High School, Manual High School, Emma Donnan Middle School and Arlington Community High School, all of which had been deemed failing and taken over by the state.

Kloth expects the Department of Education to provide a director of the "turnaround" schools. He thinks his current staff of six people can handle the seven new charters, most of which are replicating existing schools. Beyond that, Kloth said it's hard to predict what his office will need.

Ballard wants to raise the quality of education in all types of schools, whether traditional public, charter or private, Kloth said. He thinks that deserves broad public support because the ultimate goal is to reverse the trend of families with school-age children leaving Marion County.

"It's a small price to pay for the service we're providing," Kloth said of the taxpayer-supported education office.

Mutz agrees the city shouldn't collect fees from charters, but he thinks funding is an inevitable topic of discussion as the portfolio continues to expand.

"We're going to be talking a lot about this," he said. "We're moving into the second phase of the chartering movement."

Ballard's administration recently received an unwelcome prodding from City-County Councilor Brian Mahern, who introduced a proposal that would force the city to collect the 3 percent fee, as allowed by state law.

"We are in a budget crisis," Mahern said. "We should be looking and trying to understand what entities are using municipal services and not paying for it."

Ballard spokesman Marc Lotter said the mayor would veto any such mandate because it would mean taking money out of classrooms.

Mahern's proposal might not get much support from fellow Democrats, either. At-large Councilor John Barth, chairman of the Community Affairs Committee, said he agrees with Kloth, but he'll give Mahern's proposal a hearing.

"It's a real service to introduce it because it forces a discussion that needs to happen," Barth said.

Many states have cracked down on overly lax charter authorizers, and along with that, allowed them to charge fees or increase their fees.

Minnesota, a pioneer in charter schools, used to have more than 50 authorizers, but that number has fallen to 27 since 2009. Save for a few of the universities, most of them charge administration fees, said Dan DeBryun, authorizer specialist in the Minnesota Department of Education.

The fee structure is based on enrollment, but the maximum is $20,000 per school, he said.

"People are realizing there is a lot of work that goes into being an authorizer," DeBryun said.•