The future of Indiana's coal industry may be as precarious as that of a mine roof-bolter who's drilling into unstable rock.
Why? The presidential candidate who in 2008 declared, "If someone wants to build a coal-powered plant, they can—it's just that it will bankrupt them" just got a second term of office.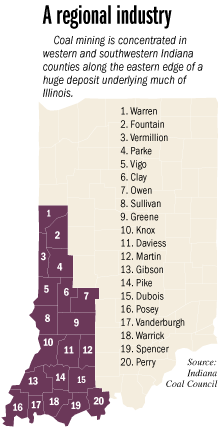 With Obama administration regulators looking at even more air pollution restrictions and limiting carbon dioxide emissions, utilities are shutting down older coal units for natural gas burners. New uses for coal are needed, and fast, if the industry hopes to survive.
Indiana coal leaders are hanging their hopes on supplying coal for synthetic natural gas and coal-liquefication plants.
They're also looking at options like expanding exports beyond the 37 million tons of coal produced annually in 18 counties downstate.
It's not just about keeping existing conveyors running.
"I want to increase demand for Indiana coal," said Nathan Noland, president of the Indiana Coal Council.
That won't be easy. Not only is pushback against coal intensifying at the national level, but it is at local levels, too.
Last month, 75 people from groups including the Sierra Club and Citizens Action Coalition demonstrated against Indianapolis Power & Light Co.'s plan to spend $511 million on additional pollution scrubbers at its plants in Indianapolis and Petersburg. The utility said the required updates will slash emissions of mercury and other pollutants.
The Sierra Club wants utilities to "move beyond coal" and instead spend money on more renewable generation and energy-efficiency measures.
Hanging in the balance are 3,400 direct mining jobs and an estimated 8,000 support jobs in an industry that contributes $1.5 billion to the state's economy, according to Purdue University's Center for Coal Technology Research.
The war on coal has even broader implications. Indiana's coal, which produces more heat than coal mined in other areas of the country, has made for cheap electricity, which in turn gave the state's manufacturing base a cost advantage.
Industrial customers in Indiana paid 6.17 cents per kilowatt-hour in 2011 versus 6.42 cents in Illinois, 7.32 cents in Michigan, 7.33 cents in Wisconsin, and 11.43 cents in New Jersey, according to the U.S. Energy Information Administration.
Manufacturing remains a huge chunk of the state's economy—representing 27 percent of the state's gross domestic product.
"There is concern among manufacturers for the potential increase in [electricity] prices," said Patrick Bennett, vice president of environment, energy and infrastructure at the Indiana Manufacturers Association. "Coal has been a blessing to Indiana as it has kept energy prices down over the years."
Attrition
But coal isn't likely to dominate as much down the road, at least in the pulverized form burned in conventional power plants.
An estimated 1,940 megawatts, or 12 percent of Indiana's baseload generation, will be going off line, at least temporarily, to be upgraded to meet U.S. Environmental Protection Agency standards, according to a 2012 study by the Center for Coal Technology Research.
IPL, for example, is looking at replacing older coal units in Martinsville with turbines that burn natural gas. In 2010, the EPA forced Charlotte, N.C.-based Duke Energy to shut down three coal units at its Wabash River Generating Station near Terre Haute.
Chicago-based AEP Energy in 2011 said it would retire a coal-fired unit in Lawrenceburg near Cincinnati, while Merrillville-based NIPSCO shuttered a unit in Gary. And in 2011, locally headquartered Citizens Energy Group converted its downtown steam plant to gas.
The list goes on. Ball State University is phasing out its coal plant on campus for a geothermal system and Indiana University is converting its coal-fired energy plant to natural gas.
National trend
While the bulk of Indiana's power is still generated from coal, the trend is clearly on the downturn nationwide.
The percentage of electricity generated from coal in the United States fell to 35 percent in the first half of last year from 42 percent in the first half of 2011.
In April, for the first time since the U.S. Energy Information Administration started compiling the numbers in 1973, generation from natural-gas-fired plants was equal to coal, at 32 percent each.
Since the first half of 2007, coal consumption nationally is down 11 percent, according to EIA.
As for the share of coal-fired generation, "I think it's safe to say that for Indiana the number is likely to decline," said Doug Gotham, director of the State Utility Forecasting Group at Purdue University.
New uses
But the Indiana Coal Council's Noland said coal isn't going away if leaders pursue additional uses for the state's mineable supply, estimated at 300 years' worth. "There's a future for the use of coal in this country for decades to come."
To do that, one needs to quit thinking of burning coal, Noland said, and instead to refine it into different forms such as synthetic natural gas or even liquid fuels such as gasoline and diesel.
A number of such projects already have been proposed around the state. For example, a company known as Clean Coal Refining Corp., headquartered in Delaware, has proposed a coal-to-liquid-fuels plant at the former Newport Munitions Depot north of Terre Haute. It could use 1.5 million tons of Indiana coal annually.
Also, according to Purdue, a Texas firm is looking at a possible coal-to-gasoline plant in Sullivan County south of Terre Haute. Meanwhile, another firm has proposed a coal-to-liquids plant for Warrick County near Evansville to make 10,000 barrels of crude a day from 4 million tons of Indiana coal.
Battles ahead
Such facilities would likely require billions of dollars in investment and face technical and political hurdles.
Consider the difficulties faced by Duke Energy's coal-gasification generating plant in Edwardsport, which will convert Indiana coal into a cleaner-burning gas.
Originally approved at $1.9 billion, the construction cost for the project between Bloomington and Evansville soared to $3.6 billion. It's to go online later this year.
And then there's the proposed Indiana Gasification plant east of Evansville near Rockport, which could use 4 million tons of Indiana coal per year.
Although the Indiana Utility Regulatory Commission last year OK'd plans to construct the $2.8 billion plant, its future is in jeopardy over a contract in which the Indiana Finance Authority would act as purchasing intermediary for gas made at the plant. The authority would sell the gas on the open market, and gas customers would receive discounts or see bills increase, depending on whether the authority made or lost money on sales.
Consumer groups and Evansville gas utility Vectren Corp. argued that Indiana ratepayers could pay higher rates, given falling natural-gas market prices, and appealed the commission's decision to the Indiana Court of Appeals.
The court in October reversed regulator approval on a technical issue. Indiana Gasification has proposed a simple fix to the contract, although bills recently filed in the Legislature revisiting the contract could make it unpalatable for Indiana Gasification to proceed.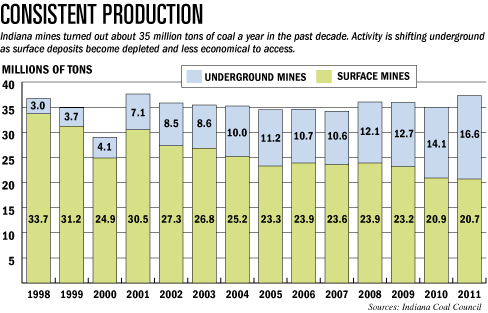 "Why the General Assembly is stirring up dissent about this plant again, I'm just baffled," Noland said. "If you're going to spend $2 [billion] or $3 billion for a plant, you want to know you have a market for a product," he says.
Noland said there's more potential than just Edwardsport and Indiana Gasification. He said one group of investors, whom he declined to identify, has proposed building a plant to make liquid fuels such as gasoline.
Numerous other products can be made from coal, including diesel and jet fuels, and ammonia for fertilizer. Noland pointed to South Africa's success in making coal-derived fuels since the mid 1950s. An estimated 30 percent of that country's gasoline and diesel come from coal.
The U.S. Department of Defense already has a mandate to buy up to 10 million gallons of alternative jet fuel, according to Purdue's Center for Coal Technology Research.
"We won't be able to use our coal resources unless we get past burning coal, which leaves a lot of pollution behind," said Mark Lubbers, project manager for Indiana Gasification.
Noland said he's worried that the continued battle over the Indiana Gasification project might scare off future coal gasification or liquefication operators. He said he hasn't received as many calls from investors in such projects recently, as a result.
Export markets
Other ideas for saving coal are decidedly less high-tech.
The Center for Coal Technology Research noted in a recent report that the industry needs to expand exports of Indiana coal. In 2010, the state's coal producers exported 4.8 million tons, but that's less than half the 10 million exported in 1990.
Most of that coal goes to Kentucky, Alabama and Ohio.
Federal environmental rules in recent years have helped reduce demand for the state's coal in favor of lower-sulfur coal from the Powder River Basin in Wyoming and other Western states.
Another hurdle to exporting coal to other states—such as Michigan—has been a limited rail transportation network. But there could be more incentive if, for example, coal could also be shipped from Burns Harbor on Lake Michigan and through the Great Lakes to Europe, where there is demand for Indiana's higher-energy coal.
Burns Harbor also would allow Indiana coal to travel by barge to ports along Lake Michigan that service Michigan's coal-fired plants.
"The economic trade-off between the higher transportation costs of non-Indiana coal and the lower cost of Indiana coal will drive opportunities to increase exports," Purdue's study said. "The market potential of exporting Indiana coal to neighboring states could be greater than the total volume of coal currently mined in Indiana."
But there's also room to supply more Indiana coal to existing electric-generating plants in the state. Some plants, such as Indiana-Kentucky Electric Corp.'s Clifty Creek unit in Madison, use coal from Wyoming and Eastern coal regions.
Curiously, the Purdue report states that plants could find more incentive for using Indiana coal as they add more pollution control scrubbers—essentially negating the low-sulfur benefit of Power River Basin coal.•
Please enable JavaScript to view this content.