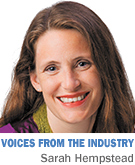 Indianapolis is at the tipping point. This is our moment to truly excel and to become the place people want to live, work and play.
Are we as desirable as Seattle or Portland? As cool as Minneapolis or Austin? We are getting close, and constantly raising the bar is the only way to get there. It means economic development opportunities, more jobs, and keeping our best and brightest.
Moreover, it is our responsibility, the task demanded of us in order to respect the decades of hard work and vision that have served to get us where we are today.
A variety of initiatives brought us here:
• We developed—and continue to develop—interesting pockets of downtown neighborhoods that are enticing people to live in the urban core again.
• We are supporting our middle-city neighborhoods, radiating the success of downtown into concentric rings of urban infill and investment.
• We are finally getting serious about a mass transit system. Yes, it has taken a while, but the desire and investment to make the plans real finally seem to be coming together.
• We are choosing the adaptive reuse of existing structures in lieu of demolition, mixing fresh and vibrant concepts alongside (or within) existing buildings, allowing them to stay relevant without losing the history and flavor of the city.
• Educational change is in the air, with Indianapolis Public Schools scores on the uptick, IPS magnet schools showing huge successes, and multiple charter and private schools offering parents choice.
• We are reconnecting to our waterways, reviving this forgotten resource and giving Indianapolis back some of our unique natural beauty.
• Our massive investment to bring our sewer systems up to current environmental standards is finally addressing a problem that was devaluing our resources.
• Financing mechanisms like the new North Midtown tax-increment financing district, approved by the City-County Council in January, will revitalize neighborhoods, giving each affected area the choice of which investment will be most useful to them.
• Our improvements to urban parks and trails have enhanced the "cool factor," attracting the young creative class and offering opportunities for play and exercise throughout the city.
Each of these independent efforts is working unique magic to elevate Indianapolis and propel us forward, getting us ever closer to the city we aspire to be.
If we're this close to greatness, imagine how much more effective we could be if we coordinated all these efforts under a Big Vision. A shared goal and concept of Indianapolis as uniquely great. Not a copy of another city, but an urban, progressive, sustainable, fun, hip, family-friendly place in our own right.
It comes down to the word "believe." Indianapolis will become what we make it, based on the beliefs we support with our actions.
If you ask someone who lives in New York about their city, they will say it's the best city in the world. If you ask someone in Austin about their city, you'll get their tag line "Keep Austin Weird" every time. If you ask that question in Indianapolis, what answer would you get?
What do we want the answer to be?
It would be dangerous to let go of any of the essential elements above—neighborhood revitalization, core urban infill, schools, transit or recreation. But it would be disastrous to think they are enough.
If we get distracted by the next immediate thing, settle for a short-term fix, or become satisfied with our investment in any of these areas, other places will be delighted to pick up the pursuit and eclipse our efforts.
Becoming a great city involves taking risks, having vision and constantly making new investments. If we do it right, 30 years from now our children will still want to be here.
There have been tipping points in the past, and Indianapolis has taken advantage of many of them. There will be tipping points in the future.
But tipping points can slip by without being seized.
The upswing in the housing market, renewed interest in our downtown, and the gradual improvement of the economy indicate the period of holding back and putting off is ending.
This tipping point is now. Get engaged to keep Indy moving forward, get new ideas on the table, and wholeheartedly support initiatives that elevate our city.
Massive efforts and visionary leadership have gotten us almost to the top of the hill. This is no time to let up on the gas.•
__________
Hempstead is president of the American Institute of Architects-Indiana and a principal at Schmidt Associates Inc. Views expressed here are the writer's.
Please enable JavaScript to view this content.