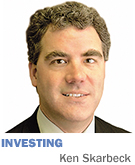 The U.S. Securities and Exchange Commission is about to fill its chairman position for the fifth time since 2001. Mary Jo White, a former prosecutor and corporate attorney, will step in for Mary Shapiro—assuming White is confirmed by the Senate.
Shapiro is credited with improving the SEC, whose reputation had taken a hit when an internal investigation found that senior employees were surfing pornographic websites during the financial crisis.
White by all accounts is a talented attorney who won high-profile cases against fraudsters during her tenure as U.S. attorney for Manhattan. As a defense lawyer, she has represented many powerful Wall Street principals in cases against the SEC, which her critics cite as a potential conflict of interest. Others believe she will be a tough cop and that her nomination signals the Obama administration is ready to take a more forceful stance against Wall Street.
Financial regulators have received their share of criticism since the credit crisis. Public outcry has been critical of the lack of criminal prosecutions against key Wall Street figures. The judgments against the investment banks largely have been monetary, and typically contain a statement from the offender that there was no admission of guilt.
The SEC has power only to bring civil suits with monetary penalties and can bar violators from serving roles in public companies or within the investment industry. Criminal prosecutions must be undertaken by the Justice Department.
In that regard, a recent PBS "Frontline" program pressed Assistant U.S. Attorney General Lanny Breuer on why no one has been prosecuted despite all the bankers and mortgage-industry executives involved in the financial crisis. Breuer harped on the difficulty of determining criminal intent in these complicated cases. He resigned from his position shortly after the program aired.
The SEC is clearly sensitive to the criticism of being too lenient. A visit to the organization's Internet home page prominently lists 150 enforcement actions against companies and individuals that have resulted in the collection of $2.6 billion for investors.
Also prominent on the SEC website is emphasis on a new technique to catch crooks: "whistleblowing." In fact, it has established an Office of the Whistleblower to administer this program. To qualify for a reward, whistleblowers must voluntarily submit "original information" that relates to a violation of federal securities laws. If a tip leads to an SEC enforcement action and penalties exceed $1 million, the whistleblower can receive 10 percent to 30 percent of the penalties imposed.
Since the program was established in August 2011, about eight tips flow into the SEC every day. The commission made its first whistleblower payment of $50,000 in August 2012.
The work of being Wall Street's top cop never ceases for the chronically understaffed commission. Presently, the SEC is embroiled in a high-profile insider trading investigation of the $15 billion hedge fund SAC, run by the flamboyant Steven A. Cohen.
And last week, the SEC was joined by the FBI in investigating potential insider trading in options the day before it was announced that Heinz would be acquired by 3G and Berkshire Hathaway.•
__________
Skarbeck is managing partner of Indianapolis-based Aldebaran Capital LLC, a money management firm. His column appears every other week. Views expressed are his own. He can be reached at 818-7827 or ken@aldebarancapital.com.
Please enable JavaScript to view this content.