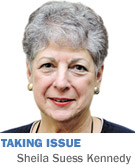 John Kasich (Ohio), Rick Snyder (Michigan), Jan Brewer (Arizona), Brian Sandoval (Nevada), Susana Martinez (New Mexico) and Jack Dalrymple (North Dakota) are all conservative Republican governors opposed to the Affordable Care Act.
Unlike Indiana Gov. Mike Pence, however, all of them have opted to expand Medicaid in their states. They have decided that—at least in this case—they should put the best interests of their states above partisan politics.
Indiana's Medicaid program provides health care to about one in seven Hoosiers—mostly children, pregnant women, the disabled, seniors in long-term care and very-low-income families. Non-disabled childless adults under age 65 are not eligible for Medicaid no matter how poor they are. And the "eligibility" of families with children is mostly illusory: A family of three with income over $4,582 a year makes too much to qualify.
The new health reform law gives Indiana the option of expanding Medicaid to provide care to Hoosiers who are uninsured. If we participate, an estimated 450,000 Hoosiers will benefit. For those who remain unmoved by the prospects of improving the state's health outcomes, there are substantial economic benefits, as well.
The ACA provides that the federal government will pay all Medicaid costs for the first three years; the state's portion will phase in gradually and top out at 10 percent in 2020.
But that's just for starters. A recent report by the University of Nebraska and commissioned by the Indiana Hospital Association said participation would generate up to $3.4 billion in economic activity, enough to create 30,000 desperately needed jobs. It would generate $108 million annually in additional state and local tax revenue. Individual Hoosiers would see their insurance premiums drop $236 per year; families would save $677.
There is a basic reality that often gets lost in the back-and-forth debates about health care costs: Poor people have this pesky habit of getting sick whether they have coverage or not, and taxpayers already pay to treat them—all too frequently in the least cost-effective way, when they appear at hospital emergency rooms. The costs of that care drives up the premiums of those who do have insurance. If the hospital receives public reimbursement for some portion of the costs incurred—and they all do—our taxes go up.
If hospitals are still unable to recover their actual costs, they have to cut health care workers or reduce services. As the director of Indiana University's Center for Health Policy and Professionalism Research recently testified, without the Medicaid expansion, doctors, hospitals and other providers will still be expected to care for uninsured people, but will receive far less support for doing so. It will impair their ability to provide care to everyone.
Pence says he prefers to extend coverage by expanding Indiana's Healthy Indiana Program. That requires federal categorical grants, and to say federal authorities have been cool to that proposal would be a considerable understatement. (Knowledgeable observers put the chances of federal approval at somewhere between nil and none.)
Even if such approval were likely, however, it is hard to understand why Indiana would opt for an approach that would still rely upon federal funding and the attendant controls, and forgo the numerous economic incentives that make the Medicaid expansion option so attractive.
Other Republican governors have reviewed the evidence, done the math, and opted for expansion. Pence should do the same. To do otherwise will keep Indiana unhealthy, unwealthy and depressingly unwise.•
__________
Kennedy is a professor of law and public policy at the School of Public and Environmental Affairs at IUPUI. She blogs regularly at www.sheilakennedy.net. She can be reached at [email protected] Send comments on this column to [email protected].
Please enable JavaScript to view this content.