As a four-year starting point guard for the University of Kansas and during a nine-year professional playing career, Kevin Pritchard never cared much about appearances. He certainly didn't care what winning looked like.
"I didn't care about it being a pretty game," Pritchard said.
The Indiana Pacers' under-the-radar general manager relishes the times in his life when things have been hard, ugly and, at times, seemingly impossible. He believes character is forged in losing as much as in winning.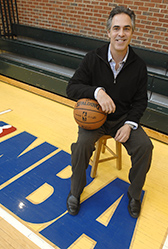 Hoosier native Pritchard would have attended IU if offered a scholarship. (IBJ photo/Perry Reichanadter)
For example, ask the 45-year-old what he remembers about the 1988 season, when he played alongside Danny Manning and Kansas won an NCAA title, and he recalls a mid-season losing streak.
"You really grow out of those unbelievably hard times," he said.
His philosophy comes through in a recent book he co-wrote with longtime friend and Stanford University instructor John Eliot. The book's title—"Help the Helper: Building a Culture of Extreme Teamwork"—comes from basketball, but is aimed at anyone in business.
One paragraph of the book—published last fall by Penguin Group—captures the essence of Pritchard's philosophy:
"Truly special teams have one immutable common denominator, independent of industry type: a willingness to do whatever it takes to help others succeed. … The best-run companies develop this willingness into a fervent, operational passion. In basketball lingo, it's called 'helping the helper.'"
He didn't invent the term. It was popularized by legendary University of North Carolina Coach Dean Smith.
"It's a basketball defensive term that applies to business and to life," Pritchard said. "On great teams, defensive help is just one step away, with everyone helping each other."
Pritchard has carried that mindset with him to the Pacers, where he has been an executive since 2011. Larry Bird, then the Pacers' president of basketball operations, brought him in as director of player personnel. A year later, he was promoted to general manager, replacing David Morway.
Pritchard is the consummate point guard, "always looking for the assist," said Donnie Walsh, the Pacers' current president of basketball operations.
Indiana roots
Pritchard's own story started where he's ended up—in Indiana.
He was born in Bloomington and admits he would have played for Indiana University had the school recruited him.
Pritchard lived in Noblesville until he was 14. Then his family moved west and spent time in Kansas and Oklahoma.
He spent many hours during his formative years playing basketball at the Boys and Girls Club of Noblesville. He idolized Billy Knight and Don Buse of the American Basketball Association Pacers.


"Kevin always stood out," said Joe Arrowood, Boys and Girls Club of Noblesville executive director from 1974-96. "He was not only an outstanding athlete and basketball player, but he was a leader that a lot of other kids looked up to. You couldn't ask for a better role model."
Arrowood laughs about how much time Pritchard spent on the club's basketball court.
"His mom would have to call and tell me to send Kevin home," Arrowood said.
This year, Pritchard is back at the club in Noblesville as a volunteer.
Basketball journey
After a strong high school career in Kansas, Pritchard received scholarship offers from North Carolina, Kentucky and Kansas. He chose to become a Jayhawk, playing two years under coach Larry Brown and two under Roy Williams.
After his pro playing days ended, Pritchard landed a job as an investment analyst.
"I hated it," he said. "It wasn't basketball." He lasted one year before being hired in 1999 as coach and general manager of the upstart ABA's Kansas City Knights, which he led to a championship in 2001.
Working in management in the low-budget ABA was good training to perfect his philosophy.
"In the minor leagues, you do everything," Pritchard said. "It could be 20 minutes before tip-off and I would be running down to Wal-Mart for jocks or whatever we needed."
In 2003, the NBA's San Antonio Spurs hired him as a scout. Two years later, he became director of player personnel for the Portland Trail Blazers. He later became general manager and won praise for turning around the team's on-court performance and rehabilitating its image off the court. The Trail Blazers were derided as the Jail Blazers before Pritchard's arrival.
Along the way, Pritchard gained a reputation as a keen evaluator of talent, able to select stars at the top of the draft as well as uncover hidden gems and solid contributors in the middle and latter parts of the draft. Pritchard also became known as the guy who, in 2007, passed on Kevin Durant to draft center and Indianapolis native Greg Oden, whose career was hindered by numerous injuries.
Despite the Oden gaffe, ABA CEO Joe Newman compares Pritchard's ability to identify talent and build a team to that of former Indianapolis Colts President Bill Polian.
For reasons neither side has ever discussed, Portland fired Pritchard just hours before the June 2010 draft.
Pritchard penned an open letter to Blazers fans in which he thanked owner Paul Allen and the Trail Blazers for the opportunity to help turn the team around.
Management style
Even as the Pacers roll through their most promising season in a decade, Pritchard maintains a penchant for looking back on the hard times. He recalls being a dubious second-round NBA draft pick. He remembers being fired in Portland and out of the NBA for a year. And he remembers the people—like Bird—who gave him a chance to prove himself.
Now that he's enjoyed success, he said he's determined to give back.
One way he's done that is through Twitter. A few weeks ago, he used the social network to offer a handful of Pacers fans interested in sports management an opportunity to shadow him and see how the team operates.
"That's not a usual thing for an NBA GM to do," Newman said. "But Kevin's not your usual type of guy."
Some general managers, Newman said, might see things like Twitter, offering shadowing opportunities and fan outreach as a distraction.
"I know how I got into the NBA," Pritchard said. "The long route. I had to have someone believe in me at the lowest level. I love what I do, and I'm blessed to be here. Why wouldn't I open up? It's all about helping the helper."•
Please enable JavaScript to view this content.