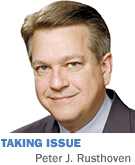 In the first block of South Meridian, a few paces north of Maryland, you will find next to the parking garage entrance a modest establishment called Cento Shoes. It's been there for over four decades, founded when L.S. Ayres was flourishing just across the street and no one dreamed of a Circle Centre mall.
I walked into Cento's in the mid-1970s, a fledgling lawyer working a half-block north in what was then called (dating myself here) the Merchants Bank Building. Memory fails on whether the initial visit was for repairs or a shine. There have been hundreds since, most of them brightened by seeing Paul Cento, who started the business in 1971 with his bride, Lisa, and later brought in sons Tony and Mike to keep things going.
Like many of the best American stories, Paul's began in another country. He was born in Italy on March 4, 1933. If "May you live in interesting times" is in fact a curse, Paul was among millions of that era who suffered under it. Italy was being ruled by Benito Mussolini, getting ever chummier with Adolph Hitler, the new German chancellor named that January. Paul's first day of life was also the first day of Franklin Roosevelt's first term as president.
When Paul was 6, Europe was at war. Before he was 9, the rest of the world had joined in. He entered his teens in a land and continent devastated by destruction, just starting the struggle to rebuild.
Paul Cento was among the builders. To use a then-familiar phrase—in need of revival in today's world of indebted, unemployed college graduates back living with their parents—he acquired a trade. Paul became a shoemaker, and a good one.
He became a very good one, indeed. Customers would include fellow Italians Sophia Loren (you've heard of her) and Eugenio Pacelli (you've heard of him, too, but probably as Pope Pius XII). Anthony Quinn may have starred in the movie, but Paul Cento literally made "The Shoes of the Fisherman."
I didn't learn these things from Paul—his was not a generation given to bragging—but from his sons, whose respect for and pride in their dad was evident. It was a blessing for our city and country that Paul decided in the mid-1960s to move permanently to America and settle in Indianapolis.
Paul Cento's passing last month, a few weeks short of his 80th birthday, reminded me of his story and thousands like it, each unique and yet—in terms of the combination of opportunity, initiative and hard work that made them possible—each the same. Every reader likely knows examples from his or her own family.
An example from mine is my maternal grandfather, Bonne Iwema, a Dutchman who made a home and built a business in Chicago. He was quite intelligent, by all accounts—including the account left by the poetry he liked to write—but had only a fourth-grade education. It didn't stop him.
Neither did other challenges, including those attendant on running a trash disposal enterprise (that was the business) during the days of the Capone organization, which profited from the same endeavor—and a few others!—and took a dim view of competition.
My grandfather made possible the life my mother was able to lead, and mine as well. Paul Cento did the same for the lives of his sons and six grandchildren. We all owe enormous gratitude to countless such men and women. Requiescat in pace, Paul. We'll miss you.•
__________
Rusthoven, an Indianapolis attorney and graduate of Harvard College and Harvard Law School, was associate counsel to President Reagan. Send comments on this column to ibjedit@ibj.com.
Please enable JavaScript to view this content.