The former executive assistant to WTHR-TV Channel 13 President John Cardenas has filed an age- and sexual-discrimination lawsuit against the station and parent Dispatch Broadcasting Group.
Debbie Wiley, 60, alleges her complaints about Cardenas were not adequately investigated and that she was fired last June in retaliation.
The former Mrs. Indiana and mother of five alleges that Cardenas was at times drunk and abusive and referred to her as "handicapped."
Cardenas did not return phone calls.
"We deny all of the allegations. … We do not comment on personnel matters," said Diana Riggsby Gardner, vice president of human resources at Columbus, Ohio-based Dispatch.
Wiley is seeking unspecified financial damages in the complaint filed last month in U.S. District Court for the Southern District of Indiana.
Cardenas recently was dismissed as a defendant after WTHR attorneys argued that he had no individual liability because he was not her employer.
Cardenas came to Indianapolis in 2010, from sister station WBNS-TV Channel 10 in Columbus, Ohio, where he was news director for more than a decade.
He replaced former WTHR General Manager Jim Tellus, who had died. Wiley was hired as Tellus' assistant in 2008.
Cardenas is a 25-year veteran of the TV news businesses. The Emmy-award winner in 2011 was named by Broadcasting & Cable as local TV executive of the year.
Wiley's LinkedIn profile identifies her as a former Mrs. Indiana in the late 1980s.
She'd worked previously as an executive assistant to the president of Baker-Hill, a Carmel-based banking software firm now owned by Experian, according to her profile.
Before that, she worked as an executive assistant to the chief information officer at former Indianapolis medical-device company Guidant Corp.
In recent years, Wiley has been director of the Miss Central Indiana Scholarship Pageant and has worked as a judge in numerous local and national pageants.
In the suit, Wiley describes a work environment at WTHR that lacked any sort of grandeur.
Wiley alleged Cardenas on multiple occasions was drunk while at work, "during which times his inappropriate behavior was even more exaggerated."
Given her close working relationship with Cardenas as his assistant, "she bore the brunt of it," Wiley's attorney, Eric Pavlack, told IBJ.
Wiley claims the station president also made inappropriate sexually suggestive "and/or romantically suggestive physical contact" with her.
At one point last June, she states in court records, "Cardenas was drunk at work and kept getting into my personal space, which made me uncomfortable. I reported this to management, as well."
Wiley alleges that neither the station's nor Dispatch's human resources departments took appropriate action. After a week-long vacation last June, Wiley was fired.
Then, last September, she filed a complaint with the Equal Employment Opportunity Commission, alleging age and sexual harassment. In that complaint, she alleged that Cardenas touched her leg during a ride to the funeral of a station employee. She stated that the alleged incident was witnessed by other employees.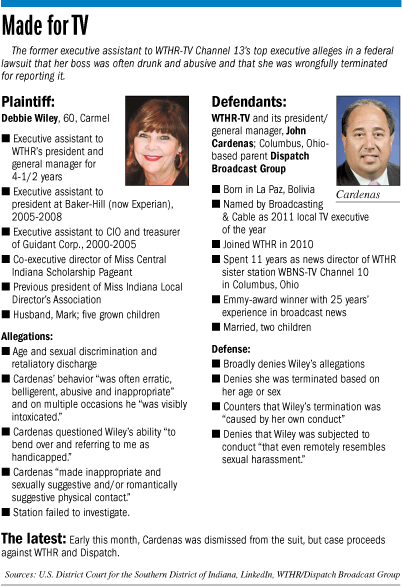 Wiley also stated that Cardenas allegedly questioned her physical ability to bend over because of her age and said he referred to her as handicapped.
Upon being terminated, she said, a human resources representative told her that she and Cardenas "had different management styles."
After she was fired last June, "a young, attractive woman in her 30s was hired to replace me," Wiley told the EEOC. In October, the agency granted her a right-to-sue letter.
Attorneys for WTHR and Dispatch argued that no employment decisions were made based on her sex or age.
"Nor was (Wiley) subjected to any conduct during her employment at WTHR-TV that even remotely resembles sexual harassment," WTHR lawyers said in a court filing.
"Moreover, defendants did not retaliate against (Wiley) in any way. Plaintiff's termination was caused by her own conduct, and therefore legitimate."
To prevail in such cases, plaintiffs generally have to prove the conduct of which they're complaining was motivated by age or sexual discrimination.
Harassment connotes a hostile work environment, one that a reasonable person in the same position would also deem to be harassing, said Deborah Widiss, an associate professor of law at Indiana University's Maurer School of Law.
"It's hard to tell from the complaint how serious what was happening to her was," Widiss said.
Wiley's attorneys are due to file exhibits and a list of preliminary witnesses by June 15.•
Please enable JavaScript to view this content.